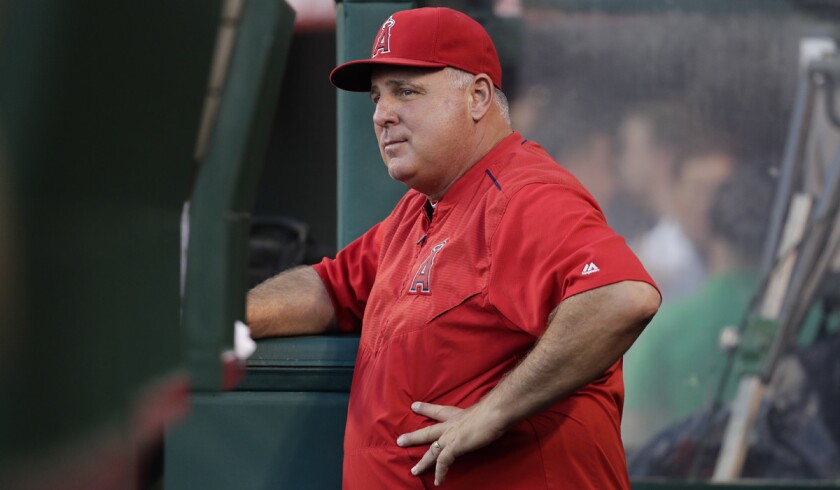 In a conference room inside the Angels' clubhouse, most remnants of an 88-loss 2016 nowhere to be seen, Manager Mike Scioscia told reporters Tuesday that he was a staunch believer in his team's potential.
"I don't think we're as far back as, maybe, the perception is," Scioscia said. "But yes, we do need to get better. As disappointing as this season was with our won-loss record, within it there were definitely some things that point to us being closer to reversing that record than going the other way and having another year like this year."
He said his team's offense demonstrated "so many positives" in scoring 56 more runs than in 2015.
"And that's with our lineup, really, getting shallow, or shallower than we anticipated, from the fifth or sixth slot all the way down," Scioscia said. "The potential's there to get us where we need to be quickly. We do need to bring in some talent, no doubt about it, and most likely it's going to come from the outside."
While expressing confidence that third baseman Yunel Escobar's club option would be exercised, Scioscia acknowledged the need for improvement at second base, in left field and at catcher.
Above all else, though, he's in pursuit of additional quality starts. He believes that, in addition to injuries, the lack of starts lasting at least six innings with no more than three earned runs was the team's downfall. The Angels were second-worst in the American League in the statistic, ahead of only Minnesota, the major leagues' worst team.
"The one real fly in the ointment right now that really needs to be addressed is our ability to churn out quality starts from our rotation," he said. "That's the heartbeat of our club, and for obvious reasons we were way behind in that this year."
The Angels are counting on Garrett Richards, Tyler Skaggs, Matt Shoemaker, Ricky Nolasco and Alex Meyer to form the base of the rotation that requires fortification. Of that group, only Nolasco was healthy all season.
If Richards can complete a comeback from a torn elbow ligament, Scioscia said he would not throw 115 pitches in an outing next season, which he did in back-to-back April starts. Asked about an inning limit for Skaggs, Scioscia compared him to Toronto's Aaron Sanchez, who pitched 102 innings across all levels of the Blue Jays' organization in 2015, then rose to 192 innings this season. Skaggs threw 89 in 2016.
"The way our rotation evolved from being decimated early to becoming more functional as we moved on and saw the quality starts appear in August and September by guys we expect to have an impact next year," Scioscia said, "I don't think it's too far of a stretch to think that we will add depth there and have a better starting rotation next year."
Asked whether he could see the team acquiring a top-of-the-rotation starter, Scioscia deferred to General Manager Billy Eppler.
"First of all, that's what those guys have been doing for the last month, sorting out all the possible non-tenders, possible guys that are available," he said. "We're very confident those guys have an idea of where we need to improve and what the possibility is that we will improve."
Asked if he had a sense about how much the team was willing to spend, Scioscia again deferred to Eppler and owner Arte Moreno. Moreno has declined to speak to The Times this year; Eppler has described the budget as fluid.
"You probably don't believe this, but that's not what I focus on at all," Scioscia said. "If you gave any manager a team, we'd all have $350-million payrolls. That's not anything I concern myself with. Our position is to give our opinions. Obviously, Billy has the expertise, and he'll talk with Arte to understand what the budget will be and what improvements will be."
pedro.moura@latimes.com
Twitter: @pedromoura
---