Angels owner Arte Moreno, who stayed the course, closes in on big goal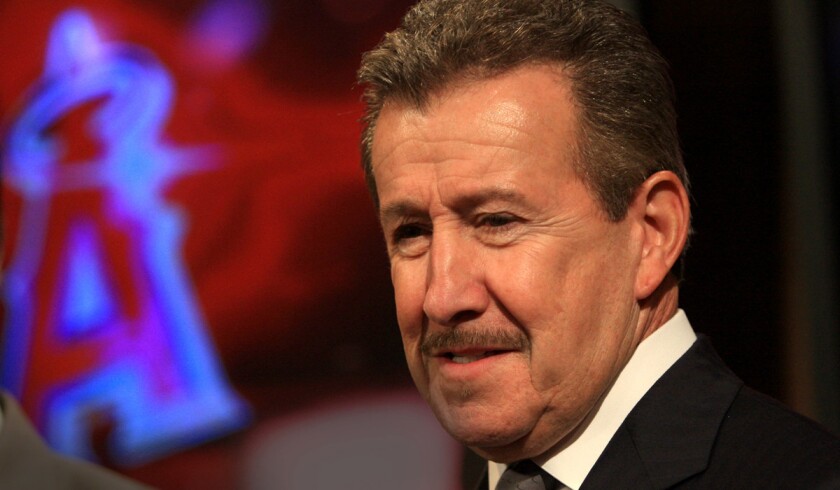 When Arte Moreno bought the Angels in 2003, seven months removed from their only World Series championship, the franchise was regarded within baseball as a sleeping giant.
The Angels, born in 1961, never had made consecutive postseason appearances. They had eight logos in their history, and three division championships.
In 2003, they finished 19 games out of first place. But they sold 3 million tickets for the first time, and after the season Moreno invested $145 million in free agents, intent on transforming the image of the franchise from a mid-market team with a middling payroll to a large-market powerhouse that would challenge for a championship every year.
Vladimir Guerrero, one of those free agents, won the American League most-valuable-player award in 2004. Bartolo Colon, another of those free agents, won the AL Cy Young Award in 2005. The Angels won five division championships in six years, won a court fight to reclaim their original Los Angeles name, and sold 3 million tickets in every year of Moreno's ownership.
However, as the end of the 2013 season approached, Moreno faced hard decisions about the future of his franchise. The Angels missed the playoffs for the fourth consecutive season and finished with their worst record since 2003 — despite Moreno's purchases of Albert Pujols and Josh Hamilton. Attendance was down 11% from its 2006 peak.
Moreno stayed the course, retaining General Manager Jerry Dipoto and Manager Mike Scioscia. The Angels have the best record in the major leagues this season, and they open the playoffs Thursday in Anaheim, taking aim at the critical ambition of Moreno's ownership.
"My goals are not going to be met until we win a world championship," Moreno said.
In an interview with the Los Angeles Times, Moreno, 68, spoke about his decision not to fire Dipoto or Scioscia, which of the Angels' all-time statistics was vitally important to him, the state of the Angels' business affairs, and whether he would consider selling the team:
What led to your decision to retain Jerry Dipoto and Mike Scioscia?
There was a whole list of things we went through. One of the things we really liked about Jerry: He really put together a book of how we looked at baseball, different statistical stuff, etc. He did a very good job. One of the things we were impressed with when we were going through our search for a GM was the analytical side, which doesn't need to be all — but part — of the strategy in baseball today. There is just so much information.
The other thing was that he played. That whole looking at a player and looking at a personality and his heart — to me, the best example was David Eckstein. Not the best arm, not the fastest guy, not the best range, but he does nothing but win. There are just some things that have to be measured more by the eye.
Mike has been with the Angels for 15 years. He had won five divisions and a World Series. He won two World Series with the Dodgers. At the time, the '80s, they were one of the best teams in baseball — how they ran their team, the depth of the organization.
I felt Jerry had a lot of very good young people that we really liked. We felt Mike had put together a good staff. That was really the thought process. We really did spend a lot of time on it. It wasn't impulsive.
And I really had to look at the organization from a business standpoint. I had to say, 'If we're going to replace a Mike or a Jerry, what are we going to do, and are we in a rebuilding?' I'm not a real big tear-it-apart-and-rebuild guy. For our fans, I'm not a bear-with-me-for-three-or-four-years-while-I-rebuild-this-thing guy.
What are you proud of accomplishing in your decade owning the Angels?
Before I ever bought the team, I looked at as much history as I could find. The Angels had never won more than two years in a row.
They won their first game in their history, in 1961. They lost the second one. They lost the third one and dropped below .500. Up until a month and a half ago, the Angels franchise had never been over .500. That was a big goal. If you're going to be a winning franchise, you really have to play over .500.
One of my goals was to say, can I make this a winning franchise? It sounds sort of silly. But if you're going to go out and tell your fans you are going to give them a good experience when they come to the ballpark, and you're going to put a product on the field that has an opportunity to win, those are important things.
The name change remains controversial among some fans. Why did you believe you had to change the name from Anaheim to Los Angeles?
I obviously believed, from the marketing side, that we needed to go back to representing the region. We had to go back to the real name of the team, to Los Angeles Angels. There are 300,000 in Anaheim, 3 million in Orange County, 18 million in the metro area. I just felt that if we could draw outside the little bubble that I believe the franchise was in — let's call it an average of 2 million — that would give us opportunity to grow our revenues.
If we were able to go out and sign an extra free agent, or if we had to pay someone that we had traded for a little bit more, that would give us a little bit of an edge to compete at a higher level.
The Angels won the World Series in '02 and lost $20 million. A lot of people forget that. While Disney owned them, they lost an average of $20 million a year, plus a lot of people forget that they put in over $100 million into the stadium, in capital improvements.
When you changed the name, you said the strategy would pay off in the long term. Now that the Angels have played under the Los Angeles name for 10 years, can you quantify the payoff?
We've tripled our revenue. We obviously increased the value of the team. We don't lose money. We make money. We have no debt on the team. It took us about three or four years — the third year we pushed, the fourth year we started making money.
We won six divisions in 11 years. I think those are all positive things. Obviously, we don't have a world championship, but we've had a lot of really good teams.
We drew almost 3.1 [million fans] this year. Sometimes you people talk about the averages moving down, from 3.4 or 3.3 and it went down to 3.1. You know, the economy was obviously very, very bad for the last four or five years. It affected a lot of people. So you have to look at the economic cycles. I think a little bit of that comes into play.
And a lot of people comment on our road attendance, and how it hasn't been as high as other teams. Sometimes you better go look and see who you are playing, and what their attendance is. So you can't just say, people aren't coming to see the Angels, when they're not even coming to see their own team. [Note: The Angels rank 26th in the majors in road attendance, with AL West rivals Houston, Oakland and Seattle ranking among the bottom 10 in home attendance.]
You bought the Angels for $183.5 million. The Dodgers and Clippers just sold for $2 billion, so you might be able to sell the team for 10 times the price you paid. Are you committed to keeping the team until you win a World Series, or would you consider selling?
I happen to be 12 years older than I was when I bought the team. My kids are out of college. I love baseball. I will always be a fan.
I'm not trying to sell it, but if someone feels they want it, it's a business. I really try to be objective about it. I learned a long time ago there is no sentiment in it. I'm very emotionally tied to the fans and the players. At the end of the day, it is business.
Let's put it this way: Nobody has come to me looking to buy it. I have not been engaged in any conversation to sell it.
Twitter: @BillShaikin
---
Get the latest on L.A.'s teams in the daily Sports Report newsletter.
You may occasionally receive promotional content from the Los Angeles Times.