Angels' Shohei Ohtani seems like a no-brainer for the home run derby
The home run derby is a popularity contest, and there might be no player more popular around the world than the Angels' Shohei Ohtani.
Ohtani's teammates and peers regularly marvel at the show he puts on in batting practice, never more so than Friday, when he hit a ball off the scoreboard high above right field. On Saturday, the Angels measured the distance with the kind of laser rangefinder popularly used in golf.
The distance: 513 feet, give or take five feet either way.
Manager Mike Scioscia responded with a pretty fair Allen Iverson impression.
"You're talking about batting practice?" Scioscia said. "We're not going to talk about batting practice."
The most exciting rounds of batting practice every year take place in the home run derby, on the night before the All-Star game, a night baseball has the American sports landscape all to itself.
Ohtani would be a no-brainer as a contestant, particularly since the criteria for selection include this: "the player's popularity."
Ohtani, who won a derby in Japan two years ago, was not available Saturday to discuss whether he would accept an invitation to this summer's home run derby.
"That's a player's decision," Scioscia said. "I'm sure there's going to be a lot of things that come into what a player decides, but it's always been the prerogative of a player if he wants to participate."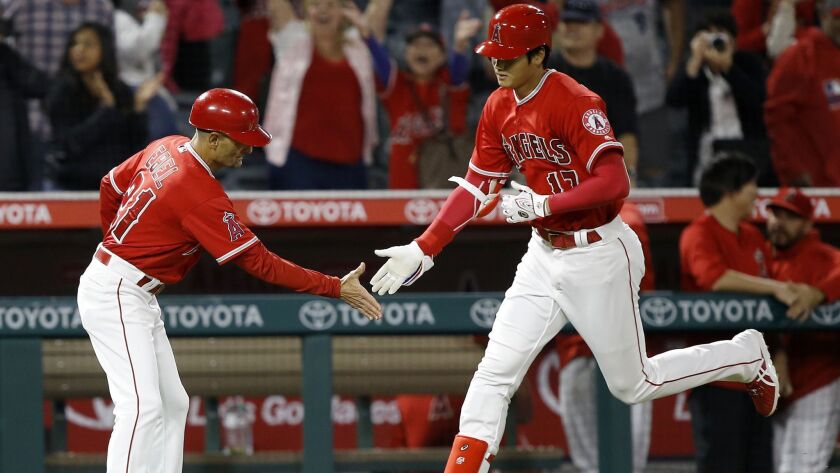 In 2014, Mike Trout rejected an invitation to participate in the derby and left little doubt that Scioscia had strongly suggested he skip the event.
"If I get another chance, and if I said I wanted to do it," Trout said then, "Scioscia would be against it, but he would support it."
Since then, Trout never has wanted to do it, frustrating league executives who would love to get their best player into the derby.
Can Canning?
With the Angels expected to seek pitching help this summer, they could have an intriguing option within their system.
In two of his last four starts at the Angels' double-A Mobile (Ala.) affiliate, Griffin Canning has started a combined no-hitter.
Canning, the Angels' second-round pick from UCLA last year, has made eight professional starts. General manager Billy Eppler declined to rule out the chance that Canning could pitch in Anaheim at some point this season.
"I'm just going to stay open-minded," Eppler said. "Players will tap us on the shoulder."
Unlike many of his peers, Eppler is reluctant to promote a prospect directly from double A and prefers that he play in triple A first.
Canning is starting now, although the Angels could consider him in relief, similar to how the Dodgers deployed top prospect Walker Buehler in September.
Canning pitched the first five innings of a no-hitter April 28, then the first 4 1/3 innings of a no-hitter Monday. He has not made more than 84 pitches in any of his eight starts, and the Angels skipped his scheduled Saturday start to further restrict his workload.
He is 1-0 with a 1.49 earned-run average. He has faced 143 batters and given up only 19 hits, including two home runs.
Short hops
Outfielder Justin Upton returned to the lineup. He did not play Friday because his left hand had been bruised when hit by a pitch Thursday. … The Angels called up left-handed reliever Ian Krol from triple-A Salt Lake and returned right-handed reliever Eduardo Paredes to Salt Lake. … Scioscia said right-handed reliever Blake Wood (elbow) would make at least one more rehabilitation appearance and would not be activated this weekend.
Follow Bill Shaikin on Twitter @BillShaikin
---
Get the latest on L.A.'s teams in the daily Sports Report newsletter.
You may occasionally receive promotional content from the Los Angeles Times.