It's unanimous: Angels' Mike Trout is MVP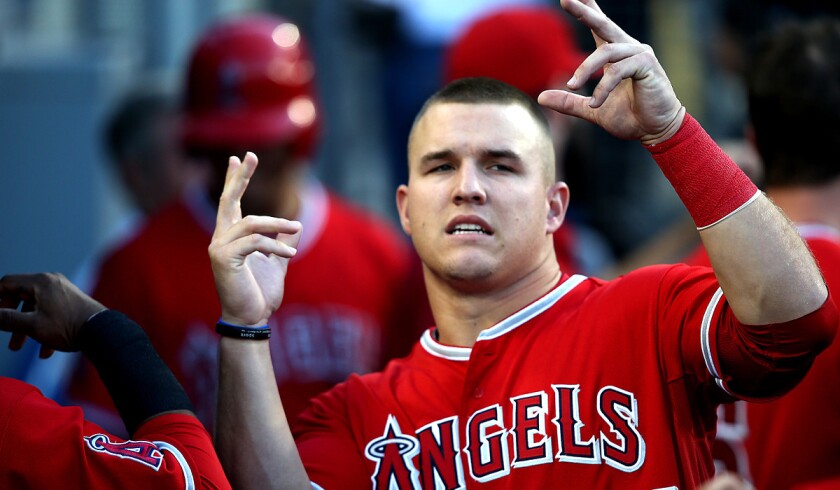 Best player in baseball? Mike Trout, three years running.
He hits for average, hits for power, steals bases, steals home runs from opposing batters, steals the spotlight on a team with Albert Pujols and Josh Hamilton, and inspires fans to wear silly fish-shaped hats.
On Thursday, the Angels' dynamic outfielder finally won the trophy that makes his stature official. After two years as runner-up, Trout won his first American League most-valuable-player award.
Although the victory was widely expected, Trout said he had been anxious in the hours before the announcement. He appeared close to tears on the live MLB Network broadcast, then hugged his mother and father on camera.
"It means a lot," he said. "You always want to win. When you do, you get emotional a little bit."
Trout, 23, became the youngest unanimous winner of the award in either league and the third Angels player to be selected AL MVP, joining Don Baylor (1979) and Vladimir Guerrero (2004).
"It may be his first MVP, but it won't be his last," Baylor, the Angels' hitting coach, said in a statement.
Although Trout got all 30 first-place votes, seven players got at least one second-place vote. Detroit Tigers designated hitter Victor Martinez finished second in the voting, followed by Cleveland Indians outfielder Michael Brantley.
Trout is the first player since Mickey Mantle in 1962 to win the award after two consecutive second-place finishes. Mantle trailed New York Yankees teammate Roger Maris in 1960 and 1961.
"Mike Trout has been an all-around force over the past three seasons," Angels General Manager Jerry Dipoto said. "This honor … further affirms his position as the premier player in the game."
Trout finished behind Miguel Cabrera of the Detroit Tigers in 2012 and 2013. The Tigers won their division in each of those years — the Angels did not — Cabrera won the triple crown in 2012, and voters decided Cabrera's edge as a slugger outweighed Trout's contributions on defense and on the bases.
The Angels posted the best record in the major leagues this season. Trout hit a career-high 36 home runs and led the league with 115 runs scored and 111 runs batted in. He also led the league in extra-base hits, making him the first player to lead the AL in runs, RBIs and extra-base hits since Ken Griffey Jr. in 1997.
His batting average dropped from .326 and .323 in his first two full years to .287 this year. His .377 on-base percentage also was a career low — even though it ranked seventh in the league — and he led the league with 184 strikeouts. He did not rate as highly on defensive metrics.
But Trout laughed off the suggestion that he had somehow won the MVP during his worst season. He has evolved into a different player.
"It's all good," he said. "The strikeouts were obviously up there. My numbers were still … I had a career high in RBI. I got to drive in a lot more runs."
The Angels this season moved Trout from the leadoff spot — "You're kind of like a guinea pig, trying to get on base," he said — to the No. 2 spot. He stole 49 bases in 2012, 33 bases last year, 16 this year.
"When I had my chances to run, I wanted to run," he said. "The power was definitely up. Getting a little older and a little stronger definitely helps."
His strikeout total rose as pitchers realized he had an extraordinary ability to pummel the low fastball but a weakness for the high fastball. Trout acknowledged he was "a little anxious" to hit those pitches but said he did not anticipate a problem hitting those pitches next year, since he does not plan to swing at them.
"A majority of them were balls," he said.
He also said he had learned from his first postseason exposure. The Angels were swept by the eventual AL champion Kansas City Royals; Trout went one for 12 in the series — a home run — and said he was not as relaxed as he should have been.
"You have all these high expectations," he said. "You want to do so good. … I try to hit the ball so far and try to do so much, I get in trouble."
Trout is the first player to hit 75 home runs, steal 75 bases and score 300 runs in his first 400 career games.
"He has been tremendously blessed and continues to get the most out of his amazing talent," said Hamilton, the 2010 MVP for the Texas Rangers. "The sky is the limit for Mike."
With the retirement of Derek Jeter, Trout is positioned to become the face of baseball, succeeding the Yankees shortstop whose poster Trout displayed on the wall of his childhood bedroom.
Guerrero, the last Angels MVP, also wore No. 27.
"So exciting to see another AL MVP wearing the Angels uniform," Guerrero said in a statement. "I also want to thank Mike for wearing my favorite number."
Twitter: @BillShaikin
---
Get the latest on L.A.'s teams in the daily Sports Report newsletter.
You may occasionally receive promotional content from the Los Angeles Times.