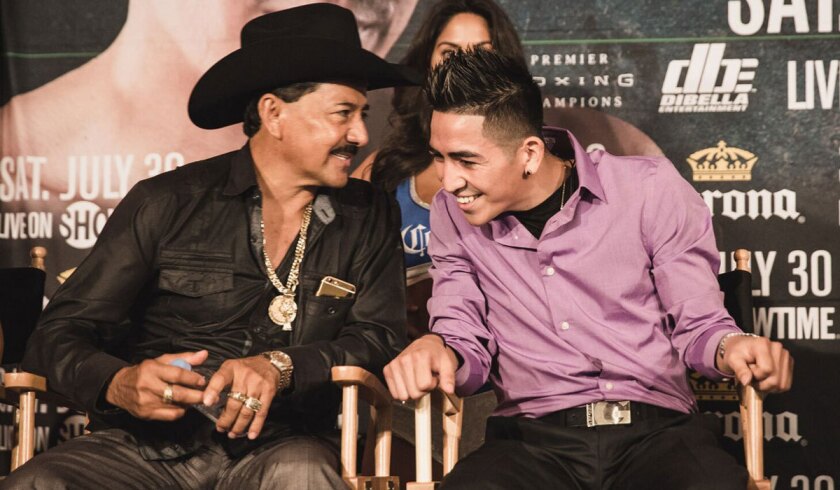 Reporting from NEW YORK —
While many have been preoccupied in recent months debating the definition of the American Dream, Leo Santa Cruz has been quietly providing a shining example.
The unbeaten World Boxing Assn. featherweight champion from Los Angeles ventured to New York this week for the first time in his life.
He's literally within sight of the Statue of Liberty to defend his belt Saturday night against Ireland's unbeaten super-bantamweight world champion Carl Frampton in the main event of a Showtime card at Brooklyn's Barclays Center.
"I'm prepared," Santa Cruz said. "I know I'll get bigger challenges after this, so I have to pass this one first so we can keep going. We trained hard in the gym to make this fight easy, to hurt him. We're going to be smart."
As part of fight-week festivities, first-generation American Santa Cruz, 27, was received by the Consul General of Mexico and went to the top of the Empire State Building for a faceoff photo with Frampton.
If it wouldn't be for boxing, I wouldn't be here. I'd likely have been a dishwasher or something like that.
Leo Santa Cruz
The events stirred something in Santa Cruz.
"Reminded me of the times I had nothing," he said Thursday before a news conference in Manhattan. "If it wouldn't be for boxing, I wouldn't be here. I'd likely have been a dishwasher or something like that.
"But we came here with a dream, we worked really hard and now we're living it."
Santa Cruz (32-0-1, 18 knockouts) is the youngest of four brothers. He grew up with his siblings, father-trainer Jose Santa Cruz and his mother in a one-bedroom apartment in Los Angeles.
Jose wanted his sons to box, so each weekday they'd either take a city bus or walk 10 miles to the nearest gym.
Leo has realized his father's dream by winning world titles in three divisions, becoming a favorite of his powerful manager Al Haymon because of his talent, work ethic and family bond.
Santa Cruz's boxing is supreme, reflected in his No. 1 standing in plus/minus punches-connected percentage versus opponents (plus 15.8% per fight). His punching power has also drawn raves, ranking No. 2 overall in power punches landed per round (46.9%), better than big-name fighters such as Gennady Golovkin and Manny Pacquiao.
"We've always seen growth potential with Leo because of his fan-friendly style, and we're seeing that come to fruition," Showtime Executive Vice President Stephen Espinoza said. "Leo's a special young man. He's unfailingly optimistic. You can't help but be drawn by his outlook in the face of so many challenges."
Espinoza was referring to Jose Santa Cruz's battle with leukemia this year. After working his son's corner in a February victory at Honda Center, the elder Santa Cruz fell ill and weeks later was gaunt and in a wheelchair.
"We were thinking of not taking the fight," Leo said Thursday. "He's always been with me."
Medical treatments and chemotherapy have proven effective, however, and Jose Santa Cruz made the trip to New York after participating in the final three full weeks of training camp — "he yelled and screamed and corrected," Leo said.
"Thank God, the cancer's in remission. With cancer, not a lot of people make it. He's strong."
When Leo first heard the diagnosis, he said, he returned home and wept.
"Just thinking about those memories of my dad at the gym, what we've done as professionals," he said, "… I just prayed that the cancer would be removed, that he could stay with us for many more years."
His father is glad to be in New York this week.
"I come here happy and proud," Jose said in Spanish, "ready to help give the fans a fight they'll enjoy and love and grow our fan base."
As he has looked up in awe at the landmarks during his first trip to the city, Jose said he reflected upon the journey.
"I remember coming to the States, knowing what I wanted to do, and knowing I'd accomplish it," he said.
What's he make of the political season?
"I'm for the people, the good people," Jose said. "Why build a wall? Weed out the bad people, but the majority of us come here to work. And that's what we still want to do."
lance.pugmire@latimes.com
---