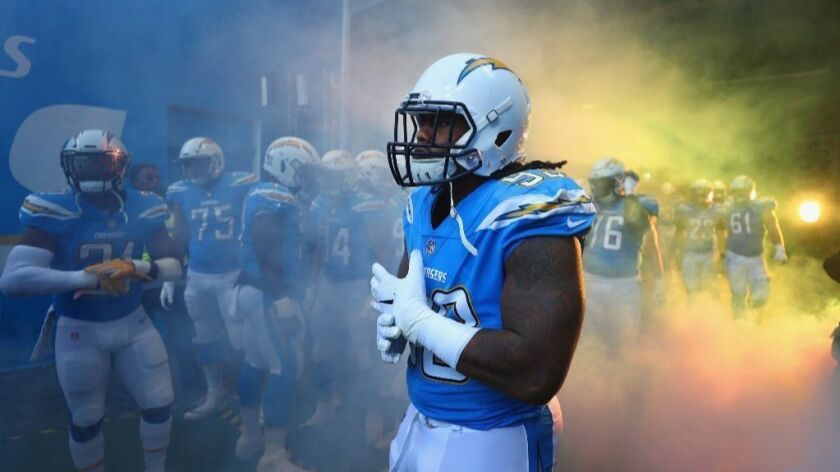 Four consecutive triumphs. Wins on two continents. Back-to-back victories to open a stretch of four straight games away from StubHub Center.
All impressive, to be certain. But only now are the Chargers presented with their greatest opportunity yet:
The chance to prove that the rest of the NFL does, in fact, need to take them seriously. Quite seriously.
A fifth win in a row Sunday — on the road, in unwelcoming CenturyLink Field — against a surging quality opponent like Seattle will grab the league's attention unlike anything the Chargers have done to date.
"It's going to be a heck of a challenge for us … [especially] going to their place," coach Anthony Lynn said. "But this is what we need right now. We think we're getting better as a football team, and this is going to be one hell of a test."
As barometers go, the Seahawks intersect the Chargers at an ideal time. Seattle has won four of five and is playing the sort of defense that can carry a team deep into the fall.
Offensively, they present the riddle of stopping one of the NFL's best rushing attacks while keeping corralled a shifty, hip-swiveling quarterback in Russell Wilson, a four-time Pro Bowler coming off a game in which he had a perfect passer rating.
The Chargers' defense has been improving, finding ways to pressure opposing quarterbacks and becoming increasingly stingy in allowing points. They also finished the team's most recent win with a stirring two-point conversion denial.
"I think we need this game where we're at right now," defensive coordinator Gus Bradley said. "We need to see where we're at and evaluate some things based on the challenge that they're going to give us."
So the Chargers want this game, want this opponent and why not? If they truly belong in the upper echelon and are a threat to do something once the postseason arrives, they are going to have to beat teams like Seattle. In Seattle.
The Chargers' most recent road victory against an opponent with a winning record came on Nov. 27, 2016, when their defense produced four turnovers to win at 6-4 Houston.
Otherwise, they are 0-5 in these matchups since the middle of the '16 season, the losses coming in Denver, New England, Jacksonville and Kansas City and against the Rams in the Coliseum.
Lynn called the Seahawks "the hottest team in the NFL right now" and labeled their running backs "unbelievable."
He predicted that CenturyLink will be "loud" and "crazy." As Buffalo's offensive coordinator in 2016, Lynn recalled how Bills quarterback Tyrod Taylor struggled to hear the plays being called through the headset.
"We're just lucky that we have a veteran quarterback like Philip [Rivers]," Chargers offensive coordinator Ken Whisenhunt said, referring to the potential issues of communicating through the chaos. "You can give him a one- or two-word phrase, and he'll understand it."
The Chargers are returning after their off week and following a trip to London, where they defeated Tennessee 20-19 on Oct. 21.
The players were given the week off to refresh, while the coaches, Lynn explained, fought the urge to over-prepare for Seattle.
The Seahawks also won in London in October, beating Oakland 27-3, followed by their off week. They came back last Sunday to win convincingly at Detroit 28-14.
Now, the Chargers are attempting to do the same thing, only against an opponent held in slightly higher regard than the Lions.
"They're going to feel like they have all the momentum," defensive back Desmond King said of the Seahawks. "So we have to come out early and start fast."
The Chargers have produced touchdowns on their opening possession in each of their past two games. They scored on their first play from scrimmage against the Titans.
In fact, over their past three games, the Chargers have trailed only once — 3-0 to Tennessee — and that deficit lasted nine whole seconds before Rivers connected with Tyrell Williams for a 75-yard score.
"The last two games we've been better starting," Whisenhunt said. "I think when you go against a team like this, that's something that you want to do. It's hard to do it, but it's something you want to do."
Another fast start could make for another strong finish as the Chargers attempt to reach 6-2 for the first time since 2006.
In order to do so, they'll have to quickly shake any rust that might have formed over the last two weeks.
"It won't be a problem," rookie safety Derwin James promised. "It ain't really nothing, just coming out and playing ball again. We'll be good come Sunday."
Good come Sunday. And with another win, even better come Sunday night.
Etc.
The Chargers placed rookie linebacker Kyzir White (knee) on injured reserve Saturday and signed cornerback Jeff Richards to the active roster.
Twitter: @JeffMillerLAT
---