Ballmer and Kroenke representatives have discussed bringing Clippers to Inglewood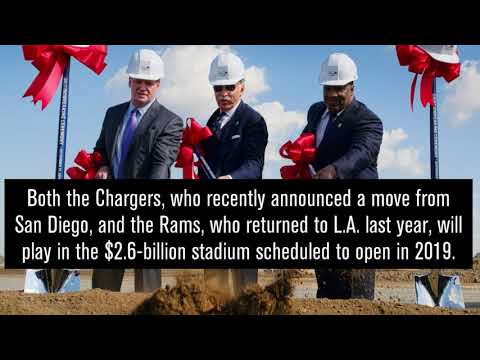 Representatives of Ballmer and Kroenke have had multiple discussions about the Clippers heading to Inglewood. (Feb. 24, 2017)
Representatives of Steve Ballmer and Stan Kroenke, two of the richest owners in professional sports, have had multiple discussions about the Clippers joining the Rams and Chargers in the sports and entertainment district Kroenke is building in Inglewood.
Five people with knowledge of the conversations told The Times the arena could either be on the 298-acre site or an adjacent parcel. Either way, an arena would drive traffic to the planned mixed-use development and share parking with the $2.6-billion football stadium scheduled to open in 2019.
The exploratory talks link two titans of sports and business with a sprawling project the NFL already considers transformational.
The Clippers, purchased by Ballmer for $2 billion in 2014, are tenants at Staples Center in L.A. Live. The Lakers and Kings also play in the arena, owned by Anschutz Entertainment Group. While the Clippers' lease runs through 2024, Ballmer hasn't hidden the desire for an arena of his own.
Inglewood is one of multiple sites the Clippers are exploring in a process that started more than a year ago. The Clippers aren't settled on a course of action — staying at Staples Center or building a new arena — but the Inglewood discussions are part of their ongoing evaluation of potential options, according to the five people.
"It's too soon to say it would be L.A. Live lite, but if an arena were to bring 200 nights a year, that's a tremendous amount of foot traffic that would benefit all the ancillary properties," said a person familiar with the discussions who asked not to be identified in order to speak frankly about the situation.
The Clippers and Rams declined to comment.
A billionaire real estate developer, Kroenke also owns the Denver Nuggets as part of his global sports and business empire. Ballmer, worth $30 billion, according to Forbes, is Microsoft's former chief executive.
But significant complications would accompany a venture of this sort.
It's believed that Ballmer would not want to be a tenant and therefore would need to own the arena land. But Kroenke isn't known for selling what he acquires. If Ballmer relied on common parking, an arena wouldn't require a large footprint; Staples Center occupies 10 acres.
The site isn't entitled for a basketball arena, however, though the city of Inglewood fast-tracked a ballot initiative in 2015 to move forward with the stadium project without putting it to a public vote or being saddled with time-consuming environmental reviews.
Inglewood Mayor James T. Butts Jr. wasn't aware of the discussions between Ballmer's and Kroenke's representatives.
"Any change they make would have to be rezoned through the city," Butts said. "Those would be pretty significant changes."
A new arena -- which could have concerts and other entertainment events -- would be a direct competitor to the neighboring Forum.
The nation's two most prominent concert promoters are Live Nation, which mainly uses the Forum, and AEG Live. It schedules events at Staples Center. That raises a key question: What concerts would be available for a third venue?
One person with knowledge of the discussions said the Forum, which was built by Jack Kent Cooke in 1967 as the home of the Lakers and the Kings, would be "protected" as part of an agreement if a competing venue were to be built. The person wouldn't elaborate on what that would entail.
If the Clippers were to leave Staples Center, the arena could also vie for events to fill those open dates, creating more competition in the marketplace. It is unclear what Ballmer would have to do to extricate himself from his lease, though an arena would take several years to plan, entitle and build.
But a Clippers-only arena, going head-to-head with the Lakers at Staples Center, could have a difficult time selling suites, club seats and other premium products.
Developers broke ground on the Inglewood stadium in November. The sail-shaped structure with a transparent roof will include an adjacent 6,000-seat performance venue. Plans for the project include a hotel, hundreds of thousands of square feet of office space, retail and housing.
Even without an arena, developers expect the district to host major events such as the NCAA Final Four, world-class soccer matches and conventions. It will host the Super Bowl in 2021 and is a centerpiece of the Los Angeles bid for the 2024 Summer Olympics.
While the Rams and Chargers will bring at least 20 dates a year to the district, a basketball arena that also hosts entertainment events could increase that number tenfold. By comparison, Staples Center hosts more than 250 events a year.
Ballmer's search for a new home stems from wanting to innovate in his own arena, improve the fan experience in addition to dissatisfaction with the Clippers getting the third pick of dates at Staples Center. He's talked openly about the advantages in a basketball-only venue: better sight lines, louder noise and a more intimate feeling.
"We're going to have real options," Ballmer told a conference in Manhattan Beach last fall. "We're sort of putting those options together today."
Times staff writer Dan Woike contributed to this report.
ALSO
Inglewood real estate market expected to score as Chargers join Rams at new stadium
How much could the Rams and Chargers make in their new stadium? We ran the numbers
Rams offer $1-million prize in 'Guess Our Games' schedule contest
Get our high school sports newsletter
Prep Rally is devoted to the SoCal high school sports experience, bringing you scores, stories and a behind-the-scenes look at what makes prep sports so popular.
You may occasionally receive promotional content from the Los Angeles Times.