Newsletter: Clippers! Tobias Harris has been better than expected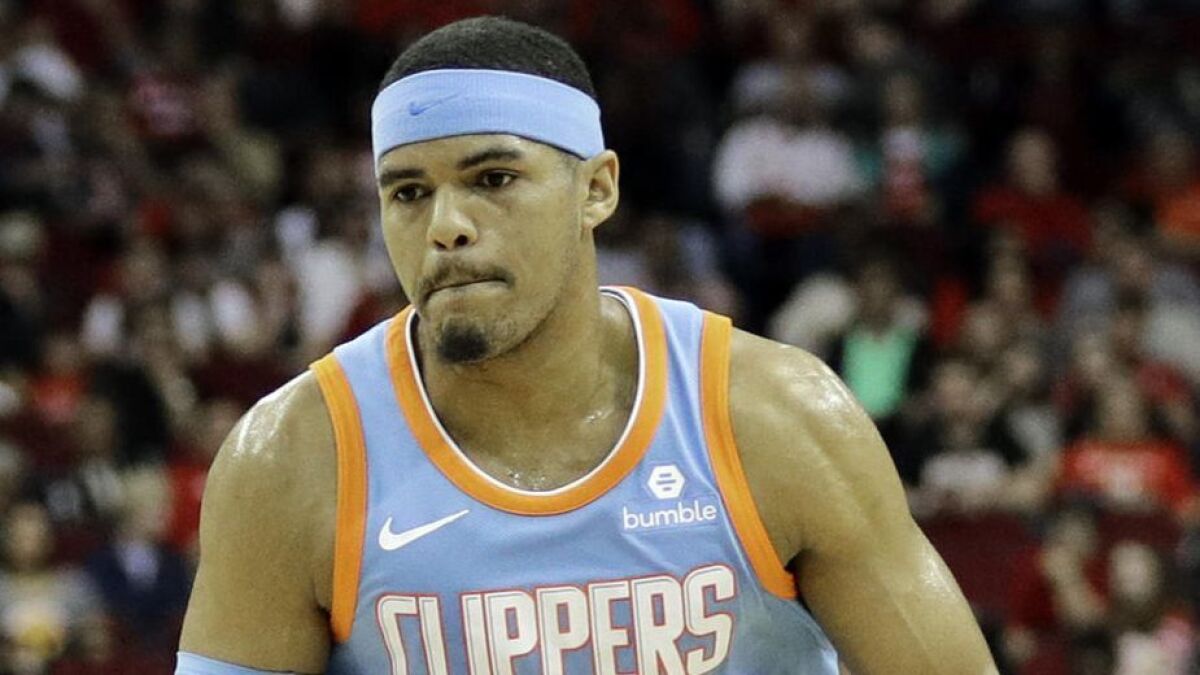 Hi, my name is Broderick Turner, and welcome back to the Los Angeles Times' Clippers newsletter.
Each game, the Clippers have discovered a new and even more impressive facet to what Tobias Harris is willing to bring to the group.
He didn't participate in Tuesday morning's shootaround, having stayed behind at the team hotel to get some extra rest while recovering from the flu while his teammates prepared to play the Minnesota Timberwolves.
But hours later, Harris was there on the court, if in a weakened state.
The Clippers had already found since acquiring Harris from the Detroit Pistons that he had a diverse offensive skill set.
Now they had learned that Harris was willing to take the court through sickness.
"For me no matter, I'm going to go out and play for my team," Harris said. "If I can stand up and walk, I'm going to play."
He was aware that the Clippers were already at less than full strength, injuries having taken a toll, but every game this late in the season is important, and Harris wanted to support his teammates.
He scored only 10 points against the Timberwolves and played just 24 minutes, 38 seconds, but Harris knew he had to be out there.
"Every game is crucial right now," Harris said. "We've got to be focused and we've got to bring a hit-first mentality from the start of the game."
When the Clippers shipped Blake Griffin, Willie Reed and Brice Johnson to the Pistons for Avery Bradley, Boban Marjanovic, Harris and draft picks, they weren't fully aware of how much of an offensive force Harris was.
They have since realized that Harris can score in a variety of ways. He can score in the post, off screens and from three-point range. He can find open teammates for easy baskets. And he is efficient.
"First of all, he's better than I thought," Clippers coach Doc Rivers said. "I knew he was a good player. We didn't know how good. He's just so efficient offensively. He's a way better shooter, even though all the numbers said he was. You just don't see that he is. He's better off the dribble. Terrific post game. So he really does the three things you need to do offensively. And at his size, he's a nightmare to match up with. Threes don't want to guard him because he'll post and he's quicker than most fours. So he's a really, really good basketball player."
Harris, 25, is having a career year, his numbers increasing since he joined the Clippers.
On the season, he is averaging career bests in points (18.5 per game) and three-point shooting efficiency (40.7%). He's averaging 5.5 rebounds and 2.3 assists per game.
In his 20 games with the Clippers, he is averaging 19.6 points, 6.7 rebounds and 3.0 assists.
As a 6-9 power forward, Harris has a lot of range to his game and he has forced the Clippers to change some of their offensive sets to take advantage of what he brings.
"I've never run 'pin-downs' for fours, and you're doing that for Tobias," Rivers said. "We did a lot of pick-and-rolls with Blake and we're doing similar stuff for Tobias. But Tobias is coming off more as a shooter. Blake came off more as an attacker. But we are doing some different things for Tobias, for sure.
"You saw his field-goal percentage, so you knew we were going to try to take advantage of that. I just didn't know how good he was at it. Though we made the changes, we didn't know he was this good."
Team still comes first for Harris.
He knows the Clippers have reached the Western Conference playoffs each of the last six years, and he's going to do what he can to extend that streak.
"We can't put too much pressure on ourselves as a team," Harris said. "We just have to, as a collective unit, go out there and embrace each other and play for each other and let everything handle itself. You have to be the best player you can for the team."
In case you missed it
Clippers play a good game after players-only meeting.
Danilo Gallinari targets a Tuesday return.
Up next
(All times Pacific)
Friday at Indiana, 4 p.m.
Sunday at Toronto, 3 p.m.
Tuesday vs. Milwaukee, 7:30 p.m., TNT
Wednesday at Phoenix, 7 p.m.
And finally
We'd love for you to subscribe or to spread the word and ask your friends to subscribe. It's free! Click here to subscribe.
Have a comment or something you'd like to see in a future Clippers newsletter? Email meand follow me on Twitter: @BA_Turner.
---
Get our high school sports newsletter
Prep Rally is devoted to the SoCal high school sports experience, bringing you scores, stories and a behind-the-scenes look at what makes prep sports so popular.
You may occasionally receive promotional content from the Los Angeles Times.