It only takes one game for Shai Gilgeous-Alexander to show Clippers his many capabilities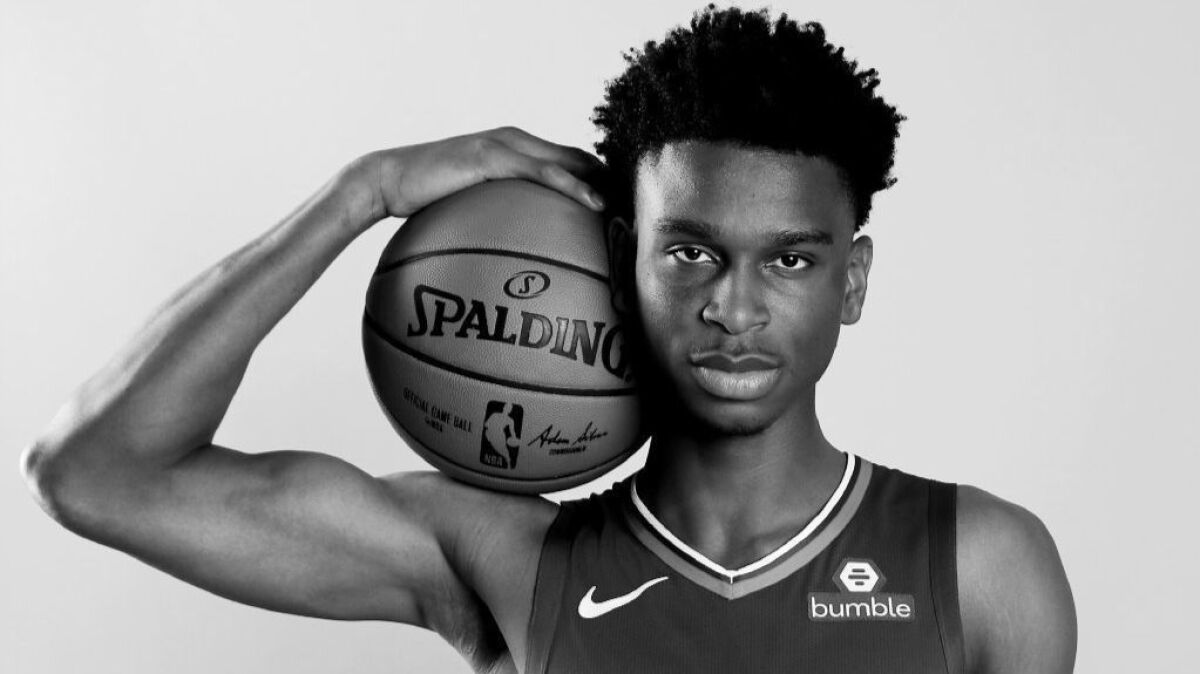 Meant as a showcase for their veterans, the Clippers' first preseason game was another indication of how highly they think of a rookie.
Point guard Shai Gilgeous-Alexander came off the bench in a 110-91 win over the Sydney Kings on Sunday at the University of Hawaii's Stan Sheriff Center, and finished with 10 points, four steals, four assists and two turnovers in nearly 24 minutes.
Of the 10 Clippers who played at least 16 minutes, eight had at least six years' NBA experience. The ninth, Montrezl Harrell, is entering his fourth season. That left Gilgeous-Alexander, the 11th pick in June's NBA draft, as the lone youngster to earn significant time. Coach Doc Rivers plans to give younger players more opportunities Wednesday in an exhibition against the Minnesota Timberwolves at Staples Center.
That the 6-foot-6 Canadian played as much as he did Sunday, then, was both an earned reward after his impressive start to training camp and a nod to how much the Clippers expect to use him in their regular-season rotation.
"I thought in the first half he was fantastic," Rivers said. "I thought in the second half he was still catching his breath from the first half. Good lesson for him because they don't back off, teams keep coming, and I think that was a good lesson for him."
One of several reasons teammates have called Gilgeous-Alexander "special" is his preternatural gift of appearing effortlessly smooth on the court. That made his first shot, a midrange jumper that hit the backboard but no part of the rim, so jarring.
"My first shot got my nerves out a little bit," he said. "And that was good."
Yet he was also routinely able to get anywhere he wanted on the court with the ball in his hand. Gilgeous-Alexander's first basket was a flat-footed, step-back jumper from the baseline to put the Clippers ahead 18-16 late in the first quarter.
Later in the first half, he dribbled toward a screen near the three-point arc when he spun right, away from a hedging defender and into the lane. His drive drew a defender away from Harrell, who caught a lob from the rookie for an easy dunk.
In a three-possession stretch less than two minutes later, he displayed the defensive potential that has left teammates raving.
Gilgeous-Alexander stole a pass from Sydney's Daniel Kickert with 54 seconds remaining in the first quarter and made one of two free throws after a foul. He followed that by stealing a loose ball on Sydney's next possession, which became a three-point play after he was fouled on a transition layup. Eighteen seconds later, he got his third consecutive steal and assisted Lou Williams on another transition layup. His team's lead had grown from four to 10.
"That's what I look at, activity, and he was active on defense tonight," starting guard Patrick Beverley said.
Gilgeous-Alexander, who has a nearly 7-foot wingspan, finished with nearly a third of the Clippers' 15 steals. Though the competition against NBA teams will be more difficult than the Kings of Australia's National Basketball League, Gilgeous-Alexander called Sunday a window into the team's potential.
"I thought we were good defensively but I didn't realize how good we actually can be defensively," he said.
He scored four points and added one steal in the second half but "felt my legs get a little tired and dead" while adjusting to the faster pace.
Teammates said they believe he'll continue to adjust smoothly as his rookie season continues.
"He had a rough start but that's normal for a rookie's first game," forward Danilo Gallinari said. "And then as the game went on I thought he played very good defensively and offensively. He was controlling the rhythm of the game very well. He did a great job."
Twitter: @andrewgreif
Get our high school sports newsletter
Prep Rally is devoted to the SoCal high school sports experience, bringing you scores, stories and a behind-the-scenes look at what makes prep sports so popular.
You may occasionally receive promotional content from the Los Angeles Times.