Column: There's only one thing left for the Sterlings to say: 'We're selling'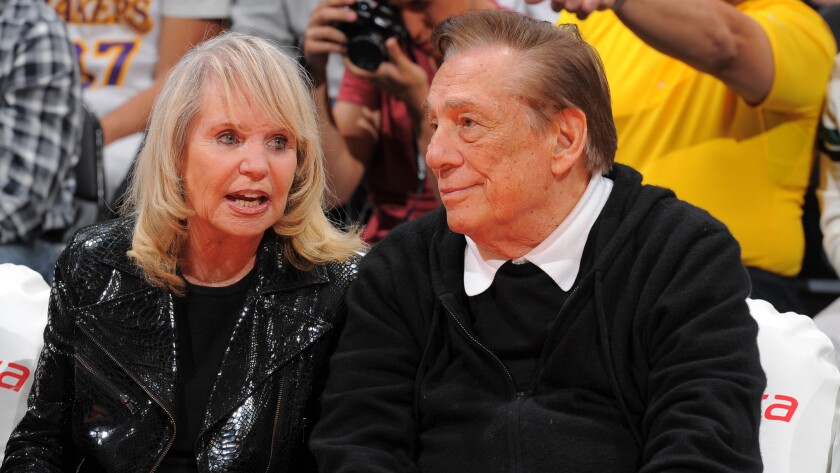 They are both swinging wildly now, humiliating themselves, embarrassing their city and distracting their basketball team with every ugly lunge.
Donald Sterling stumbles onto a national television set with Anderson Cooper and apologizes for his racial slurs by taking more errant jabs at Magic Johnson.
Shelly Sterling falls into the welcoming arms of Barbara Walters and flailingly wonders if the NBA would still be trying to get rid of her and her racist past if she were a man.
The Sterlings are fighting so recklessly, with so much blood spilling down their legacies, that they cannot see a reality that would make them put down their dime-store gloves and stop.
They are fighting for something that no longer exists. All the reasons they both owned and loved the team are gone. These Clippers are no longer their Clippers.
In their warped little world, the Sterlings always treated the Clippers franchise as if it were a shiny backyard four-burner grill. Forty-one times a year the Sterlings would fire it up and invite the neighbors and feel like royalty. They never really cared about cooking good hamburgers; they never really paid any attention to the food; they were happy to feed their egos simply by owning that grill and holding those cookouts.
When it would have been financially smart for the Sterlings to move the team to Orange County several years ago, they refused, simply because their neighbors would have difficulty driving to those 41 barbecues. When fans continually clamored for the owners to spend more money on better players, the Sterlings refused, because they knew their friends would show up no matter what was on the menu. The only reason big contracts were finally given to players like Chris Paul and Blake Griffin is because the Sterlings finally realized that winning basketball games made their get-togethers even more attractive, which made them more attractive.
Then Donald Sterling was finally caught in a recording expressing his long-held racist views, and Shelly Sterling was finally exposed in court documents as being his co-conspirator, and the party is over.
The fare has never been better, but that shiny grill has forever been trashed. As long as the Sterlings are tending to it, it will sit somewhere in an alley behind Figueroa and nobody will touch it. It's radioactive. It's junk.
The Staples Center courtside seats where Donald Sterling once conducted his rumpled reign have been taken over by folks like Floyd Mayweather and Justin Bieber and Rihanna. The king's throne has been confiscated, and he'll never get it back.
The Staples Center press room that the Sterlings once filled with chip-munching, soda-guzzling sycophants has been mostly emptied of their presence. In the past, the place would be crowded with Sterling's moneyed friends, who would watch the halftime and postgame shows on the televisions while patting Sterling's back, nudging his ribs and kissing his ring. They're mostly gone now, having realized that they can no longer benefit from the relationship. There are still a few misguided middle-aged women hanging around wearing ''Team Shelly'' shirts and challenging those who would oppose her presence, but here's guessing they will eventually flee in embarrassment.
Also gone forever is access to what Sterling consider his prize hood ornaments, his players. Forever bolted is the Clipper locker room where Sterling would love to occasionally visit with friends, sickeningly showing off his player's physiques while attempting to encourage those players — some of whom he didn't even know — with high-school chants. Sterling can't go there anymore. He'll never set foot in a sports locker room again.
It's all gone now, for both of the Sterlings, all of it, every smiling usher, every last back slap, every bowl of pretzels, their stage and their status having been stripped by both an angry NBA and a sickened community.
So as they continue this obscene fight to keep their team — the latest blow Shelly Sterling's threat Tuesday to the New York Times that, if necessary, she will depose every NBA owner to expose any skeletons in the closet — they need to know that they are fighting for an ideal that has been forever lost.
At this point, there is only one way the Sterlings can maintain even a shred of the respect among the Los Angeles community they have so desperately courted during their 30 years of rolling out that shiny four-burner grill.
Stop the madness. End the fight. Realize the one truth that no judge can change, no consultant can fix and no interview can massage.
There is nothing left for you here. These Clippers will never again be your Clippers. Quietly agree that for the good of the city and the NBA, you will immediately put the team up for sale.
You can't win because you've already lost.
---
Get our high school sports newsletter
Prep Rally is devoted to the SoCal high school sports experience, bringing you scores, stories and a behind-the-scenes look at what makes prep sports so popular.
You may occasionally receive promotional content from the Los Angeles Times.