Joc Pederson will start for Dodgers in place of slumping Yasiel Puig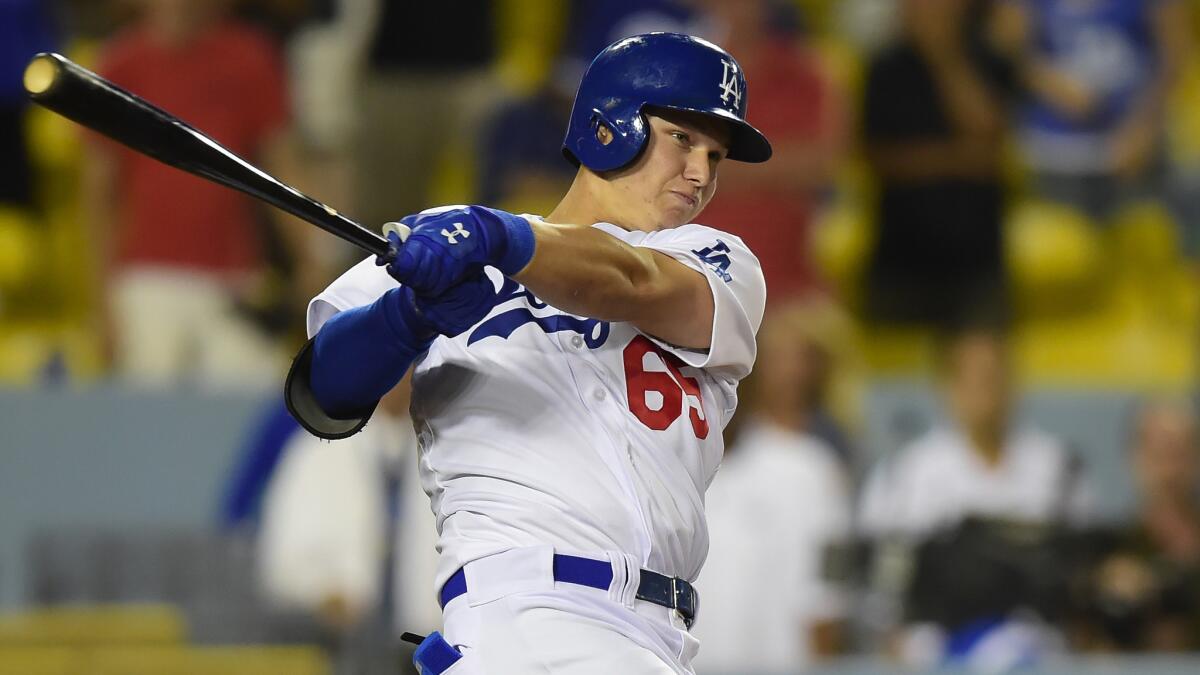 That must have been one impressive ball Joc Pederson lined foul Monday night.
Because one day after Manager Don Mattingly said he would only use his much ballyhooed prospect as a pinch-hitter or pinch-runner in September, Pederson was in the lineup.
That's right: Pederson is starting in center field Tuesday for slumping Yasiel Puig against the Nationals. One phenom handing off to the other.
Mattingly said he wanted to give Puig a break and put his best defense behind Clayton Kershaw. He chose Pederson to start Tuesday over Andre Ethier.
"The one thing about Joc that everyone in the organization is pretty much in concert with is, this guy is our best defensive center fielder," Mattingly said. "He's probably the only true center fielder we have at this point."
Puig is in a horrid slump. He has four hits in his last 30 at-bats (.067) and 17 in his last 93 (.185), all without a home run. He hasn't hit a homer since July 31.
"It gives him a chance to work, gives him a chance to watch," Mattingly said. "Hopefully it's a situation where we can kind of give him his days here and his days there. We know in Cuba they don't play that many games, so we'd seen last year late in the year he struggled. Maybe it's the number of games is wearing him down a little bit."
Puig, however, is still the unconventional ballplayer. He was unable to put in extra work Tuesday. Several Dodgers took some early batting practice, but Puig did not arrive to the clubhouse until 3:55 p.m. and just made it on the field in time for the team 4:05 p.m. stretch.
"You can't force guys into work," Mattingly said.
Mattingly said he was uncertain whether he would also give Puig Wednesday off; the Dodgers have an off-day Thursday.
Pederson, the MVP of the Pacific Coast League for triple-A Albuquerque, was just called up Monday and made his major-league debut that night. He was called on to pinch-hit with two outs in the ninth and the tying runs on the corners. After lining a foul down the line, he was called out on strikes.
Mattingly seemed unconcerned with thrusting the unproven Pederson into the heart of a pennant drive.
"We all like the way Joc kind of carries himself," Mattingly said. "We've seen him since he was really young and you could tell right away he had that little swagger and that confidence that he was a player. He grew up around the game. He carries himself with an air."
Get our Dodgers Dugout newsletter for insights, news and much more.
You may occasionally receive promotional content from the Los Angeles Times.