Matt Kemp, among others, is man in middle of Dodgers' win over Giants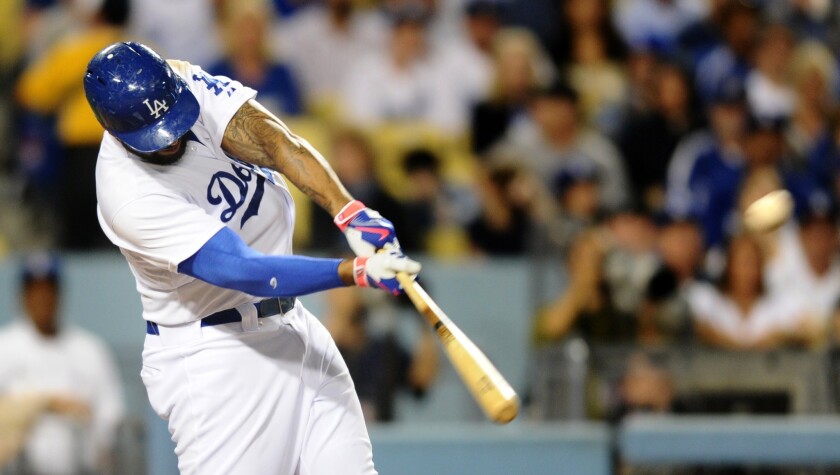 Matt Kemp has been where Yasiel Puig was Tuesday night, screaming at opponents and forcing teammates to restrain him as benches cleared.
Kemp knows better now.
So here he was, on his 30th birthday, standing between Puig and Madison Bumgarner, who struck Puig on the left ankle with a slider in the first inning. And here he was, exacting revenge not with punches or curse words, but with a thunderous two-run home run later in the inning that helped the Dodgers to a 4-2 victory over the second-place San Francisco Giants.
"Nothing bad happened," Kemp said. "We got the 'W.'"
Utililty infielder Justin Turner homered twice off Bumgarner, right-hander Zack Greinke pitched eight superb innings, and the Dodgers reduced their magic number to win the National League West to one — meaning they can secure the division title with a win Wednesday night in the series finale at Dodger Stadium.
Clayton Kershaw, who is 20-3 with a 1.80 earned-run average, will start the game for the Dodgers.
"We have the best pitcher in the world going on the mound," Kemp said.
Kemp was only 25 when he last played in a postseason game. The Dodgers were there last season, but Kemp wasn't. Sidelined because of a fractured ankle, he had to watch the games on crutches.
"Last year was bittersweet," Kemp said. "The team did a really good job without me."
The Dodgers reached the NL Championship Series, where they were eliminated by the St. Louis Cardinals. Hanley Ramirez was injured in the opening game of the series, when a fastball fractured his ribs.
"A lot of guys who weren't healthy," Kemp said. "Hanley wasn't healthy in the second round. I just feel like if we had been a healthier team, we would have went a lot deeper into the playoffs. Hopefully, everybody is healthy as they can be this year and, hopefully, we'll get that chance to make it all the way."
Their latest victory inched them closer.
Turner, starting at second base in place of left-handed-hitting Dee Gordon because the left-handed Bumgarner was on the mound, moved the Dodgers in front, 1-0, with a leadoff home run in the first inning.
The next batter, Puig, was hit on the ankle. Puig was also struck by a pitch the previous night.
Soon, Puig and Bumgarner were barking at each other. Puig was initially restrained by home plate umpire Adrian Johnson as Giants catcher Buster Posey stood nearby.
"It's a rivalry, you know," Kemp said. "High emotions. We both want to win badly."
Kemp was the first Dodgers player on the scene. He placed a hand on Puig's chest, ensuring the center fielder wouldn't go after Bumgarner.
"We wanted him in the game," Kemp said. "You don't want him to do something stupid."
Two batters later, Kemp launched a 2-0 fastball over the center-field wall. The two-run home run increased the Dodgers' lead to 3-0.
"It just shows Matt's maturity there," Manager Don Mattingly said. "He's been one of the emotional leaders in our clubhouse."
The home run was Kemp's 24th this season and 16th since the All-Star break.
"I knew it was in there, it just takes time," Kemp said.
Kemp, who had major surgery on his ankle last winter, noted his activities were limited in spring training.
"I honestly didn't know what my body was going to feel like," he said. "But as a baseball player, you just learn to grind through those battles that you have, as far as injuries and things like that. My game has changed a lot. I'm not running as much. I can't really run as much as I want to. But you find a way to try and be successful on the field. I'm still learning how to do that."
With Greinke pitching eight innings, the Dodgers were ahead, 3-2, until the bottom of the eighth. That was when Turner belted his second home run to give the Dodgers a two-run cushion.
Kenley Jansen pitched a scoreless ninth inning to earn the save. Kemp recorded the final out, catching a fly ball from Hunter Pence in right field.
The Dodgers didn't present Kemp with a cake. Instead, backup catcher Drew Butera later emptied a tub of water on his back.
"Time goes by fast," Kemp said. "It's why you can't really take anything for granted. I've enjoyed my first nine years of my major league career in L.A., and I've grown in a lot of ways. I did get to L.A. at a young age, at 21, and now I'm 30, and it's just weird to be saying that I am 30. It just sounds old."
Follow Dylan Hernandez on Twitter @dylanohernandez
---
Get our high school sports newsletter
Prep Rally is devoted to the SoCal high school sports experience, bringing you scores, stories and a behind-the-scenes look at what makes prep sports so popular.
You may occasionally receive promotional content from the Los Angeles Times.