Enrique Hernandez could serve as Dodgers' multipurpose man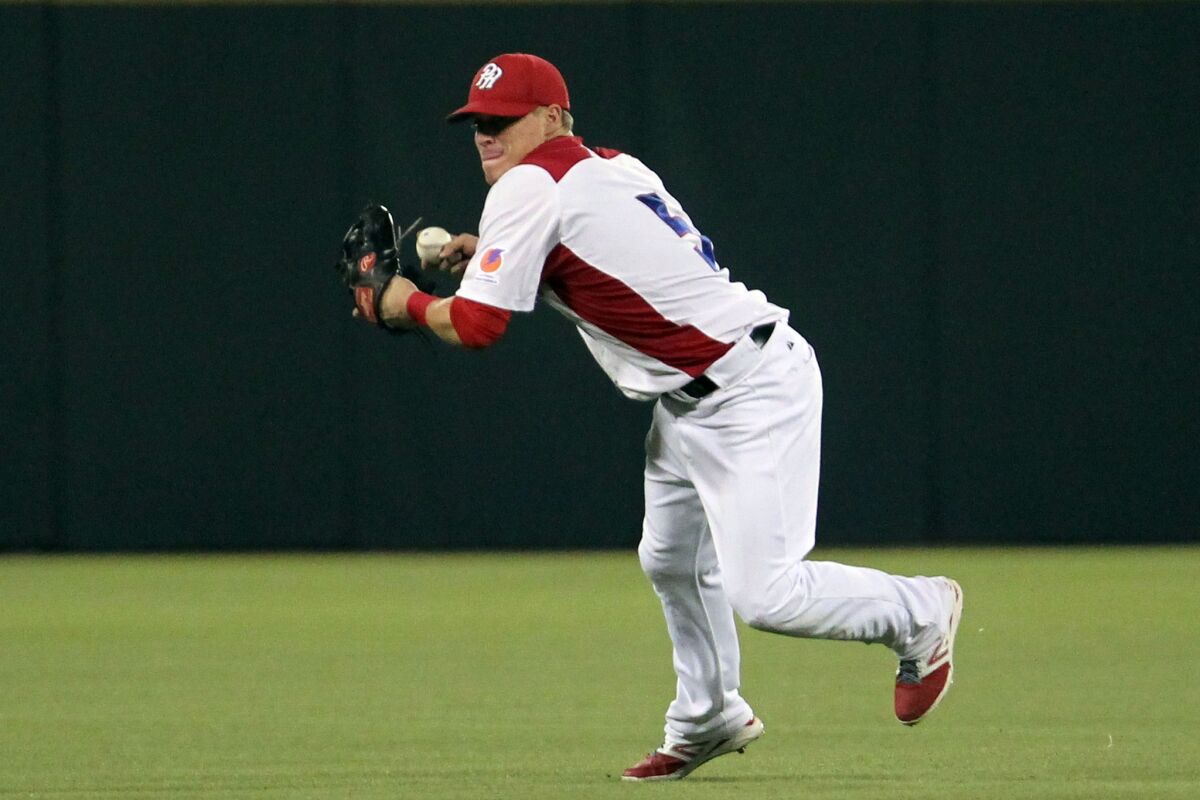 Reporting from PHOENIX —
Last December the Dodgers offered the Miami Marlins two All-Stars in exchange for four prospects with less than a full season of major league experience combined.
A no-brainer for Miami, right? Well, not so fast.
The Marlins weren't sure they wanted to give up utility man Enrique Hernandez — even in exchange for pitcher Dan Haren and second baseman Dee Gordon.
But the Dodgers were sure there would be no deal without him.
"We don't make that trade without Enrique," Dodgers President Stan Kasten said Friday. "Look, we were giving up a lot of good major league pieces."
Now it's up to Hernandez, a 23-year-old Puerto Rican, to prove they got a good piece back.
"That's a really good feeling, to know teams want me," Hernandez said. "I'm not just another player."
Given the number of positions he can play, Hernandez is more like a lot of players combined. He played six defensive positions with the Marlins and Houston Astros last season, but given inconsistent playing time he struggled at the plate, hitting .248 in 121 at-bats.
He's continued those struggles this spring, going hitless in his first 13 at-bats and one for 20 overall. He was 0 for 4 in Friday's 3-3 draw with Cincinnati, but he drove in a run with a sixth-inning groundout against Reds closer Aroldis Chapman, the kind of tough left-hander against whom the Dodgers plan to use him.
"Enrique can hit," Manager Don Mattingly said of Hernandez, who batted .295 or better at three minor league stops. "The only reason guys get to play all over the diamond is because they can hit. If they can't hit, then you end up not seeing them.
"We like the way Enrique swings the bat."
Hernandez's versatility extends to his language skills, since he's equally fluent in English and Spanish — though his minor league managers didn't always know that.
Last season, after Hernandez was promoted to triple-A Oklahoma City, Manager Tony DeFrancesco came over to introduce himself and asked Hernandez how well he spoke English.
"I was like, 'Well, this is the perfect opportunity,' " Hernandez recalled with a grin. "I [said] 'English not good. English not good.' "
So for the next six weeks DeFrancesco brought an interpreter with him whenever he wanted to speak to the player — despite the fact the interpreter and everyone else in the clubhouse knew Hernandez spoke English.
Hernandez finally let his manager in on the joke during an unusually tense team meeting.
"I just decided to break the ice and make things a little bit more loose," he said. "I just raised my hand and . . . I said, 'I just want you to know that I speak English and we've all been messing with you this whole time.' "
The Dodgers didn't get Hernandez for comic relief. They got him because he's a right-handed hitter who can play numerous positions, locking him in competition with veterans Justin Turner and Darwin Barney for the two utility jobs the Dodgers need to fill before opening day.
Hernandez hopes to win that battle, of course. But he sees bigger things in his future.
"As long as I'm in the lineup, I don't really care where I'm playing," he said. "I know I can produce if I play every day. [But] I'm not ready to call a myself a utility player yet.
"This year, yes, because it's what the team needs me to be. But I still think I can be an everyday player."
kevin.baxter@latimes.com Twitter: @kbaxter11
---
Get our Dodgers Dugout newsletter for insights, news and much more.
You may occasionally receive promotional content from the Los Angeles Times.