Dodgers struggle on offense but beat Rangers, 1-0, on a walk-off balk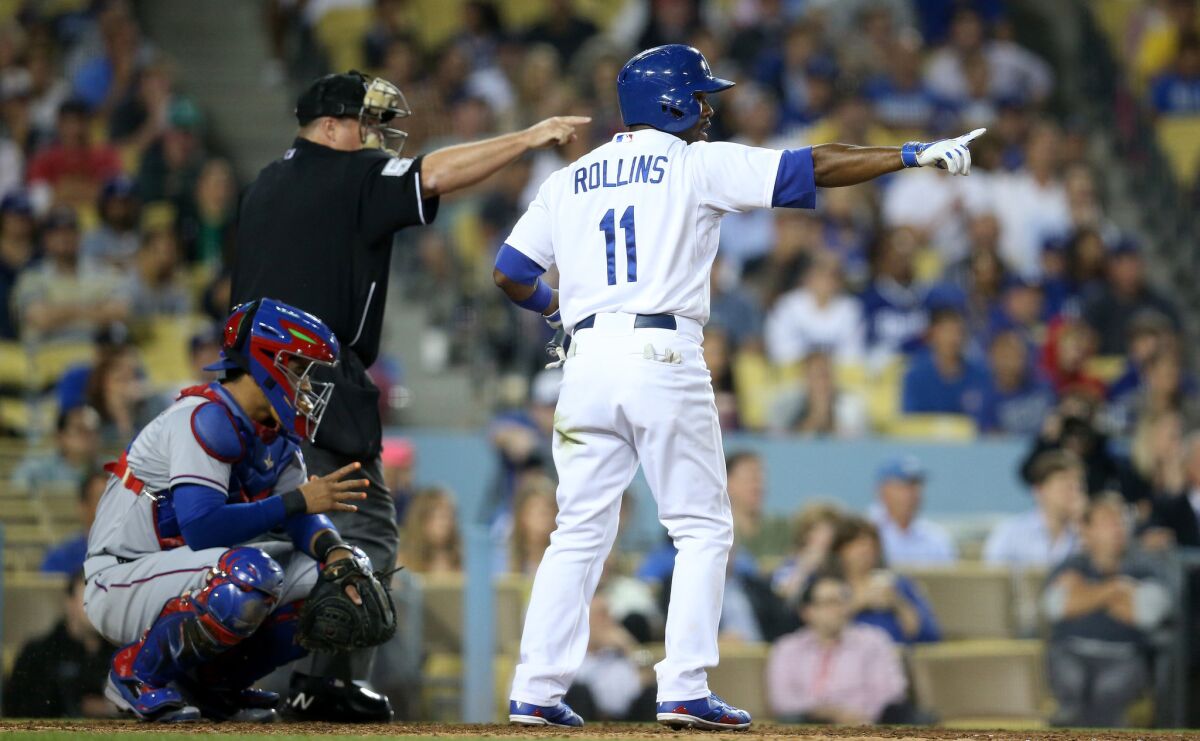 More than a month of low-scoring games hasn't changed Mark McGwire's mind.
The hitting coach and former home-run champion was adamant: The Dodgers should be scoring more runs.
In McGwire's view, the Dodgers shouldn't be playing the kind of game they played against the Texas Rangers on Thursday night at Dodger Stadium. The Dodgers won, 1-0, but their only run in the walk-off victory was scored on a balk by Rangers reliever Keone Kala.
"We should be averaging no less than five runs a game," McGwire said.
They scored none against 25-year-old minor-league call-up Anthony Ranaudo in the first 62/3 innings Thursday.
Ranaudo's only other start this season, in April, lasted 12/3 innings. The Angels pounded him that day for six runs.
Concerns about the offense have escalated to a point that Manager Don Mattingly decided to call a team meeting in the hours leading up to the home-and-home series finale against Texas. The Dodgers fell to the Rangers each of the previous three days, including twice in Texas.
The Dodgers have scored two or fewer runs in 18 of their last 32 games. Over that period, they have scored an average of 3.16 runs per game.
In their first 35 games of the season, the Dodgers averaged 5.28 runs per game.
"Why can't we score?" McGwire said. "Well, it's pretty simple. We're playing the pitchers' game. We're not playing our game. We're swinging at a lot of bad pitches. We're not working the count. We're not the doing the ABCs of the game of baseball. When you don't do these things, you're not going to score a lot."
The Dodgers are the National League leader in home runs with 84, but McGwire doesn't think his team has become overly home-run conscious.
"Go back and look at what we did in April," McGwire said. "We did all the things I said we should be doing. It's really simple. Get back to the basics. You understand what the pitcher's trying to do to you, you stick to your guns, you don't do what he's trying to make you do, and if you don't get anything to hit, you pass it on to the next guy."
McGwire said problems started to develop before the team's visit to San Francisco in the middle of last month. The result was a disastrous performance at AT&T Park, where the Dodgers were not only swept by the Giants but also failed to score a single run in the three-game series.
"This team should never be shut out," McGwire said. "Never, ever."
The Dodgers will play host yo the Giants in a three-game series that starts Friday. The Dodgers will enter the series with a 21/2-game lead over the Giants in the NL West.
McGwire acknowledged the inexperience at the top of the lineup could be part of the problem. On most days, rookie Joc Pederson has batted leadoff, followed by Yasiel Puig.
"We've got two guys that are still learning how to hit," McGwire said.
Pederson is batting .171 over his last 13 games.
Puig is batting .349 in the 11 games he has played since he was activated from his six-week stay on the disabled list. But he is only three for 20 in his last five games.
The more-experienced Adrian Gonzalez is also in an offensive tailspin, as he is batting .223 in his last 31 games. He has one extra-base hit in his last 13 games.
"We need everybody," McGwire said. "We're all in this together."
Before the start of the season, McGwire said he expected the Dodgers to be more competitive against top-level pitching than they were last year. McGwire said he still expects that to be the case.
"Absolutely," McGwire said.
His solution?
"When things don't go your way, you try to complicate things," he said. "You have to simplify it. If you simplify your strike zone, good things happen."
Follow Dylan Hernandez on Twitter @dylanohernandez
---
Get our Dodgers Dugout newsletter for insights, news and much more.
You may occasionally receive promotional content from the Los Angeles Times.