Dodgers give rookie Corey Seager short notice he's a starter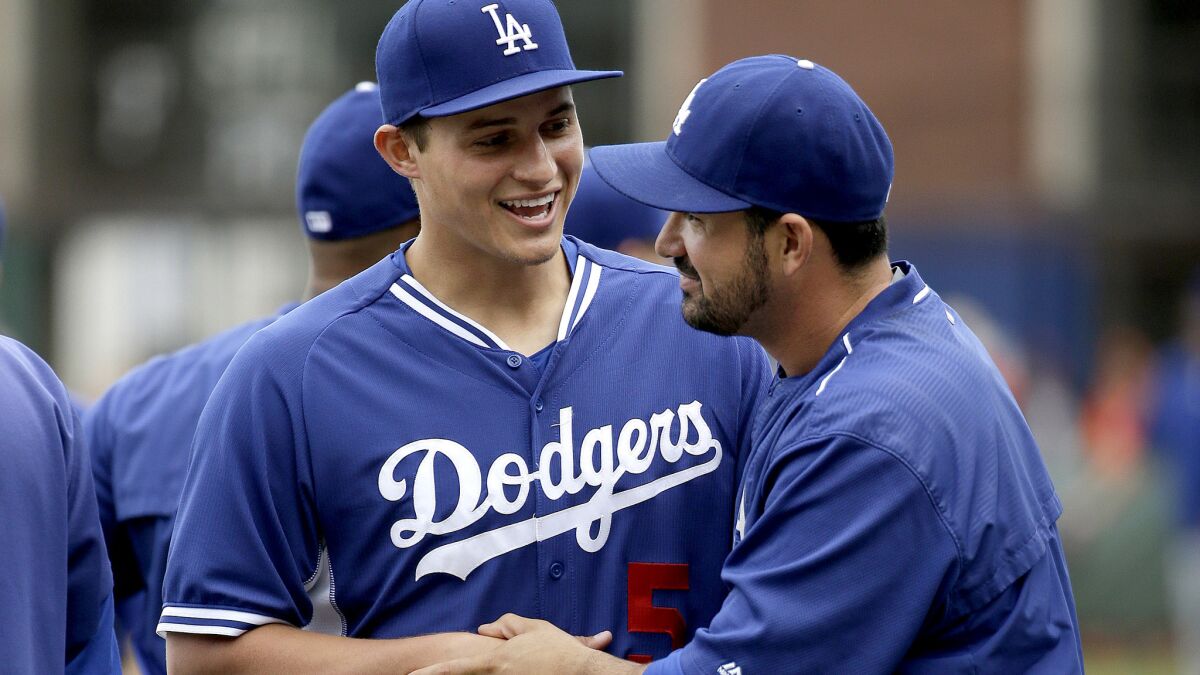 The Dodgers' youth movement continued Friday night when Corey Seager started at shortstop, and that doesn't figure to change for a long time.
There has been no official announcement that Seager has unseated veteran Jimmy Rollins as the starting shortstop, but the daily lineup and a meeting with Rollins tells a clear story.
"They're going to play him," Rollins said. "We had a conversation and that's the way it was said: 'We're going to go with the kid. That's the lineup we feel is best.'"
Seager is 21 and appeared in only his 26th major league game in the Dodgers' 6-2 victory over the Padres on Friday night at Dodger Stadium. Rollins is 36 and took a seat, having played in more than 2,200 games.
The veteran and the kid, players going in the opposite directions in their careers, brought together by a team searching for its first championship in 27 years. The Dodgers moved a half-game ahead of the rained-out New York Mets in the chase for home-field edge in their upcoming playoff series.
Probably out of respect to Rollins, Manager Don Mattingly has chosen his words carefully when asked who his starting shortstop is.
"Right now? Tonight? Moving forward I'm not sure we've made that decision yet, but tonight it's Corey," he said.
Come the postseason, Mattingly could try alternating Justin Turner, Seager and Rollins between short and third base. Seager has also played five games at third.
"Right now I don't have to make that decision," Mattingly said.
Turner has been bothered by a sore knee, and lately a sore forearm, but he returned to the lineup at third Friday after sitting out two games. Turner went one for three and drove in two runs. Seager went one for three with an RBI.
Alex Wood (12-12), in something of an undeclared battle with Brett Anderson to be the No. 3 starter in the playoffs, went seven strong innings. He gave up two runs and five hits, walking one and striking out four.
That was a big change from his last outing, when he gave up eight runs and 11 hits in 51/3 innings in Colorado.
Rollins had to watch it all Friday, and did so without going the disgruntled veteran route. Seager has done little wrong since he arrived.
"I'm OK with it," Rollins said. "Obviously, no one is ever happy. I mean, you want to be out there playing, especially this time of the year.
"But like I said in my meetings, it isn't about the name on the back, it's about winning baseball. So if that's the lineup that is best for us to win, let's go with that."
Rollins had a disappointing offensive start with the Dodgers, batting just .215 in the first half. He's batting .245 in the second half and .291 (15 for 51) in his last 19 games, coming closer to the hitter he expects to be.
Rollins admitted that if this benching had happened to him 10 years ago, he would have had a very different reaction.
"Either you're selfish or you're a man of your word," Rollins said. "If you say it's about the team, then when the situation isn't necessarily in your favor, you shouldn't change. I'm not going to change."
Up next
Right-hander Zack Greinke (18-3, 1.68 ERA) will face left-hander Robbie Erlin (1-1, 6.30) and the Padres on Saturday at 6 p.m. TV: SportsNet LA; Radio: 570, 1020.
---
Get our Dodgers Dugout newsletter for insights, news and much more.
You may occasionally receive promotional content from the Los Angeles Times.