Expect a reduced workload for Kenley Jansen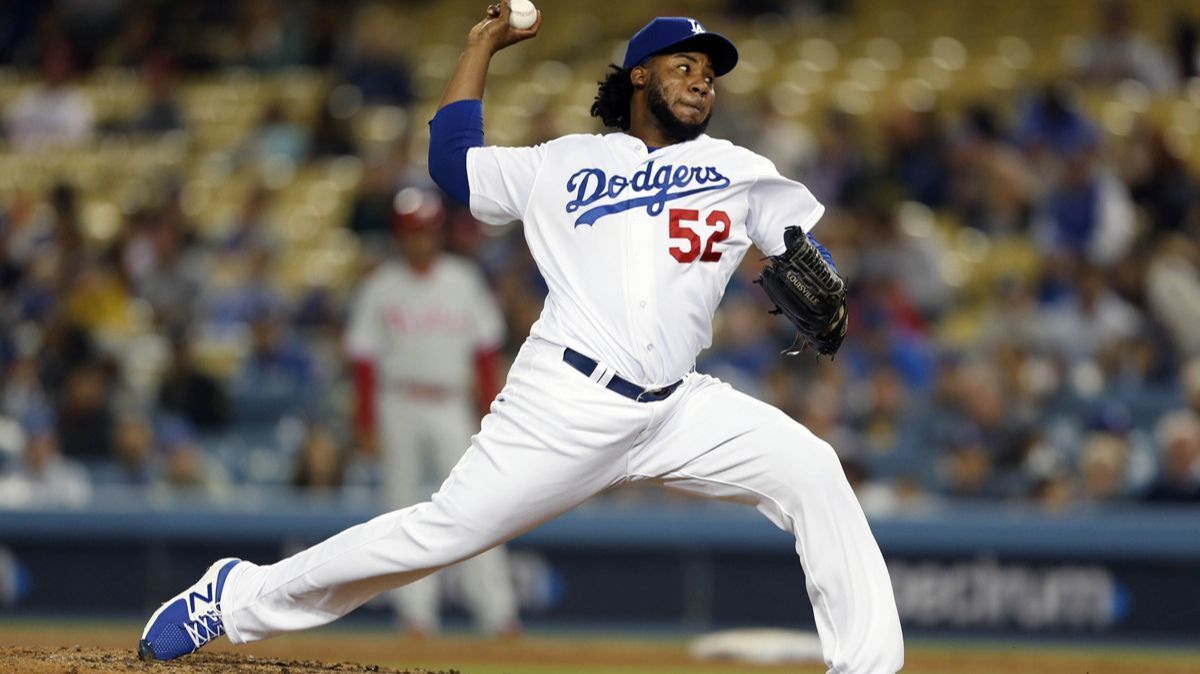 Kenley Jansen's standing on the Dodgers remains cemented. He is the team's undisputed closer entering Game 1 of the National League Division Series against the Atlanta Braves on Thursday. His teammates and manager insist they are confident in him even after a turbulent regular season. Jansen has maintained his confidence has not wavered in his role.
But Jansen will not be asked to replicate the workload he shouldered during last year's long playoff run, manager Dave Roberts said before his club's workout at Dodger Stadium on Wednesday evening. Jansen logged 16 2/3 innings in 13 appearances serving as the bullpen's anchor last October. Others will be asked to assume more responsibility this autumn.
"I would say that was pretty intense last year," Roberts said. "I would take the under on the workload compared to last year … Every game is going to dictate [the situation]. But I do like the guys that we have around him in the 'pen. But to see him try to do what he did last year, unlikely."
Jansen's regular season concluded on a sour note in Monday's division title tiebreaker. He gave up home runs to the first two batters he faced before securing the three outs needed to seal the Dodgers' sixth straight division title. It was a reminder of Jansen's mortality this season, which he ended with the highest ERA of his career. Roberts said he plans on speaking with his closer before Game 1.
"My confidence level is high, and my expectation for him to pitch well in this big series is the same, as it has been the last three years," Roberts said.
"He's shown to perform on this stage, in this environment. And that's what I'm going to pull from, and I'm going to encourage him to pull from. So I know that Kenley is a very confident player, so I don't think that's a concern of his, and it's not mine either… I'm going to talk to him and just confirm that he's in a good head space, which I expect he is."
Baez rebounds
Roberts did not reveal the team's 25-man roster for this series, and the official list is not due until Thursday morning. But he indicated reliever Pedro Baez would be a member of the group, and could play a significant role in the bullpen. Baez was left off the postseason roster for the final two rounds last October.
"It hasn't been an easy road for him," Roberts said. "You look at the last calendar year. But where he was last year, and where he's at now, on a playoff roster, that's exciting for him, and all the credit goes to him."
Baez bounced back after his worst outing of the season, a four-run meltdown in Colorado on Aug. 9 at Coors Field. Over his next 19 appearances, Baez gave up only one run on seven hits in 19 1/3 innings. He struck out 19 batters during that stretch, and will likely appear in high-leverage situations this month.
"We've given him some opportunities," Roberts said. "And he's performed."
Paring down the roster
The Dodgers completed the regular season carrying a 40-man roster. By Thursday morning that number must drop to 25. Roberts said the club had decided on "22, 23 guys," as of Wednesday afternoon and hadn't decided if it will carry a seven- or eight-man bullpen.
"There's a lot of difficult decisions," Roberts said. "So that's what's kind of taking so long. But we have guys that can get lefties out, righties out, guys that can get some length. So we have a lot of options."
SHORT HOPS: Braves manager Brian Snitker announced right-hander Anibal Sanchez will start Game 2. Clayton Kershaw is slated to start for Los Angeles ...There are still tickets available for Game 1, a team official said. The tickets can be found at dodgers.com/postseason.
---
Get our Dodgers Dugout newsletter for insights, news and much more.
You may occasionally receive promotional content from the Los Angeles Times.