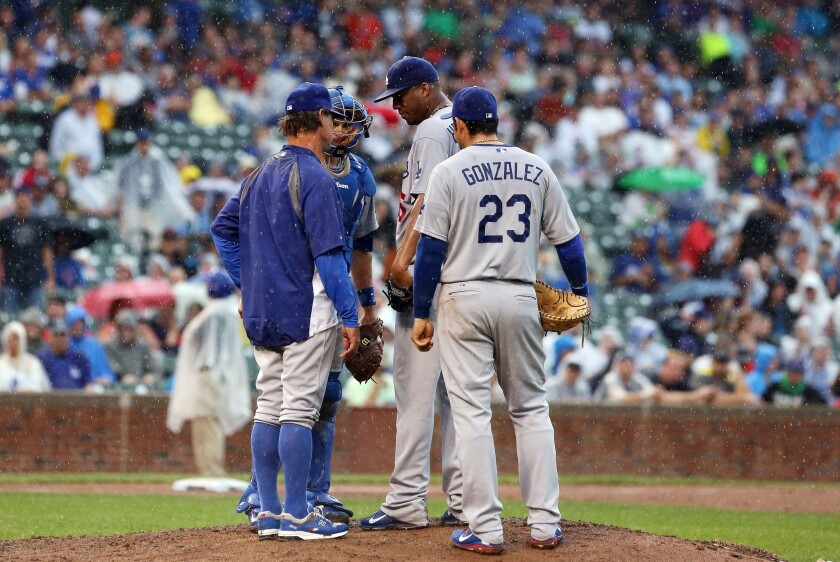 KEY MOMENT: J.P. Howell allowed his first home run of the season, a three-run blast by Arismedy Alcantara that reduced what was once a five-run lead for the Dodgers to 7-6. The Cubs completed their comeback an inning later when Chris Coghlan hit his second home run of the game, a two-run shot to right field off Brian Wilson that moved the home team in front, 8-7.
ON THE MOUND: By completing five innings, Roberto Hernandez could have won his first game in three weeks. He couldn't do it. Hernandez faced two batters in the fifth inning: Coghlan, who doubled, and Javier Baez, who walked. Hernandez was then replaced by left-hander Paco Rodriguez with the Dodgers leading, 6-2. The four-inning start marked the fourth consecutive time Hernandez failed to pitch five innings. His last four appearances have lasted a combined 15 innings. The Dodgers should find that disconcerting, considering he would be their No. 4 starter in the playoffs if Hyun-Jin Ryu doesn't return from a shoulder injury.
AT THE PLATE: Behind two home runs by Adrian Gonzalez, the Dodgers built an early 6-1 lead. Gonzalez hit a two-run home run in the first inning and a three-run home run in the third. His five runs batted in raised his season total to 111, the most in baseball. Dee Gordon, Yasiel Puig and Scott Van Slyke each had two hits. For Gordon, the game counted as his eighth consecutive multi-hit game.
PLAY OF THE GAME: Puig made a spectacular diving catch in left-center field on a would-be extra-base hit by rookie Jorge Soler and doubled off Coghlan at second base to end a fifth-inning threat by the Cubs. The play, which preserved the Dodgers' 6-2 advantage, should give Puig and Soler something to talk about. The Cuban outfielders are friends and live near each other in Miami in the off-season. "Before spring training, we worked out together," Puig said in Spanish. Soler, 22, has been a source of considerable excitement since the Cubs promoted him to the major leagues last month. He is batting .344 with five home runs and 18 RBIs in 18 games. "I hope he can finish strong, so he'll have a chance to start next season with them," Puig said. "He hasn't done anything yet. He can do a lot more. He's a great player. I know he'll continue to improve."
MEDICAL REPORT: Ryu played catch for the first time since he was sidelined with an irritated left shoulder. … Juan Uribe felt tightness in his groin area and wasn't in the lineup.
UP NEXT: Jamey Wright (5-4, 4.30) will face Jacob Turner (1-3, 6.93) and the Cubs at Wrigley Field on Sunday at 11 a.m. PDT. On the air: SportsNet LA. Radio: 570, 1020 (Spanish).
---