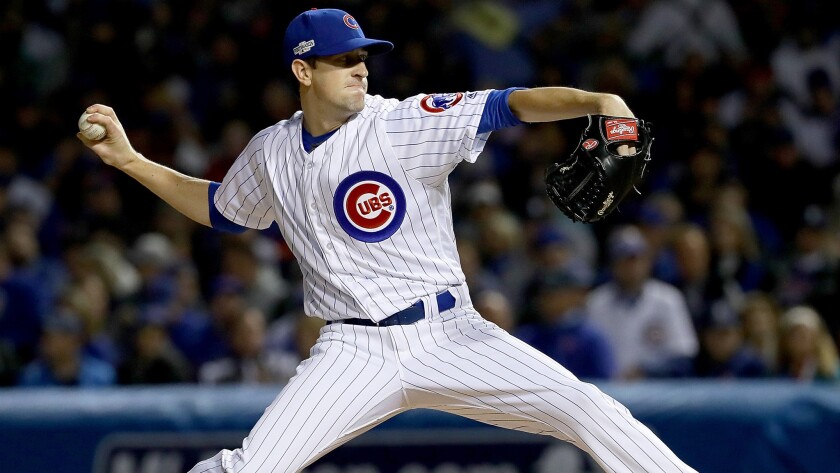 A look at Game 2 of the National League Championship Series between the Dodgers and the Chicago Cubs:
When: Sunday, 5 p.m. PDT.
Where: Wrigley Field.
TV: FS1. Radio: 570, 1020, 1540.
In-game blog: latimes.com/sports
The Dodgers' Clayton Kershaw (12-4, 1.69 ERA) vs. the Cubs' Kyle Hendricks (16-8, 2.13 ERA).
Kershaw started Game 4 of the NLDS on three days' rest, relieved in Game 5 on one day of rest, and now will make this start with two days of rest since that relief appearance. This has already been a taxing postseason for the 28-year-old ace, but, as he noted in a Saturday press conference at Wrigley Field, this is a rare opportunity. The Dodgers had not reached this round of the postseason since 2013.
Hendricks has also been on an unusual schedule. He exited Game 2 of the NLDS in the fifth inning because he was hit by a 94-mph line drive on his right forearm. He has played catch, thrown a bullpen session and generally felt healthy since, so the Cubs are giving him this start. The 26-year-old Newport Beach native sported the best earned-run average in the major leagues this season after bursting onto the scene in 2014. He owns a 2.95 career ERA through 75 starts.
Twitter: @pedromoura
---