Matt Kemp again is the hero in Dodgers' 3-2 walk-off win over the Diamondbacks
Dogpile was not the best word to describe it. Mosh pit was more like it. Whatever you called it, it was a jumping mob of humanity, men in white jerseys hopping in celebration down the left-field line.
One man emerged with his jersey unbuttoned and untucked, his smile wide and genuine. He was the man who was not supposed to be here, the man who had just hit the Dodgers into first place in the National League West.
October is something of a birthright to the newest generation of Dodger players, the ones that have led the team to five consecutive division championships and the team's first World Series appearance in three decades.
To Matt Kemp, the World Series is something of a promised land. He is 13 years, and almost two thousand games, into his career. His World Series experience is limited to holding the remote control. When the Dodgers brought him back last winter, in a trade that even team officials acknowledged was more about balancing the books than adding talent, Kemp pleaded for one more chance at October.
"That's one of the reasons why I asked them to keep me here," Kemp said Sunday. "I wanted a chance to make it to the World Series."
Kemp put the Dodgers on his back and carried them two big steps closer over the weekend. One day after hitting the game-winning home run off Arizona reliever Archie Bradley, he hit a walkoff double off Bradley, unleashing the mosh pit and cranking up the crowd to a decibel level worthy of the World Series.
"Two of the biggest hits of the year for us," Dodgers manager Dave Roberts said.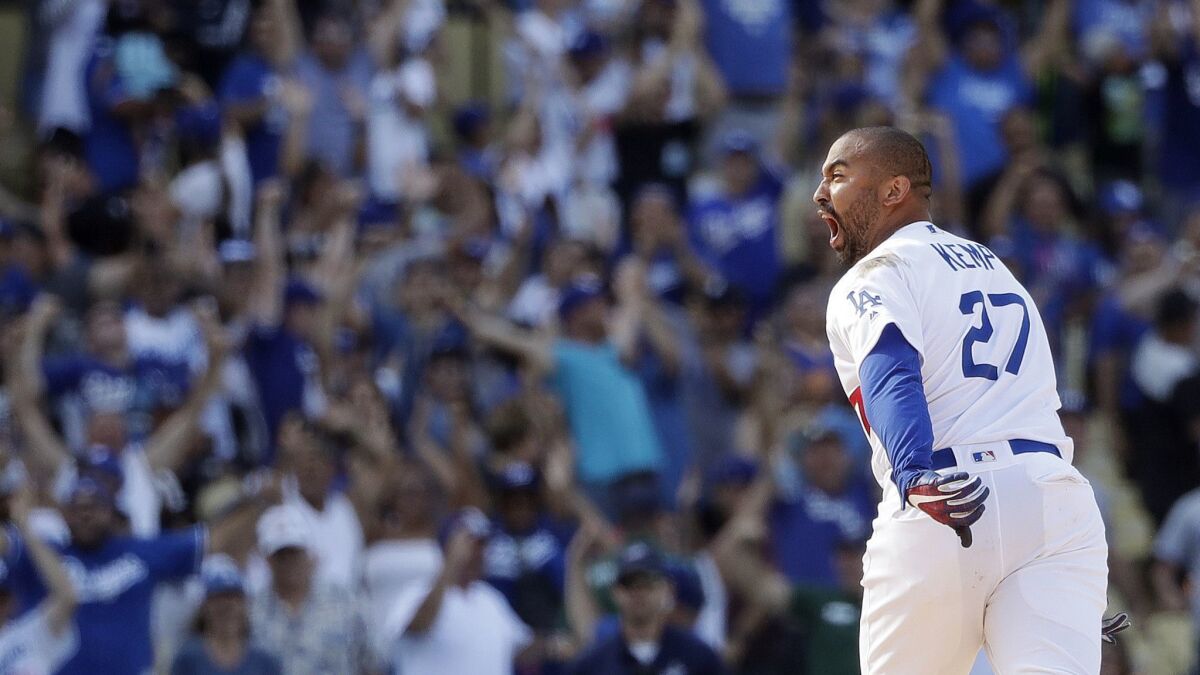 The Sunday heroics powered the Dodgers to a 3-2 victory over the Arizona Diamondbacks, putting the Dodgers back in first place and dropping the Diamondbacks into third. The Dodgers have won eight of nine games, in the process erasing a 4-1/2-game deficit in 10 days.
The Colorado Rockies are in second place, one-half game out. The Diamondbacks are one game back after losing three of four games to a Dodgers team that scored three runs in each of its three victories.
"This was a crazy series," the Dodgers' Cody Bellinger said. "It is, I think, the best two teams in the division."
For the first few innings, the day appeared to be destined to be remembered for the brilliance of rookie Walker Buehler. He struck out nine, all in the first five innings. He retired 12 consecutive batters at one point.
He faced 24 batters and gave up two hits: both singles, and both hit by perennial MVP candidate Paul Goldschmidt. Buehler boasts a 2.92 earned-run average, ranking in the top 10 among NL pitchers with at least 100 innings.
The Dodgers sent Buehler for what they said were precautionary X-rays on his left foot. He did not leave the game because of injury.
Roberts was asked if it might feel as if Buehler is the Dodgers' ace.
"If you ask him, probably," Roberts said. "That's what we want him to think. … He definitely sees himself as an ace. He's got the makings of something really special."
As the teams headed into the ninth inning, with the score tied 1-1 and no save possible for the home team, Roberts let rookie Caleb Ferguson return for a second inning of relief. Ferguson gave up a leadoff home run to Daniel Descalso, and then Roberts called for closer Kenley Jansen for a rare appearance with his team losing.
With Jansen having pitched Friday and Saturday, Roberts said he wanted to minimize Jansen's workload by letting the left-handed Ferguson start the inning against the left-handed Descalso.
"If I can steal an out and shorten his workload, that was the goal," Roberts said. "It just didn't work out."
Said Jansen: "Doc still made a great decision. At the end of the day, we won the ballgame. That's how we do it. Just like sometimes he picks us up, today we picked him up."
Jansen got three outs. The Diamondbacks turned to their closer, Brad Boxberger, to protect a 2-1 lead. Boxberger walked Alex Verdugo on five pitches, then walked Max Muncy after starting him 0-and-2. After a sacrifice bunt by Enrique Hernandez, Arizona manager Torey Lovullo had seen enough of his closer.
"I couldn't wait around," Lovullo said.
So he summoned Bradley and — with first base open — let him face Kemp again. Lovullo said he did not want the inning to get to Justin Turner.
Kemp hit a hanging slider from Bradley for the game-winner Saturday. He hit a first-pitch fastball from Bradley for the game-winner Sunday.
"I love Archie, but you could already read it, that he was going to throw a fastball there," Jansen said. "Matt straight up turned on that heater. He was all over the heater. That's a good piece of hitting."
Was Kemp surprised that the Diamondbacks pitched to him?
"I was a little surprised that they took out Boxberger," Kemp said. "But I don't care. We won the game."
Jansen said he and Kemp had talked about moments like this in January, when the baseball world assumed the Dodgers would trade or release Kemp in spring training, if not before.
"He wanted to stay so bad when he got traded," Jansen said. "I know how hungry he is. He wants to get us back to that World Series. He's grinding every day."
Kemp was gone by then, but the nameplate in his locker remained: "EVERYDAY I'M HUSTLIN."
Follow Bill Shaikin on Twitter @BillShaikin
---
Get our Dodgers Dugout newsletter for insights, news and much more.
You may occasionally receive promotional content from the Los Angeles Times.