Chris Hatcher hopes to catch on as Dodgers' temporary closer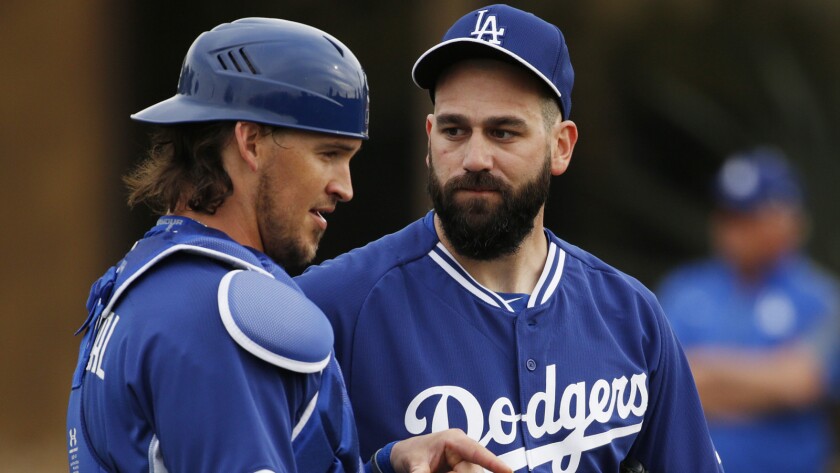 Reporting from SCOTTSDALE, Ariz. —
The Dodgers bullpen this season is stocked with a failed shortstop, a failed third baseman and a couple of catchers who couldn't stick.
Among the four, Chris Hatcher is different in one way: he actually made the major leagues at his original position, catcher.
Hatcher is expected to be part of the Dodgers' opening-day bullpen, where he could join former infielders Sergio Santos and Pedro Baez, and perhaps temporarily replace Kenley Jansen, also a converted catcher, as the team's closer.
Jansen is expected to miss about a month of the season after having surgery on his left foot.
Hatcher was acquired in the off-season as part of a four-player package in a trade that sent Dee Gordon and Dan Haren to the Miami Marlins. Based on his story alone, he was immediately well-regarded by his new teammates.
Santos said he could only imagine what Hatcher went through after the work he had put in to make the majors at his original position. Jansen shook his head and said, "I have mad respect for him, how he was humble enough to try" to make it as a pitcher.
Hatcher said ego had nothing to do with it.
"I didn't take it as a slap in the face, like, 'Hey, you're not good enough,'" he recalled. "I took it as, 'Man, this could be a smart move.'"
As a hitter, Hatcher made eight big league plate appearances with the Marlins. He drew two walks, but was 0 for 6 with five strikeouts.
A career .210 hitter in the minors, Hatcher looks back and says he might have guessed he would one day be asked to move to the mound.
In the minors, he twice shed his catcher's gear to pitch in games, in 2009 and 2010. He didn't give up a run or a hit in either game. That prompted the Marlins to ask him to throw bullpen sessions in front of their pitching coordinator.
In fact, he almost made his major league debut as a pitcher.
Instead, it was as a pinch-hitter, but Sept. 19, 2010, was memorable anyway because of the way it happened.
With the Marlins down by several runs to the Chicago Cubs, Hatcher was told he would pinch-hit in the ninth inning.
"Burke Badenhop was on the mound," Hatcher recalled. "All of a sudden, Burke's getting hit around a bit and they're like, 'Hatch, go to the bullpen.' I was like, 'What?'"
Hatcher ran to the bullpen and started to warm up.
Then the bullpen phone rang. As Hatcher continued throwing warmup pitches, a message was relayed to him: "Last batter."
"So I'm going in the game," Hatcher said.
But he didn't. Badenhop retired Blake DeWitt on a ground out to end the inning.
Then came another call to the bullpen, this one instructing Hatcher to prepare to pinch-hit.
"I'm out of gas," he recalled. "I'm mentally drained. Honestly, I had no chance up there."
He struck out on three pitches.
"You know what's funny?" Hatcher said. "Looking back on it now, I wish I had made it as a pitcher. That would have been a cool story. It would have been a lot better than going up there and punching out."
In the off-season that followed, the Marlins signed catcher John Buck to a three-year, $18-million contract.
Soon after, Hatcher received a phone call. The Marlins wanted him to pitch full time.
"I made it as a catcher, boom, I did it," he said. "Now I wanted to stick. I felt as a conversion, I could stick a bit longer."
Hatcher started the next season in double A. He was soon in the major leagues.
He made his big league pitching debut on July 16, 2011, a scoreless inning against the Cubs at Wrigley Field. That made Hatcher the first player in 75 years to play in one major league season as a catcher and return the next season as a pitcher.
However, more time was required for Hatcher to become effective at the major league level.
"I wouldn't classify what I did as pitch," he said. "I was a thrower."
Hatcher shuttled back and forth between the majors and minors for a few seasons. In the minors, he was often his team's closer or setup man.
"In my mind, I wasn't going to go out there and work on things with the game on the line," he said. "I was going to go out there and get you out the way I could."
But what worked in the minors didn't always work in the majors.
Before spring training last year, Hatcher was designated for assignment and removed from the Marlins' 40-man roster. When he went to triple A, he applied the advice he received from Marlins teammate Mike Dunn, who told him to start throwing his breaking ball on the first pitch of at-bats or when he was behind in the count.
By May, he was in the big leagues.
In 52 games with the Marlins last season, Hatcher had a 3.38 earned-run average. His strikeout-to-walk ratio was 5-to-1 and he caught the attention of the Dodgers' new front office, which made it a point to acquire him.
Hatcher has pitched two scoreless innings in the exhibition season, including one Monday in a 5-5 tie against the San Francisco Giants.
"Just power stuff," Manager Don Mattingly said. "He's the guy who has the hard split, the hard slider. Been able to get both lefties and righties out. You see that quick arm. Usually, that guy gets a lot of swings and misses."
All of which puts Hatcher in position for yet another conversion: Though he has never saved a game in the major leagues, he could become the Dodgers' temporary closer.
Twitter: @dylanohernandez
---
Get our Dodgers Dugout newsletter for insights, news and much more.
You may occasionally receive promotional content from the Los Angeles Times.