Column: Dodgers' breakup with Don Mattingly has worked out pretty well for all concerned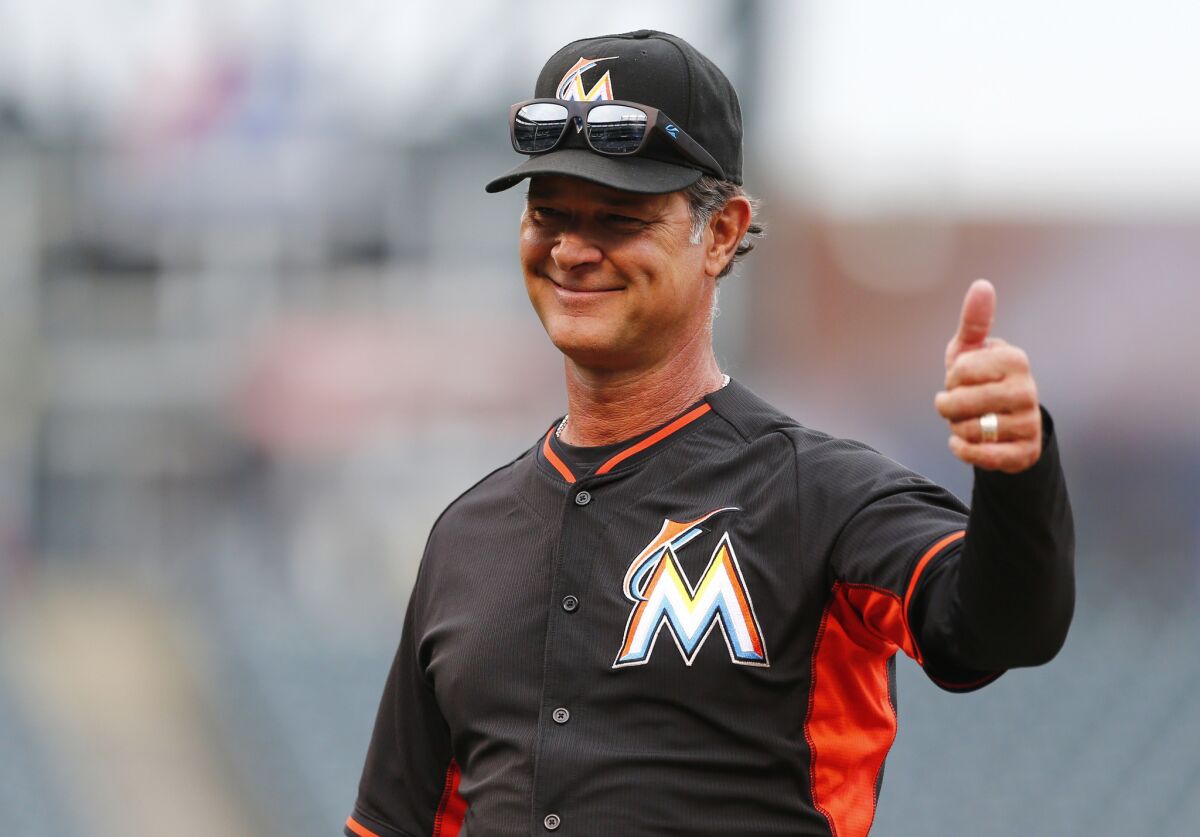 While the Dodgers were in Colorado early last month, third baseman Justin Turner and since-traded catcher A.J. Ellis slipped into a restaurant a couple of blocks from the team hotel.
There, they shared a table with Tim Wallach and Lorenzo Bundy, a couple of former Dodgers coaches now with the Miami Marlins. The Marlins were in town for an upcoming series against the Rockies.
Soon after, Don Mattingly showed up.
Stories were exchanged. Laughs were shared.
Hearing what Mattingly said that night convinced Turner the league standings were indicative about something.
"It kind of worked out for everyone," Turner said.
That happens sometimes.
When Mattingly and the Dodgers finalized what they described as a "mutual" decision to part ways in October, you wondered what the implications would be for the parties involved. You wondered how long Mattingly would last working for Jeffrey Loria, the notoriously meddlesome owner of the Marlins. You also wondered if the clumsiness the Dodgers demonstrated in divorcing their manager of five years was an ominous sign of what was to come.
But now?
Entering a three-game series between the Dodgers and Marlins in Miami, everyone is in a better place. Until a groin injury to All-Star outfielder Giancarlo Stanton sent the Marlins tumbling down the National League wild-card standings, Mattingly was arguably the leading candidate for NL manager of the year. That trophy is now expected to end up in the hands of Dave Roberts, the man the Dodgers selected to replace him.
"At the time, even though people didn't necessarily believe us, we said there are times when a change is best for everyone," Dodgers General Manager Farhan Zaidi said.
Zaidi pointed to his own experience moving to the Dodgers from the Oakland Athletics.
"I got along with everybody there great; I was really happy there. I ultimately decided to come here just because I thought it was time for something else," Zaidi said.
Mattingly's departure from the Dodgers was a major disappointment to the players.
"I loved playing for Donnie," Turner said. "I loved the staff. Obviously, the unknown is a scary thing. We didn't know what was going to happen. We didn't know Dave Roberts was going to be the next manager and how great of a guy he was."
Turner and the other players have taken to Roberts' upbeat demeanor. They like his energy and how he addresses problems immediately. They like that he projects confidence in times of crisis.
When Clayton Kershaw landed on the disabled list with a herniated disk in his back and half of the Western Hemisphere predicted the Dodgers were finished, Roberts never called a team meeting. Doing so could have resulted in panic spreading through the clubhouse, according to some veterans. And with Kershaw sidelined, the Dodgers surged past the division rival San Francisco Giants into first place.
The first-time manager has also shown tactical aptitude, which has enabled him to win games with a dumpster fire of a rotation. If his starting pitcher is in trouble in the second inning — and, yes, this has happened — he won't hesitate to replace him. The front office typically provided him with an eight-man bullpen and Roberts used it to his advantage.
"It's using the full roster, using all 25 guys, using all 13 guys on the pitching staff," Zaidi said. "I think it also rubs off on a team in a positive way. They see a manager making an aggressive move like that, they feel like he's not giving up on this game, he's giving us a chance to win this game, he's going to do everything he can. I think that some of the never-out-of-it, comeback mentality comes from players taking their lead from that."
On the other side of the country, Mattingly is in the first year of a four-year contract that afforded him job security he never received from the Dodgers.
The Marlins have long been associated with ineptitude. Their last postseason appearance was in 2003. The last time they had a winning record was in 2009. They were 71-91 last year.
Mattingly's efforts to transform the culture started well, with the Marlins recording a winning record in each of the first four months of a season for the first time in franchise history.
There were obstacles to navigate, including an 80-game drug suspension for 2015 batting champion Dee Gordon, the former Dodgers second baseman.
As late as Aug. 15, the Marlins were 62-56 and tied for the second NL wild card.
Around that time, Stanton sustained a groin injury. For a team ravaged by injuries and short on organizational depth, the loss of the one of the league's premier power hitters was too much to bear. The Marlins cratered.
The Marlins have lost 10 of their last 12 games, but they remain on the periphery of the wild-card race and have a chance to finish the season with a winning record.
And Mattingly has discovered a measure of peace he never experienced in Los Angeles.
Twittter: @dylanohernandez
---
Get our Dodgers Dugout newsletter for insights, news and much more.
You may occasionally receive promotional content from the Los Angeles Times.