Dodgers rule Adrian Gonzalez out for postseason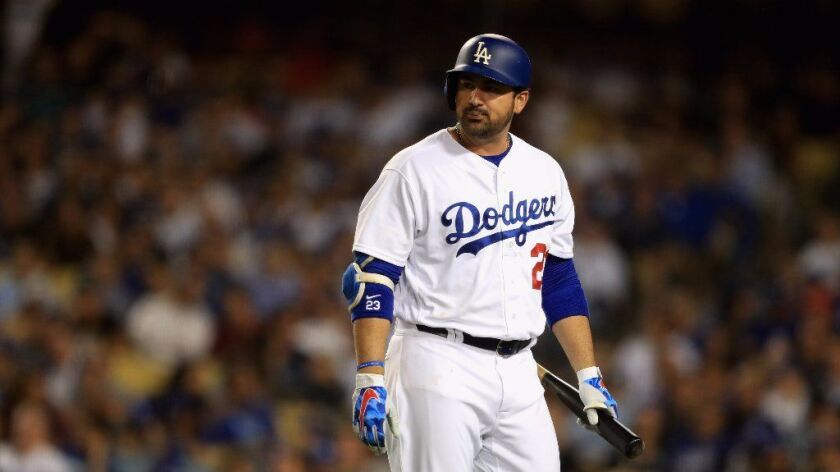 Dodger manager Dave Roberts has kept his cards close to his vest when discussing the possible makeup of his playoff roster. But before Wednesday's 10-0 win over the San Diego Padres, he discarded an ace from that deck, announcing that first baseman Adrian Gonzalez is done for the year.
"We're going to shut him down so we don't cause more damage," Roberts said of Gonzalez, a five-time All-Star who was limited to 71 games this season. "If something unforeseen does happen to the active guys, we might try to revisit Adrian."
Gonzalez missed 67 games in two stints on the disabled list, the most serious a 60-day stay caused by a lumbar disk herniation. But when he homered and doubled Tuesday in his first start in three weeks, he inserted himself into the playoff conversation.
Then he showed up at Dodger Stadium on Wednesday and Roberts told him the seventh-inning homer would be his last at-bat this year.
"Last night was such an emotional night, a special night. But coming in here today, the back tightened up," Roberts said.
"To come on the heels of last night and how well he played, I know he's very disappointed. So right there we just made the unified decision to shut him down."
Gonzalez admitted he was encouraged by Tuesday's performance, saying "the swings felt good. Everything felt right."
But he also said he felt "a little tightness" the next morning and did not publicly object to Roberts' decision.
"You can't go into a postseason with tightness and be a question mark that's going to be up in the air when you've got healthy guys in there," said Gonzalez, who hit .242 in 231 at-bats with three homers and 30 RBIs.
By pulling Gonzalez out of contention for a roster spot, Roberts opened one for Andre Ethier, who will likely be the team's left-handed-hitting bench player in the postseason.
"Obviously that creates an opportunity for other people," Roberts said.
Questions about Gonzalez's elbow and back led the team to insert Cody Bellinger into the lineup at first base in the spring and he responded by playing 90 games there, while overall hitting .269, slugging a National League rookie-record 39 home runs and driving in a team-high 96 runs.
It was Rich Hill who stepped up for the Dodgers on Wednesday in their last regular-season home game, holding the Padres to two hits through seven innings to earn a career-high 12th win in 20 decisions.
Catcher Austin Barnes had a career-high three hits, scored two runs and drove in two.
Yasiel Puig, Curtis Granderson and Corey Seager homered for the Dodgers, who scored at least nine runs for the third consecutive game, the first time they've done that this season.
The game, played before an announced crowd of 47,273, ran the team's win streak to four games, while the sweep of San Diego gave the Dodgers (102-57) wins in four of their last five series. Their 102 wins ties the most in a season in Los Angeles history.
But they also sustained one big loss in the person of Gonzalez.
"It's one of those things where the timing was the No. 1 thing," he said. "It's not a full-on injury or anything like that. But with the way that the season's gone, where I've had a number of setbacks, you don't want to go into the postseason, play a game and then the next day come back and have a setback."
Gonzalez, 35, the second-highest-paid Dodger behind pitcher Clayton Kershaw, is under contract for one more season at $21.5 million. He said he won't travel with the team or perform baseball activities during the postseason. "Rest is really the No 1 thing," he said.
Asked about next year, he said: "My plan is to be an everyday player again and give it a go to have a really good season. Like I expected for this year."
Follow Kevin Baxter on Twitter @kbaxter11
---
Get our Dodgers Dugout newsletter for insights, news and much more.
You may occasionally receive promotional content from the Los Angeles Times.