Column: Dodgers take big step toward returning to the World Series, and 'the season begins now'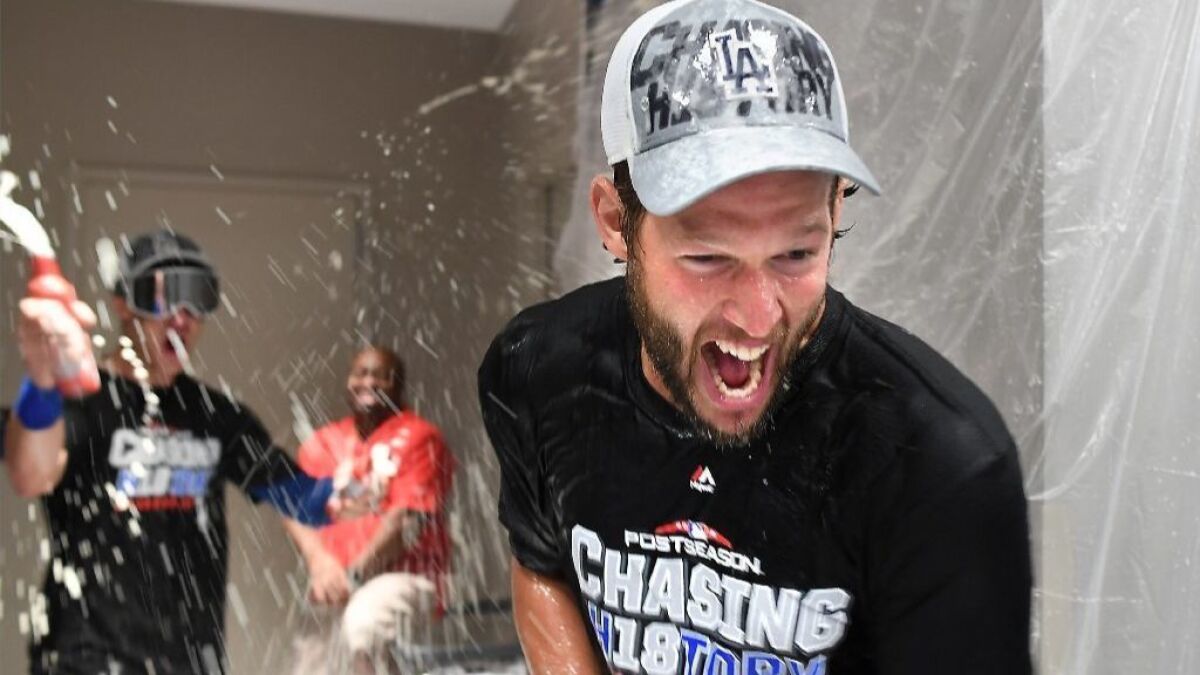 Reporting from Atlanta —
More champagne, anyone?
More Dodgers sprinting from the top step to the pitcher's mound to hug in a giant maze of belief and blue?
More clubhouse parties swimming on plastic, Korbel sprayed and Budweiser poured and Yasiel Puig pelting everyone with ice?
More Kenley Jansen standing under a waterfall of joy while announcing, "This is not enough''?
It never gets old, even if it looks so familiar, these Dodgers of October, these boys of fall, scratching out victories and silencing strangers and scraping back toward their first title in 30 years.
It happened again Monday on a night when the Dodgers moved to within four wins of a second consecutive World Series appearance while thousands of fans were moved to tuck away their dumb rubber tomahawks.
For the fourth time in six years, the Dodgers successfully completed the first big postseason step toward fulfilling the dreams of Los Angeles, this time defeating the Atlanta Braves, 6-2, at SunTrust Park to capture the National League Division Series three games to one.
It's the first time in franchise history they have advanced to the National League Championship Series for three consecutive seasons. It's their third postgame party in 10 days. They've been there. They've done that. Now it's time for the real work.
"The season begins now,'' said Jansen.
Indeed it does, the Dodgers heading to Milwaukee to begin the best-of-seven NLCS on Friday against a powerful Brewers team even more desperate, having waited the entirety of its 50-year franchise history to win a World Series.
The Dodgers need to win that series, get back to the World Series, and win that too. After falling short of a title by losing Game 7 to the Houston Astros last season — you remember Yu Darvish? — anything less than that elusive World Series championship would be considered a disappointment.
Just ask the sportscoat-wearing businessman who was so soaked in liquor Monday night in the Dodgers' clubhouse that he took off his shoes and walked through puddles in his socks.
"It's so hard, these guys worked hard all year, they fought, we put ourselves in a hole, we came all the way back, but this is just the first step,'' said Dodgers chairman Mark Walter. "Today we set ourselves up to keep plugging away.''
Do they have to win it this year?
"We have to win it every year,'' he said.
Or just ask the shorts-wearing, beer-drinking executive who deftly acquired the three stars of Monday's win — Ryan Madson, David Freese and Manny Machado — within the last three months.
"We got so close last year, all of the conversations after we lost Game 7 were, 'Let's do it in 2018, let's bring that championship back to the great fans of Los Angeles,''' said Andrew Friedman, president of baseball operations.
These three straight NLCS appearances are the making of a dynasty, but Friedman wasn't interested in taking credit for anything but thinking ahead, to the end of this month and the necessary end to this road.
"It's a good accomplishment. I don't know if it's even set in,'' Friedman said. "That said, all our focus is on eight more wins. We haven't done that yet. "
These next four steps against the bullpen-strong and power-hitting Brewers will not be easy. The Dodgers won't have home-field advantage as in last year's NLCS against the Chicago Cubs. The Dodgers will have essentially two fewer days of rest. The NLCS requires immediate attention, so much that Justin Turner wasn't even holding a champagne bottle, and was barely wet, when he answered questions in the raucous clubhouse.
We remember the last day last year, that bittersweet feeling, and we're letting that motivate us.
— Dodgers third baseman Justin Turner
"You don't ever take this stuff for granted, and we can enjoy it tonight, but we need to get on a plane, go home, and prepare for the Brewers,'' he said. "We remember the last day last year, that bittersweet feeling, and we're letting that motivate us.''
This is a different team than last season's. If you ask Friedman, this is a better team. They won 12 fewer games than last year, and struggled for longer periods than last year, but they are more experienced, more battled-tested, and better built for October.
"I spent about three minutes thinking about it the other day, before I realized it wasn't productive … but I actually think we are a better team,'' Friedman said. "We're a deeper team, a more well-rounded team than last year.''
That depth and determination showed in this NLDS, in which they outscored the Braves, 20-8. It showed in a regular season in which they won their last four games by a margin of 33-9.
"Collectively, as a group, this is as good as we played all year,'' said Turner. "We have a really good team this year, a really good team last year. The only difference is, we're trying to win one more game.''
Their strengths particularly showed Monday, when they fell behind 2-1 after four innings and then basically willed their way into a lead they never lost.
In the fifth, Madson, a 38-year-old reliever acquired Aug. 31 from the Washington Nationals, worked out of a one-out, bases-loaded jam.
Then, in the sixth, Freese, a 35-year-old first baseman acquired Aug. 31 from the Pittsburgh Pirates, scraped out a hit that changed the game, the night and the season.
With runners on second and third, with two out and two strikes, Freese fought off a fastball from Brad Brach and lined it underneath diving shortstop Charlie Culberson for a single to score both Enrique Hernandez and Yasiel Puig.
"When you're feeling right … especially against the stuff that was coming at me … if you don't try to do too much, balls can squeak through,'' said Freese, who was the 2011 World Series MVP with the St. Louis Cardinals — and acted like it.
Armed with that 3-2 lead, the Dodgers' bullpen stiffened and Machado slugged, hitting a three-run homer in the seventh inning to finalize the score. Machado, you'll remember, was acquired in a July 18 trade with the Baltimore Orioles, and all he did this series was hit two homers with six RBIs.
''I'm just sitting here enjoying everything, enjoying the ride,'' said Machado.
It is a ride that must only be beginning.
Get more of Bill Plaschke's work and follow him on Twitter @BillPlaschke
Get our Dodgers Dugout newsletter for insights, news and much more.
You may occasionally receive promotional content from the Los Angeles Times.