Enrique Hernandez helps Dodgers hang on to beat Reds, 8-7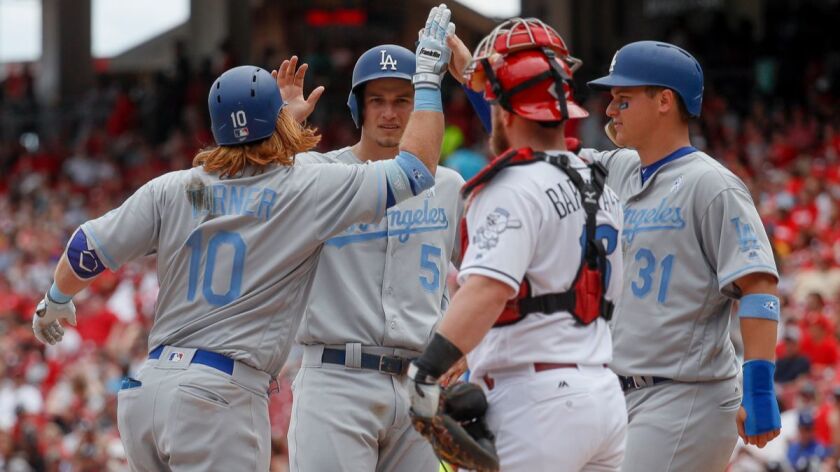 Reporting from CINCINNATI —
The game caused irritation and exhaustion. A delayed flight in Denver disrupted the Dodgers' plans for the afternoon. A trio of relief blowups caused a seven-run lead to shrivel to one. And in the eighth inning of an 8-7 victory over the Reds, the outcome hung in doubt as a drive soared off the bat of Cincinnati slugger Joey Votto.
Standing in left field, Enrique Hernandez squinted through the afternoon sun and sprinted toward the wall. At the warning track, he leaped. He rotated his body so his back collided with an advertisement for Barbasol. He fell to one knee, then squeezed the baseball in his glove. As he jogged back toward his dugout, he turned to wave at the fans who had been razzing him as Cincinnati attempted a comeback.
"Luckily, it was the soft part of the wall," Hernandez said. "It didn't get me too bad."
Luck should not have played much of a role in Sunday's result. The Dodgers stormed out to an early lead thanks to a two-run double by Kenta Maeda and a two-run homer by Logan Forsythe against 40-year-old Reds starter Bronson Arroyo. The lead expanded to seven when Justin Turner swatted a three-run homer in the sixth.
Maeda had suppressed the Reds for five innings of one-run baseball. From there, though, the Dodgers bullpen nearly crumbled. Stuck on the tarmac, recent call-up Brock Stewart did not arrive at Great American Ball Park until the sixth inning, forcing the Dodgers to adjust. Grant Dayton gave up a solo homer in the sixth. Josh Fields gave up a homer for the fourth time in his last five outings — this one a three-run shot to Reds second baseman Scooter Gennett. Pedro Baez yielded a solo homer, then an RBI double, then gave up a rocket to Votto with the tying run at second base.
Hernandez tracked the ball down and helped the Dodgers (44-26) escape. The team went 5-1 on this trip, and have swept the season series with Cincinnati. Manager Dave Roberts chose not to use Kenley Jansen for a multi-inning save, even as Jansen clamored to intervene in the eighth. He would settle for the ninth, dusting off three hitters for his 15th save in 2017.
"It got a little too close for us," Roberts said. "But [Cincinnati] is a good offensive club, and we've had our way with them, played well against them. They were bound to break out at some point."
The Dodgers still weathered the storm. The offense booted Arroyo from the game after three innings. In the second, Maeda ripped a hanging curveball for two runs and Joc Pederson stroked an RBI single. An inning later, Forsythe bashed another curveball for his second homer as a Dodger, and the 23rd given up this season by Arroyo.
Maeda gave up a run in the fourth when he clipped former Dodger Scott Schebler with a pitch with the bases loaded. He escaped, in part, when Yasiel Puig dived to snag a liner off the bat of third baseman Eugenio Suarez. "It was an awesome play, a huge play for Puig," Maeda said.
Maeda threw 78 pitches, but as he was operating as a spot starter, Roberts did not want to extend him beyond the fifth. When Turner punished a 95-mph fastball from Wandy Peralta in the sixth, the Dodgers appeared capable of cruising to a sweep. The game did not cooperate. Neither did the vagaries of airline travel.
On Saturday, the team optioned Josh Ravin after a two-inning outing. In his place, Stewart came up. Built up as a starter, Stewart could have piggy-backed with Maeda and protected the other relievers. That appeared to be the plan.
Only with triple-A Oklahoma City playing in Colorado Springs, there were no commercial flights to connect on Saturday night, according to a team official. Stewart had to fly on the morning of the game. He was set to land at 12:17 p.m., he said, but a delay kept him from hitting the tarmac until 1:53 p.m. Stewart did not reach the ballpark until the top of the sixth inning.
By then, Dayton was already warming up to pitch. Reds outfielder Adam Duvall tagged a 93-mph fastball for a homer. A save opportunity arose in the seventh when Fields stumbled again. He issued a walk, gave up a single and then saw Gennett cut the lead to three. Fields has an 11.12 earned-run average in June.
"I don't think it's mental — he's still confident," Roberts said. "And I don't think it's health or mechanics. I think it's just the execution."
Baez only made the afternoon worse. Suarez hammered a 97-mph fastball for one run. A second scored after doubles by shortstop Arismendy Alcantara and outfielder Billy Hamilton. Roberts conferred with Baez on the mound, then let him face Gennett.
Baez walked Gennett on four pitches. As Baez labored, the bullpen phone rang. Jansen jumped up, expecting a four-out save. Instead, Chris Hatcher started to warm up. Jansen raised his arms and waved a towel in frustration. After a moment, he too was told to loosen up.
"I definitely wanted the ball," Jansen said. "I want the ball at any time, to pick my boys up. It's just the fighter in me. But it's a great job that Doc continues to give those guys a shot to step up and close it."
Wary of over-using Jansen, Roberts let Baez face Votto. Hernandez crashed into the wall to preserve the lead. After a start in which so much went right, the Dodgers survived an afternoon in which so much went wrong.
Twitter: @McCulloughTimes
---
Get our high school sports newsletter
Prep Rally is devoted to the SoCal high school sports experience, bringing you scores, stories and a behind-the-scenes look at what makes prep sports so popular.
You may occasionally receive promotional content from the Los Angeles Times.