This postseason could play out much different for Dodgers pitcher Hyun-Jin Ryu
Hyun-Jin Ryu spent the 2017 postseason as a spectator, unable to crack the starting rotation of the Dodgers and unable to adjust to the bullpen because of complications related to his surgically repaired labrum. He is unlikely to experience a similar fate this October, as he extended a recent string of success with six scoreless innings in the Dodgers' 14-0 drubbing of San Diego on Sunday.
Since returning Aug. 15 from a torn groin muscle, Ryu has a 1.93 earned-run average in eight starts. He is 5-2 with a 1.15 ERA in nine home starts.
Manager Dave Roberts has not committed to a postseason rotation beyond Clayton Kershaw and Walker Buehler, but Ryu expects to be in the group, along with Rich Hill.
"I think the team and I are both heading toward the right direction, in terms of getting to the postseason," Ryu said through an interpreter. "I believe I have one more start before the regular season ends. And once we're in that position, I'm pretty optimistic that I'll get a start."
The Dodgers shifted Alex Wood to the bullpen in the last two weeks and moved Ross Stripling back to the rotation. An All-Star in the first half, Stripling has been unable to complete the fourth inning in three starts this month. In the postseason, Stripling could pitch out of the bullpen, which would add to the versatility of the roster.
Roberts on Sunday referred to Ryu as a "big-game pitcher." Ryu may have bigger games in his future.
"He's certainly in the conversation," Roberts said. "The game tells you and performance becomes clear, the more games you play. He's doing what he's supposed to do."
Chase Utley soaks in cheers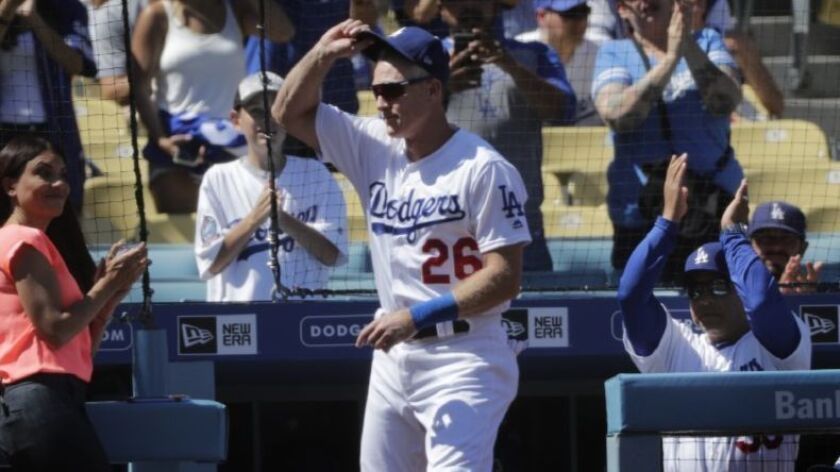 Chase Utley received a 20-minute warning in the early afternoon of his final regular-season game at Dodger Stadium: The team was going to hold a pregame ceremony for him.
"Way too late," Utley said with a grin afterward, to stop the proceedings. So Utley emerged for a curtain call as spectators rose to applaud him. A similar ovation greeted him when he batted in the sixth inning.
Utley announced his retirement in the summer. As a Philadelphia Phillie for 13 seasons, he built a resume that will earn him consideration for the Hall of Fame. After joining the Dodgers in the summer of 2015, he carved out a niche as a veteran sage. The fans acknowledged him Sunday for that role.
"They've really treated me with a lot of respect, even since I came over here," Utley said. "Growing up a Dodgers fan, I appreciate what the organization has done over its history. We've had some really good teams, great talent, great leadership at the top. It's been fun to play with them. If I'm an outsider looking in, I've got to be pretty proud of this group."
Julio Urias finishes strong
The radar gun registered Julio Urias' final fastball of the eighth inning at 96.8 mph, an encouraging sight for the left-hander as he makes his way back from shoulder surgery. Urias had four strikeouts in two innings Sunday.
"He threw the ball really well," Roberts said.
Twitter: @McCulloughTimes
---
Get our Dodgers Dugout newsletter for insights, news and much more.
You may occasionally receive promotional content from the Los Angeles Times.