Corey Seager impresses Dodgers with his maturity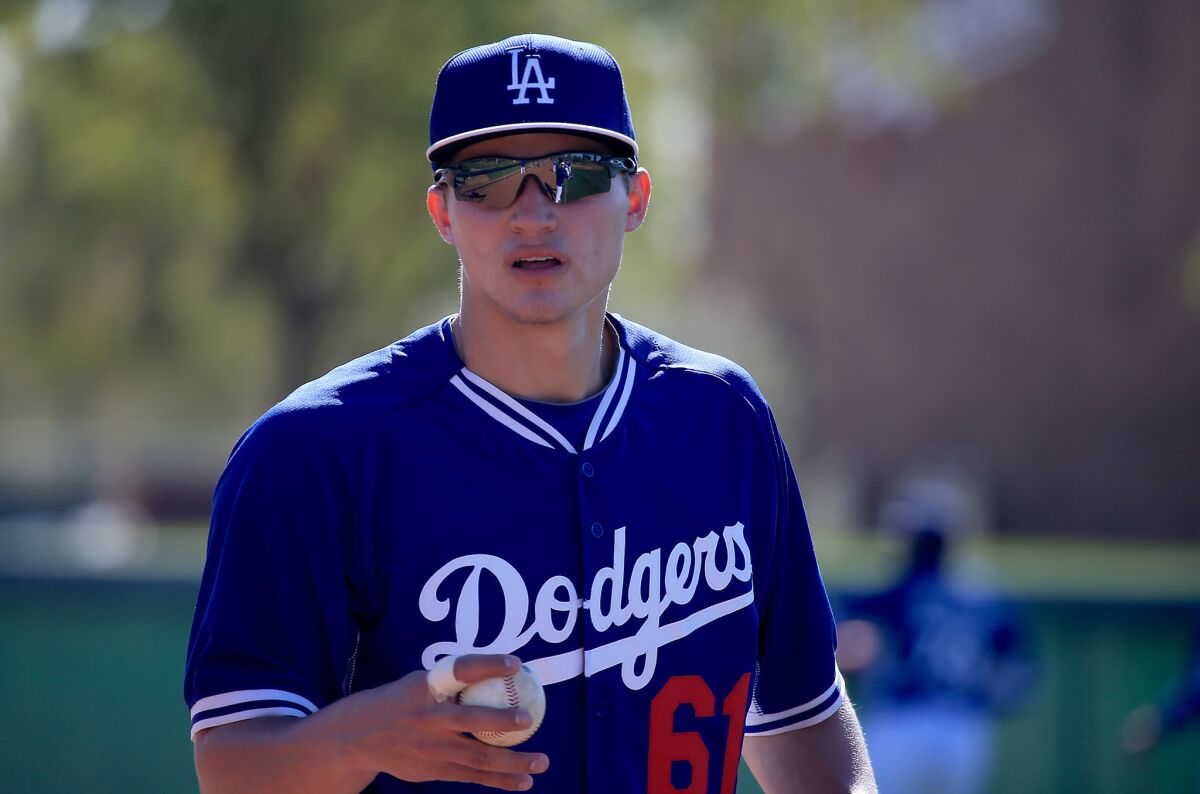 REPORTING FROM PHOENIX —
From the Dodgers clubhouse to the manager's office, the verdict is unanimous: Corey Seager is the real deal.
In the first two-plus weeks of spring training, the 20-year-old Seager has demonstrated why he is considered one of the top prospects in baseball, showcasing not only promising physical talent but also a temperament and know-how generally associated with older players.
When Manager Don Mattingly was asked to compare the 6-foot-4 shortstop to players he played with or against, he came up with two: Hall of Famer Cal Ripken Jr. and former batting champion John Olerud.
"Without a putting a giant X on his back, he's more like a Ripken to me, as far as being the big shortstop that doesn't really profile there but has great hands, great awareness, really good clock as far as calmness and knowing the timing," Mattingly said. "At the plate, he's more like a little bit of an Olerud, if you really watch him. He's quiet. He's a big guy with a small swing."
Told what Mattingly said about him, Seager replied, "Wow. ... Those are pretty big-time names. That's a great honor. That's really exciting."
The deferential response illustrates why Seager is already well-liked in the clubhouse.
"He's giving himself every chance by doing the right things," infielder Darwin Barney said. "He knows how to walk around the clubhouse. Guys are pulling for him. When you can get your teammates to pull for you, it makes this game a lot easier. That all starts with who you are. He's definitely a high-character player."
Barney has found Seager to be as inquisitive as he is respectful. Seager has made it a point to ask Barney and shortstop Jimmy Rollins as many questions as possible.
"Just little things, like how they field balls, unwritten rules about going about things in here," Seager said.
Barney likes that. "That's all you can ask for with a promising young player, that they're hungry, but they're also hungry to be a student," said Barney, a former Gold Glove winner.
Seager and Barney played next to each other Tuesday in the Dodgers' 2-2 tie with the Colorado Rockies. Seager started at shortstop, Barney at second base.
"What I like about him is that when he's out there, we're talking about the play that's coming," Barney said. "He's thinking ahead of the pitch."
Seager's maturity is also reflected at the plate. His five walks lead the Dodgers. In seven exhibition games, he is batting .333 with two doubles and two runs batted in.
"Great at-bats," pitcher Clayton Kershaw said. "He has a really good idea what he's doing and has the talent to do something with it when he gets his pitch."
Seager's development can be traced in part to growing up with an older brother in the major leagues. Seager's brother, Kyle, is a Seattle Mariners third baseman. Seager said spring training has unfolded as his brother said it would.
Kyle signed a seven-year, $100-million contract with the Mariners during the off-season, which has become a source of motivation for Corey.
"That's definitely an incentive, something to strive for because your brother got it," he said.
Seager finished last year at double A and could start the regular season there. With Rollins at shortstop and Juan Uribe at third base, the left side of the Dodgers' infield is set.
However, asked if Seager was ready for to play in the major leagues, Mattingly said, "Do I think he's ready? I wouldn't be afraid of him, I'll tell you that."
Mattingly doesn't want Seager to shuttle back and forth between the major and minor leagues, saying that could hinder his development.
"You want to give them the best chance to develop so when they do get here it's not a back-and-forth thing," Mattingly said. "That's where you run the risk."
Especially on a team with World Series aspirations such as the Dodgers.
"I think if his situation was a different situation, I'm not sure you wouldn't throw him in and let him play, get that experience here," Mattingly said. "That's not obviously the situation here."
Follow Dylan Hernandez on Twitter @dylanohernandez
---
Get our Dodgers Dugout newsletter for insights, news and much more.
You may occasionally receive promotional content from the Los Angeles Times.