TV fiasco could hurt Corey Seager's All-Star chances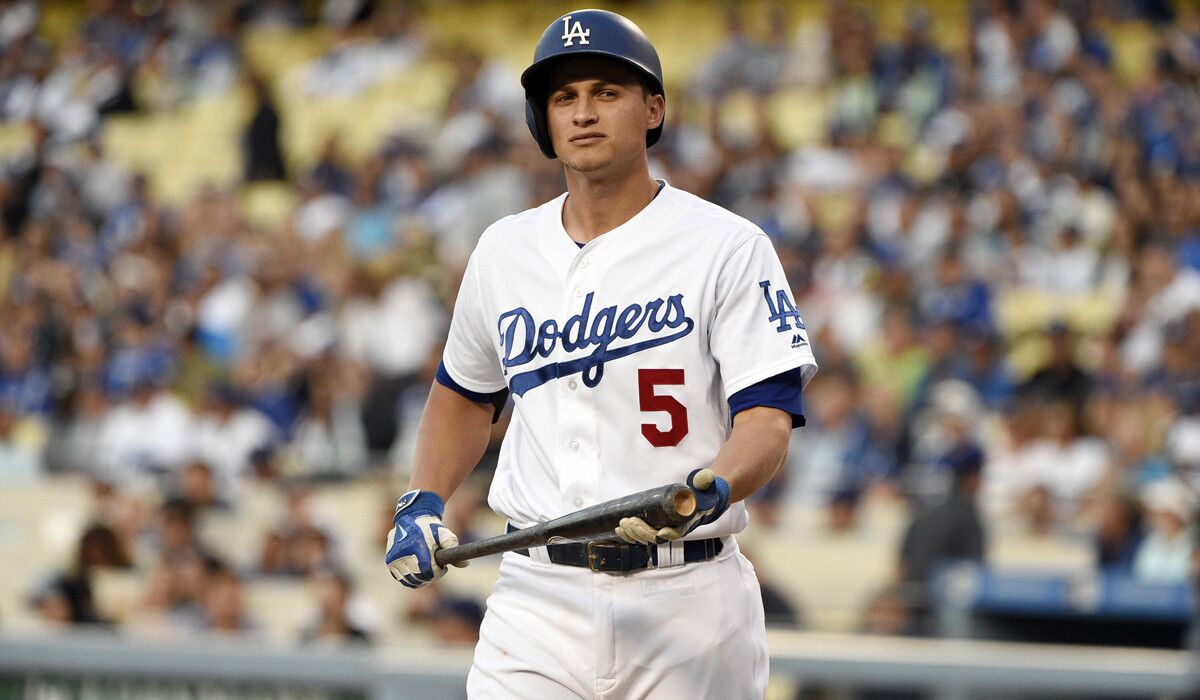 The Dodgers' never-ending television blackout is already costing the majority of Los Angeles the opportunity to listen to Vin Scully in his farewell season.
Now, the debacle could cost Corey Seager a starting position in the All-Star game.
Seager started the season as the No. 1 prospect in baseball and has outperformed the monumental expectations.
The 22-year-old is on pace to hit 38 home runs; he hit 14 in the Dodgers' first 60 games. The record for a rookie shortstop is 30, set by Nomar Garciaparra in 1997.
Seager is also batting .284 with 35 runs batted in, making him the team's top performer on offense. His defense also has been better than advertised.
Considering Seager is doing this in market the size of Los Angeles, he should already be a major star. Yet, when the latest round of All-Star balloting was released, Seager wasn't listed among the leaders at his position.
The top shortstop was Addison Russell of the Chicago Cubs, a .232 hitter.
Second was Trevor Story, a rookie who has similar offensive numbers to Seager but has the handicap of playing for non-contending Colorado, which has an apathetic fan base.
Story had a better start to his season, but Seager should be close to catching up by now. This is Los Angeles.
Really, how is it that Denver is doing more to support its player than the second-largest market in the country?
The Dodgers lead the league in attendance; they average announced crowds of more than 45,000 fans. The Rockies average 30,000.
But live gates don't necessarily translate into votes anymore. Paper ballots were eliminated last year, when baseball went to an entirely online voting system.
Given the change in how votes are cast, it makes sense the Dodgers' lack of a local television presence is hurting Seager.
The Dodgers are out of sight, out of mind.
There's only one Dodgers player who listed among the top vote-getters at his position and that's Adrian Gonzalez, who is the No. 3 first baseman.
The Dodgers are actively campaigning on Seager's behalf, but there's only so much that can be done on social media. Can a message posted on Twitter capture the excitement of watching Seager launch a baseball into the stands, whether it's in person or on television?
This city should be watching Seager transform into one of his sport's best players, as it once did with Clayton Kershaw. The city should be falling in love with Seager. The city should be celebrating.
It can't, and that's unfortunate.
The only consolation is that Los Angeles should be able to watch Seager on national television when he enters the All-Star game as a reserve.
::
While the start of the baseball draft makes Thursday one of the most exciting days in the lives of some of the nation's best amateur players, it is a time of reckoning for major college programs, which are in danger of losing their top recruits to the professional ranks.
In the case of Loyola Marymount, more than one of its teams could be affected based on where Matt Manning is selected. A right-hander from Sheldon High in Sacramento, Manning is committed to play baseball and basketball for Loyola Marymount. But he might never make it to campus because he is a projected to be first-round pick in baseball and is expected to be offered a seven-figure bonus.
Manning isn't feeling any pressure from the university, saying of baseball Coach Jason Gill and basketball Coach Mike Dunlap, "They're really supportive."
Manning has interesting bloodlines. His father, Rich Manning, was a 6-foot-11 power forward who spent the second half of the 1996-97 season with the Clippers.
At a time when leading experts are blaming year-round baseball on the increased number of arm injuries, the 6-foot-6 Manning is the rare high-end pitching prospect who has taken breaks from throwing every year to play another sport.
::
Copa Tonight, the FS1 show covering the day's play in the Copa America Centenario, is a complete disaster.
The program has a similar format to successful wrapup shows produced by American broadcasting companies for the most recent men's and women's World Cups, with a host and a few former players offering their thoughts on games.
Only this time, the show's primary contributors are Fernando Fiore, the buffoonish former host of a Spanish-language hidden-camera show, and former U.S. national team defender Alexi Lalas, who is more cheerleader than analyst.
If Fox thinks Fiore will attract Latino viewers, it should think again. Fiore wasn't taken seriously when he hosted Spanish-language programs and he won't be taken seriously now. This is the equivalent of a network using tone-deaf former "American Idol" contestant William Hung to lure Asian-American viewers.
Many of the fans who watch this kind of programming do so because they didn't have the time to watch the games. What they want is information and commentary, something that could be offered to them by numerous multicultural and multilingual broadcasters in this country.
Instead, they are subjected to the mindless screaming of Fiore, who appears to have minimal knowledge of the sport.
Twitter: @dylanohernandez
---
Get our Dodgers Dugout newsletter for insights, news and much more.
You may occasionally receive promotional content from the Los Angeles Times.