Column: Ducks sweep Flames, advance to second round of the playoffs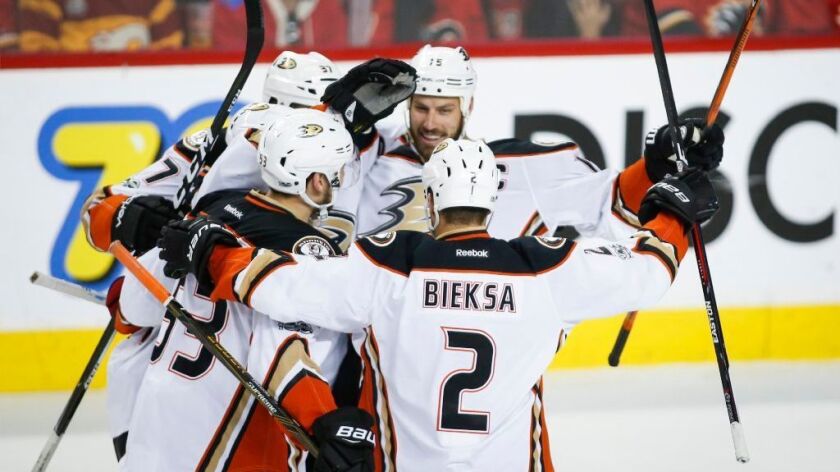 Reporting from calgary, canada —
The Ducks became the first team to advance to the second round of the Stanley Cup playoffs thanks to an effective blend of resilience, depth and grit. Those were the key factors that made the difference in their sweep of the Calgary Flames, right, Ryan Getzlaf?
The Ducks' captain, ever practical, thwarted everyone who sought a deeper meaning in the 3-1 victory Wednesday at the Scotiabank
Saddledome that allowed them to move on to face the winner of the series between the Edmonton Oilers and San Jose Sharks.
"We scored more," Getzlaf said, disdaining deep analysis of the triumph by the Ducks, who played the entire series without defenseman Cam Fowler (knee) and three games without defenseman Sami Vatanen (upper body).
It's difficult to dispute Getzlaf's logic in one sense. The Ducks outscored the Flames, 10-2, in five-on-five play, a huge factor in a series with the first three games decided by one goal.
Wednesday's game was a one-goal affair too, until Getzlaf scored into an empty net with 6.7 seconds left in the third period.
But the goaltending of John Gibson also proved decisive. Pulled from Game 3 after he gave up four goals on 16 shots, Gibson on Wednesday stopped 36 shots. Only Sean Monahan's power-play goal eluded him, at 16:07 of the second period.
"I played my game," Gibson said. "Obviously, it wasn't the best the other night and the team helped me out, so I wanted to make sure I was there and helped them out tonight.
"No game was easy. Every game was really a one-goal game. [Wednesday] was probably their best. They really had a pretty good push. You've got to give them credit for showing up and giving it their best every night."
But the Ducks were better, building on a season-ending 11-0-3 drive that carried them to the Pacific Division title.
"We just kept getting better each game and usually the team that gets better and stronger as the playoffs and series goes on usually has more success," Gibson said. "We just want to carry the momentum with us. Obviously, stuff is not going to go our way sometimes. You just have to make sure to never get too high or too low."
The Ducks struck early Wednesday and scored on their second shot, a sharp-angled effort by Patrick Eaves. That led Calgary coach Glen
Gulutzan to pull goaltender Brian Elliott — who had been shaky in Game 3 — and replace Elliott with Chad Johnson, who hadn't played since he pulled a groin muscle April 4 in a
regular-season game against the Ducks.
Initially, Johnson didn't fare much better than Elliott had. Johnson gave up a goal on the second shot he faced, at 6:46, stifling the fans' cheers. Johnson stopped Rickard Rakell's attempt but left a juicy rebound for Nate Thompson, who pounced on that opportunity for his second goal and fourth point of the series. "I just felt at that time we needed a spark,"
Gulutzan said of the switch.
Calgary cut the Ducks' lead to 2-1 during its eighth consecutive power play of the series, at 16:07 of the second period, by Monahan. All four of his goals in the series resulted from man-advantage situations. Ducks center Ryan Kesler, one of three finalists for the Selke Trophy as the NHL's top defensive forward, was in the penalty box for that goal.
The Ducks' last playoff sweep came in the first round against Winnipeg in 2015. This one occurred on the 61st birthday of coach Randy Carlyle, giving him an unusual birthday present. But to winger Andrew Cogliano, it was only fitting because Carlyle and the Ducks' coaching staff had presented the team with a good structure for this series and enforced a sense of calm and poise that the Ducks stuck with, for once.
"I think we had a good game plan going into this series and I thought we handled it the right way in terms of our preparation," Cogliano said. "I think
at the end of the day it was tough
sledding and they're a good team, but in a lot of ways I think we deserved to win."
Cogliano said he couldn't predict whether the Ducks will face San Jose or Edmonton because that series is tied at 2-2. "That series could go either way. It seems right now San Jose has experience and Edmonton is a team that is just dangerous. We'll regroup and see who wins and be ready to go."
They're off to a strong start. "I think any time you can put a team behind you, you want to take advantage of it," Getzlaf said. "You never want to give them life. They're a resilient bunch. They battled right to the very end tonight and made us earn it, that's for sure."
KEYS TO GAME 4
1. The Ducks could not have asked for a better start. They scored two goals in the opening seven minutes to take the crowd out of the game, and did not get goaded into any scrums or roughhouse play.
2. Goalie John Gibson stood tall. He made an in-close save on Micheal Ferland in the first period and helped the Ducks manage duress the rest of the way.
3. Change was good for the Ducks. They tweaked three of their four lines, and the grouping of Rickard Rakell, Nate Thompson and Corey Perry produced the second goal. Thompson, who had one goal in 30 regular season games, scored twice in the series.
— Curtis Zupke
Follow Helene Elliott on Twitter @helenenothelen
---
Get the latest on L.A.'s teams in the daily Sports Report newsletter.
You may occasionally receive promotional content from the Los Angeles Times.