Kings headed in wrong direction in loss to Canucks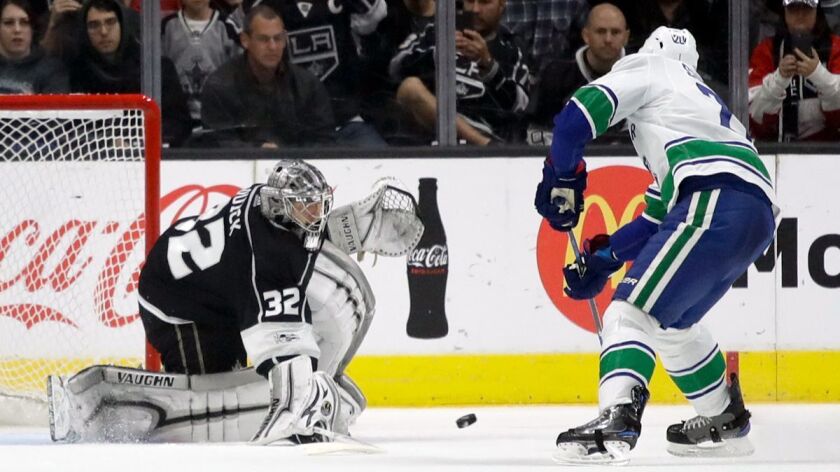 Win or lose, the Kings were still going to possess first place in the Pacific Division after Tuesday. They were the third-highest scoring team in the Western Conference and the talk of the NHL to start the season.
They still needed change.
That was underscored by a 3-2 loss to the Vancouver Canucks at Staples Center that represented their third straight loss. Beforehand the Kings traded Michael Cammalleri to the Edmonton Oilers for Jussi Jokinen in a swap of veteran forwards.
Kings general manager Rob Blake wants regularity from a bottom-six forward group that has seen a rotation of prospects, coupled with the unsuccessful reunion with Cammalleri. Blake acquired Jokinen in a transaction that came together "fairly quickly" over the last couple of days.
"He's been a very reliable player over his career and I think that would bring a little stability to our lineup," Blake said.
Top to bottom, the Kings lacked stability when they squandered a 2-0 lead, which came courtesy of Anze Kopitar, who achieved a career-high nine-game point streak with a tap-in power-play goal at 3:14 of the first period. Tanner Pearson's steep-angle shot made it past Vancouver goalie Anders Nilsson 23 seconds into the game.
But the Kings find themselves 0-3 on this homestand, and Alec Martinez summed it up tidily after the announced crowd of 18,230 filed out. "We just stopped playing our game," he said. "They didn't."
The Canucks were sparked by Henrik Sedin's shot off Nick Shore, and got power-play goals by Bo Horvat and Sven Baertschi, against the Kings' top-ranked penalty kill. It could have been a steeper climb if not for Jonathan Quick's denial of Brandon Sutter on a second-period penalty shot, awarded when Sutter was slashed on a break to the net.
"We just need to look at ourselves," Pearson said. "We all know the way we can play. We've done it in spurts. In some games, we've done it the whole game. We've just got to do it for 60 minutes and not 10 minutes in the first period."
Baertschi's goal came after an inadvertent high-sticking penalty by Andrew Crescenzi in his NHL debut, which happened after 251 games played in the minors. He was an undrafted signee by the Toronto Maple Leafs and arrived to the Kings in a 2014 trade.
"It's been a long time," Crescenzi said before the game. "I'm grateful for the opportunity."
As the Kings said hello to Crescenzi, they said goodbye to Cammalleri again. His signing of a one-year, $1-million contract on the first day of free agency did not make waves, especially as the Kings' big offensive catch. It was a low-risk homecoming for the 15-year NHL player after he spent the first five seasons of his career here.
Cammalleri was reunited with former linemates Kopitar and Dustin Brown in training camp, but the nostalgia ended there.
He was scratched twice in October and his ice time sank to a career-low 12 minutes, 38 seconds per game. Cammalleri contributed three goals and four assists and was on the first power-play unit as recently as this month, but his role became further reduced with the breakthroughs of Alex Iafallo and Adrian Kempe.
Blake did not say if Cammalleri requested a trade but confirmed that Cammalleri was unhappy. "I don't think he enjoyed the role that he was in, by any means," Blake said. "I won't tell you a lot about our conversations but [what] I'll tell you is that we came to the conclusion it wasn't going the direction he wanted it to."
Jokinen, 34, will play for his seventh team in a 13-year career that peaked statistically with 30 goals for the Carolina Hurricanes in 2009-10. He has 186 goals in 905 career games but had only one point in 14 games with Edmonton this season.
Etc.
Marian Gaborik (knee) looks to be within a couple of week of returning, perhaps in early December, Blake said. … Kopitar's streak is tied for the longest active point streak in the NHL.
Twitter: @curtiszupke
---
Get the latest on L.A.'s teams in the daily Sports Report newsletter.
You may occasionally receive promotional content from the Los Angeles Times.