What we learned from the Kings' 5-2 loss to Tampa Bay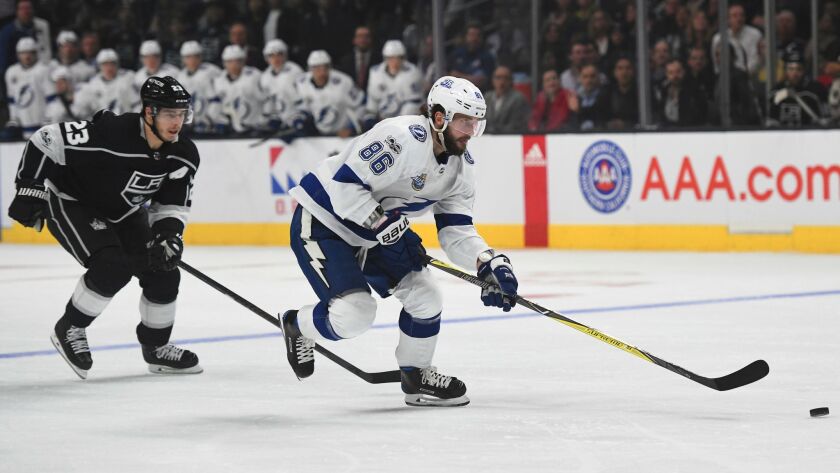 So much for the marquee matchup of the season.
The Tampa Bay Lightning only needed two minutes to show off their skill, speed and puck movement, and that left the Kings in the dust in a 5-2 loss at Staples Center.
The Kings allowed four goals in a two-minute, two-second span in the first period and never mounted a sustained pushback on their way to their first regulation loss at home (5-0-2).
Here's what we learned:
There's no substitute for skill: Although the Kings failed to match Tampa Bay's level of play early, recognition must also be given to what the Lightning's Steven Stamkos and Nikita Kucherov are doing.
They are the NHL's highest-scoring teammates, and their dominance was something to marvel at for most of the night. The Kings paid for it dearly in the first period.
"Well, I think it's pretty clear that they're the best offensive team in the league," Kings coach John Stevens said. "They dress seven D and 11 forwards a lot, which means their top guys play more. Our worst period was our first period. Our whole focus was to be a better checking team against that type of offense. Quite frankly, we didn't do a very good job."
Goalie interference continues to be maddening:.Anze Kopitar's goal was disallowed because officials ruled that Dustin Brown forced Tampa Bay's Braydon Coburn to interfere with goalie Peter Budaj.
It ultimately didn't have an effect on the outcome, but many of these calls alter momentum and change the complexion of games. In the larger picture, the NHL's inconsistency on what constitutes interference has teams shaking their heads.
Stevens has been on the wrong end of these calls several times this season, and he was again upset Thursday.
"I'll be honest with you, I am totally confused on the goal interference penalty," Stevens said. "I don't have a clue what's allowed and what's not allowed. If the league wants to put a seminar together, I will attend it because I'm more confused now that I was at the start of the year."
Fatigue? What fatigue? Thursday was the fifth time this season that the Kings played a team that was on its second game in as many nights. They were 4-0-1 in that scenario.
Tampa Bay defeated the San Jose Sharks on Wednesday night but that hardly mattered. As so often happens, teams playing their second straight game have early jump, then sag. Indeed, the Kings grabbed the game more in the second period but couldn't rally further from being down 4-2.
That might have something to do with Tampa Bay forcing them into penalties — five minors in the final two periods — which stunted any momentum the Kings tried to generate.
Twitter: @curtiszupke
---
Get the latest on L.A.'s teams in the daily Sports Report newsletter.
You may occasionally receive promotional content from the Los Angeles Times.