Jonathan Quick's value to Kings goes beyond numbers to work ethic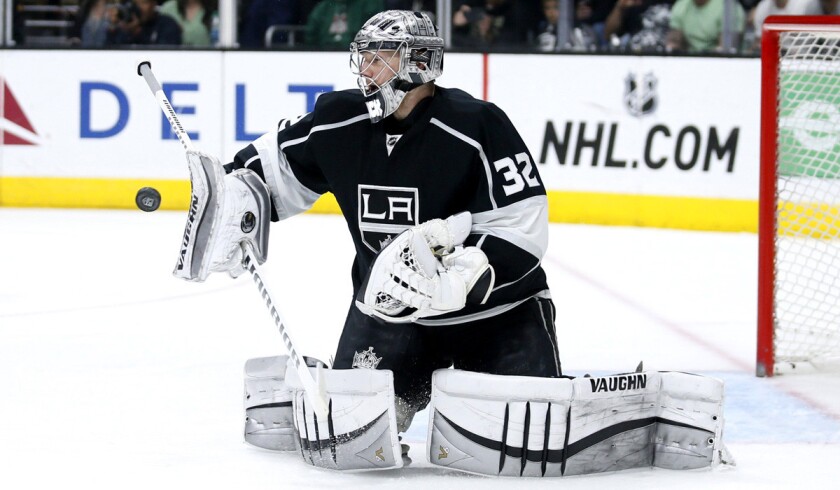 According to experts, Jonathan Quick isn't an elite NHL goaltender.
"The problem is that while he has the power to carry a team, he also has the power to sink one, and that's what we've seen recently," Bleacher Report said on Feb. 11, comparing Quick's 12-7-4 record and .931 save percentage over the Kings' first 23 games to his 7-8-6 record and .880 save percentage over the next 22 games.
"And while Quick is certainly not as bad as he's looked of late, subpar performances are getting to be a trend…. At the moment the Kings are on the outside looking in, and a large portion of the blame for that must fall on the shoulders of Quick."
That echoed a story in the Sporting News last June that said in part, "Quick's team has made it to the Final in spite of him and not because of him." It was published before the Kings defeated the New York Rangers in five games.
Is Quick elite? The numbers might not support that but they don't measure his value to a group that has grown up together and become champions. And though there were times this season when Quick was far from the MVP form he displayed in 2012, the Kings' defense was vastly different and less cohesive.
To paraphrase Patrick Roy's famous chirp to Jeremy Roenick during the 1996 playoffs, Quick probably can't hear the debate because he's got his two Stanley Cup rings plugging his ears. Besides, he's too busy trying to lift the Kings into the playoffs.
Quick, expected to start Wednesday at Anaheim against the division-leading Ducks, is 3-1-1 with two shutouts in his last five games. In that span he stopped 103 of 108 shots, a .954 save percentage. In 60 games total, he's 30-18-11 with a 2.28 goals-against average and .916 save percentage and is on pace to match or surpass the career-high 72 appearances he made during the 2009-10 season.
"All the best guys handle big loads. That's what they do," Kings Coach Darryl Sutter said Tuesday. "And the amount of work during a game doesn't really affect them because of the way they prepare. Some of them are actually better with more work. We're back to giving up the fewest shots in the league, so you sort of take that into consideration always too.
"He's just a great competitor and when he says it's just about the wins, he means that. And you wish everybody had that attitude."
Quick appeared in all 64 Kings playoff games the last three seasons and played for Team USA at the Sochi Olympics. He also had surgery on a herniated disc in his back in 2012 and on his wrist last June. He said Tuesday he feels fine on all fronts and is prepared to play 70 games.
"I think that's a good number," Quick said. "I think if you look at our schedule since the All-Star break, I think we've only played one back-to-back and I wasn't part of both games. It's kind of a playoff-type schedule that we've had, where you play, have a practice, you play, and you have a practice day.
"Over the past few years we've played a lot of those situations so we know how to prepare ourselves and make sure you get enough rest and you also get enough work to stay sharp."
He also knows how to handle the pressure of the Kings' annual late playoff drives.
"That's something that goes along with the experience we've gained over the past few years," the 29-year-old Connecticut native said. "There's pressure at the beginning of the year as well. It might not seem like it but it's a grind all year long. You're trying to win games and stay in the mix."
That the Ducks-Kings game might be a playoff preview meant little to Quick. "The only thing that really factors in is that last time we played them in their rink we lost," he said of a 4-2 defeat on Feb. 27. "And the fact they're a division rival…. It's a team we know well. We've played a lot over the past few years."
When it mattered most — in the second round of the playoffs last spring — Quick and the Kings prevailed. Elite by definition or not, he won. "Winner" is the best label, anyway.
Follow Helene Elliott on Twitter @helenenothelen
---
Get the latest on L.A.'s teams in the daily Sports Report newsletter.
You may occasionally receive promotional content from the Los Angeles Times.