Dion Phaneuf is helping the Kings collect memorabilia and points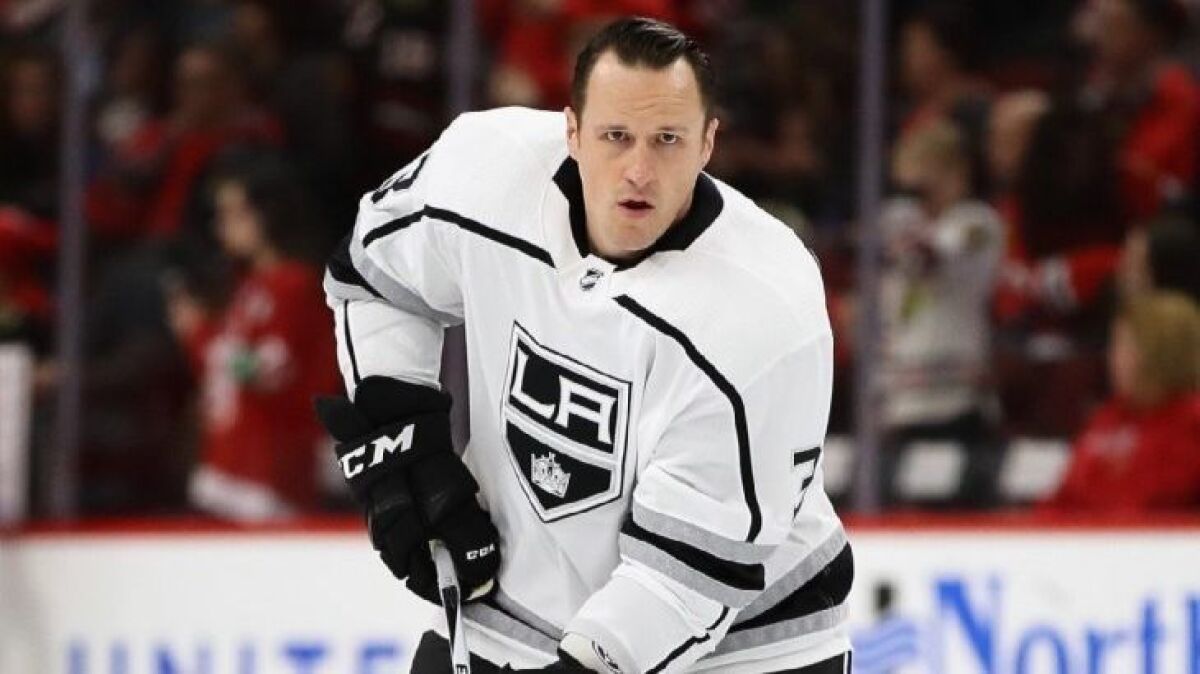 Reporting from OTTAWA —
It worked out that Dion Phaneuf had the puck when the horn sounded. He bent down and picked it up for teammate Jack Campbell.
It was a simple gesture to preserve the souvenir for Campbell's first shutout Thursday and one that Phaneuf appreciates as much at 33 as he did when he was on the receiving end of such moments.
"I enjoy that part of it because it's a special thing for guys," Phaneuf said. "It just happened that I was by the puck. There's 20 other guys in there that would have picked up the puck for him, too. He's a really well respected guy in our room."
There was symbolism in the gesture because Phaneuf, too, keeps a heavy presence in the dressing room in his first full season with the Kings. He hasn't made the statistical sheet yet but his leadership is measured in the spaces where they've needed a nudge.
"He's a super vocal guy and he brings the mood up every single day and he just brings the positive energy every day," Tyler Toffoli said. "He's done a lot for our team so far this season. … We're only four games in but there's been some times where we've needed some extra motivation and he's been there."
That's one of the reasons that Phaneuf was remembered well in Ottawa, where he will return Saturday for the first time since he and Nate Thompson were traded to the Kings for Marian Gaborik and Nick Shore in February. The returns tilt toward the Kings with the news last month that Gaborik is seeing a specialist in Los Angeles for post-surgery back problems that reportedly throw his career in doubt, with three years remaining on his contract that pays $4.87 million per season.
Phaneuf also is signed through 2020-21 at $5.25 million annually, but he plays a safe, hard, antagonizing game and occasionally scores. He's already had dustups with the Detroit Red Wings' Tyler Bertuzzi and was his usual annoying self against the Montreal Canadiens.
"He brings that attitude that I think we've missed a little bit," Kings general manager Rob Blake said. "He knows the right guys to go after, [at] the right times. … He's a big part of that core group."
The second half of this four-game trip is the Phaneuf Reunion Tour because the Kings play another of his former teams, the Toronto Maple Leafs, on Monday. Phaneuf on Friday was sentimental about the high point of his 154 games with Ottawa. He was on the 2016-17 team that lost to the Pittsburgh Penguins in Game 7 of the Eastern Conference finals.
"There's a connection, for sure, with guys," Phaneuf said. "To be that close to making it to the Stanley Cup Final … it was tough saying goodbye. I made some friendships here."
Phaneuf spoke after a light day for the Kings, who spent some time kicking footballs and soccer balls in the brisk lunchtime sun at the University of Ottawa. Saturday will be his 986th NHL game as he creeps toward the 1,000th milestone.
"Really what it says is that I think that you're closer to the end than the beginning," Phaneuf said. "For me, I feel like I've got lots left. I want to continue to play as long as I can."
And maybe pick up a few more pucks along the way.
KINGS AT OTTAWA
When: Saturday, 11 a.m. PDT.
On the air: TV: FS West; Radio: iHeartRadio (LA Kings Audio Network).
Update: Ottawa rookie Brady Tkachuk, the fourth pick in this year's draft, has two goals in his first two games. He was the second-youngest U.S.-born player to have a multi-goal game within his first two NHL games, behind Pat LaFontaine in 1984.
Twitter: @curtiszupke
Get the latest on L.A.'s teams in the daily Sports Report newsletter.
You may occasionally receive promotional content from the Los Angeles Times.