Comments by Slava Voynov's wife to police can be admitted at trial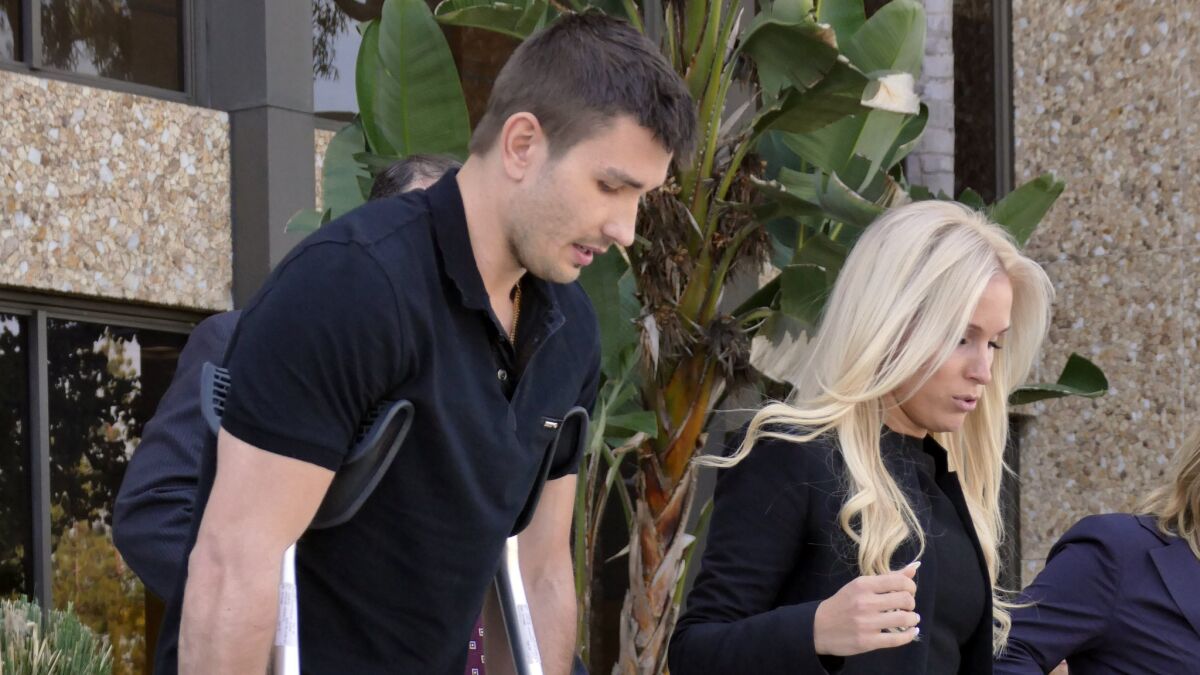 For much of the last seven months, the wife of Kings defenseman Slava Voynov has remained silent, unwilling to speak to authorities about an incident that left her face battered and swollen.
But at a court hearing Friday, prosecutors played a recording of Marta Varlamova being interviewed in the emergency room that October night, telling police her husband had struck her inside their home.
"My blood, all over bedroom and bathroom," she said between sobs, adding: "And it's not first time."
At the end of an all-day session, Superior Court Judge Eric Taylor ruled that these and other comments Varlamova made to police and some on the hospital staff will be admissible at Voynov's upcoming domestic violence trial.
The statements could prove significant if Varlamova continues to resist cooperating with prosecutors or gives a different account of what happened on Oct. 19 during future testimony.
Voynov, who has pleaded not guilty to a felony charge, has been suspended indefinitely, with pay, by the NHL. According to a police report, he claimed his wife injured herself getting out of bed.
Through a series of hearings this week, the defense sought to exclude comments Varlamova made at Providence Little Company of Mary Medical Center in Torrance, claiming they were coerced or otherwise inadmissible.
Varlamova arrived at the emergency room past midnight with a swollen eye, scratch marks on her neck and a cut on her forehead that required stitches.
On the tape, she can be heard telling police she and Voynov had been at a party with other Kings players where there was alcohol. The couple began arguing, she said, the altercation turning more violent when they returned to their Redondo Beach home.
Prosecutors have alleged Voynov tried to choke his wife and then pushed her into the corner of a flat-screen television mounted on the wall.
"He's very aggressive every time," she said on the tape.
Officer Gregory Wiist of the Redondo Beach Police Department testified Varlamova was "clearly upset" when he interviewed her at the hospital.
"She was crying, sobbing, hysterical," he said. "She just looked torn up."
Pamela Mackey, one of Voynov's attorneys, said Varlamova had to wait more than an hour to see a doctor and "was being told that unless she says what they want to hear, she's not going to get medical treatment."
Nurse Lily Juantuah and security guard Ronnie Liston testified earlier in the week about conversations they had with Varlamova, which Taylor also deemed admissible.
But the judge granted a defense motion to exclude a discussion with Justin Weber, a clinical social worker at the hospital, and said he would rule later on comments made to yet another nurse.
Varlamova could ultimately be charged with contempt of court if she refuses to testify at the trial scheduled for July 6. In the meantime, the court has ordered her to undergo domestic violence counseling to determine whether she might change her mind about cooperating.
Twitter: @LATimesWharton
---
Get the latest on L.A.'s teams in the daily Sports Report newsletter.
You may occasionally receive promotional content from the Los Angeles Times.