What we learned from the Kings' 4-2 win over the Red Wings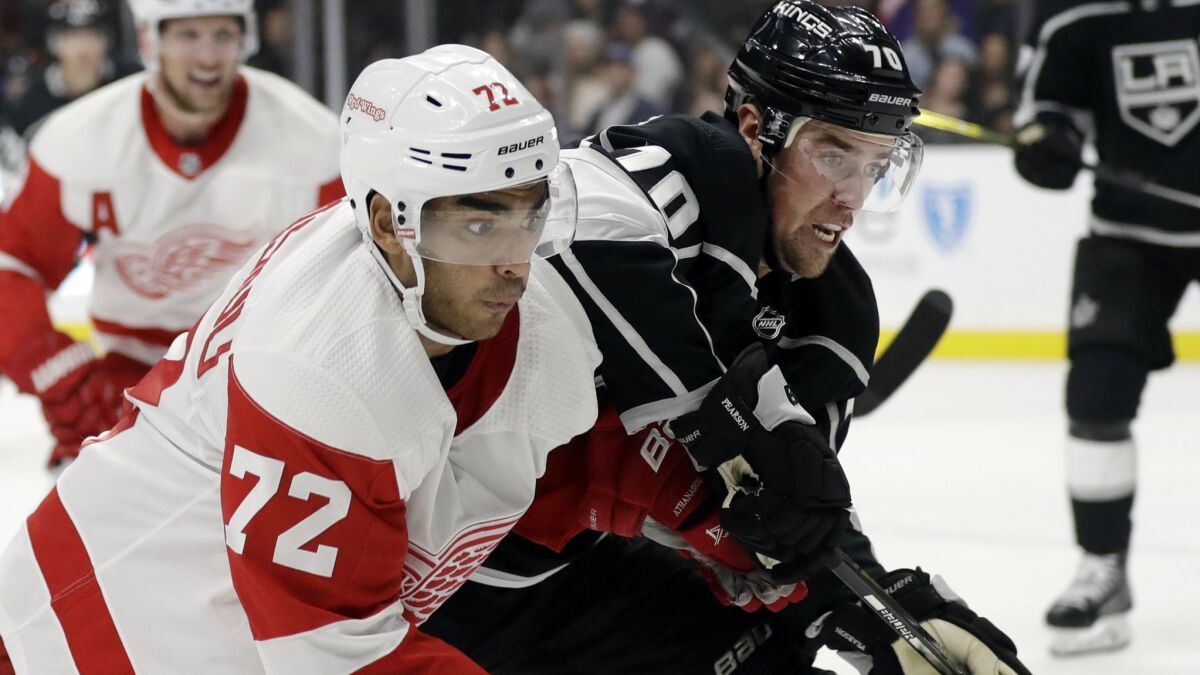 It was Game No. 2 but it carried more meaning than that.
For the second time in three seasons, the Kings won't have Jonathan Quick available, at least for the near future. Quick was placed on injured reserve with a lower-body injury, throwing a scare into the goaltending situation.
The Kings needed to show they can adapt with Jack Campbell, at home against a team on the rebuild, and that's what Sunday's 4-2 win at Staples Center was about.
Here's what we learned:
Campbell looks ready to pick up where he left off. It's not a big sample size: Campbell appeared in five games last season. But he came up big in a win at the Vegas Golden Knights and in an overtime loss, on a back-to-back, at the Winnipeg Jets late last season.
Sunday was what the Kings wanted to see.
"I thought he was terrific," coach John Stevens said. "I thought [the Red Wings] got some really good movement in the zone and are always looking for those lateral plays in the backside, and I thought he really made some key saves at some key times to allow us to stabilize things a little bit. It was a really, really solid performance coming in on short notice."
Ilya Kovalchuk can still dish it. One of the recurring comments from Stevens in assessing Kovalchuk is that the left wing's passing ability is overlooked.
It wasn't in this game. Kovalchuk made a heads-up pass to hit Anze Kopitar entering the zone on Kopitar's goal, and he intercepted the puck behind the net and spotted Alex Iafallo for another goal — his first NHL points since 2013.
"I feel like he's a very underrated passer," Kopitar said. "The play he made to Alex for the third goal — you don't see that every day. We all know he's a great shooter but I think people don't realize how good of a passer he is."
Jaret Anderson-Dolan is making his situation interesting. The 19-year-old made his NHL debut and played the straight-ahead, chase-the-puck game in the seven minutes, 26 seconds he logged, mostly on the third line with Adrian Kempe and Trevor Lewis.
The Kings can play Anderson-Dolan for nine games before the first year of his entry level contract is used. Meanwhile, Anderson-Dolan will try to prove he's ready for the day-to-day rigors of the NHL. He has stood out with a mindset and maturity uncommon for a teenager. He wasn't fazed by the bright lights Sunday.
"I was pretty even keel," Anderson-Dolan said. "I think there were a couple of moments where you kind of look up and you realize you're playing in the NHL and that's a very cool moment. But I tried not to think about it too much."
Twitter: @curtiszupke
---
Get the latest on L.A.'s teams in the daily Sports Report newsletter.
You may occasionally receive promotional content from the Los Angeles Times.