Column: Lonzo Ball faces pressure that no L.A. rookie has ever experienced
He plays his first professional game barely a year after his last high school game. He plays a main stage in Las Vegas even though he's not old enough to gamble. It is the middle of July in a league whose season doesn't begin until October.
Yet Lonzo Ball struggles, so he is a complete and unalterable bust.
He plays his third professional game mostly with scrubs who won't be his teammates in three months. He plays against a team whose No. 1 overall draft pick is watching from the bench with an injury. The action is hurriedly paced and loosely officiated.
Yet Lonzo Ball plays great, so he is a complete and unalterable Magic Johnson.
Heaven help the most scrutinized rookie in Los Angeles sports history, whose past week in the Las Vegas summer league has been startling in its drama and unsettling in its prophesy.
If this kid is already under this kind of microscope, how much heat will he feel when they start playing for real?
Summer league is supposed to be organized calisthenics. But for Ball, it's been mass mayhem.
The outlandish words of his father LaVar have made him a target. The proclamation from Johnson that he is the new face of the Lakers has made him a symbol. His odd shooting motion and swashbuckling style has made him a constant focal point.
He throws up a few bricks, and suddenly he'll never be able to shoot. He misses a game against Sacramento with a groin injury, and suddenly he's ducking nemesis De'Aaron Fox.
He wears Kobe Bryant sneakers and it's a headline. He grinds for a basic layup-and-one and the highlight shows on a loop.
Thousands of Laker fans make the trip to fill the Thomas & Mack Center as if on a pilgrimage to the playoffs. Dudes in Magic jerseys scream at the meaningless wins. Dudes in Kobe jerseys throw their hands up at the irrelevant losses.
The combination of Ball's Hollywood flair, his Southland roots, the loudmouth father, and the Lakers' recent dreariness have combined to create a perfect storm that has spit him out as either a long-lost savior or the world's biggest stiff.
Heaven forbid we all agree to pump the brakes and let him turn 20.
He is a clearly special playmaker. He is a breathtaking passer with genius court awareness. He makes everyone around him better. He did it at UCLA, he's doing it in summer league and everyone can see it. That part of his game is not going to change any more than his loping gait or his expressionless stare.
As for the rest of it, the shooting, the defense, who knows? Nobody knows. Can we just wait a few seconds before we know? The learning and growth process is just beginning. His story will be told in this long and winding journey, not in these first few steps, yet each of these steps are viewed as part of a final chapter.
Carrying all this weight, it's a wonder the kid can even walk.
At Ball's introductory Lakers news conference after he was the No, 2 overall draft pick — as if he even needed an introductory news conference in this town – I stood in front of Magic Johnson and noted that Ball would be under more pressure than any rookie in this city ever. Johnson argued that no rookie could feel more pressure than he felt during his 1979-80 season.
After watching the Las Vegas madness this week, I stand by my statement. Johnson played in an era before the Internet and social media. Kobe Bryant began his career in the shadow of Shaquille O'Neal. Clayton Kershaw made his heralded debut at age 20, but he was only one small piece of an eventual division-winning Dodger team.
There is one former celebrated Los Angeles rookie who felt even remotely comparable heat. Remember Todd Marinovich? The former USC star quarterback with the overbearing father was a first-round pick of the then-Los Angeles Raiders in 1991 and destined for greatness before watching his career disintegrate amid substance abuse problems.
He's a local in one of the biggest markets in the country, it makes it that much more difficult.
Todd Marinovich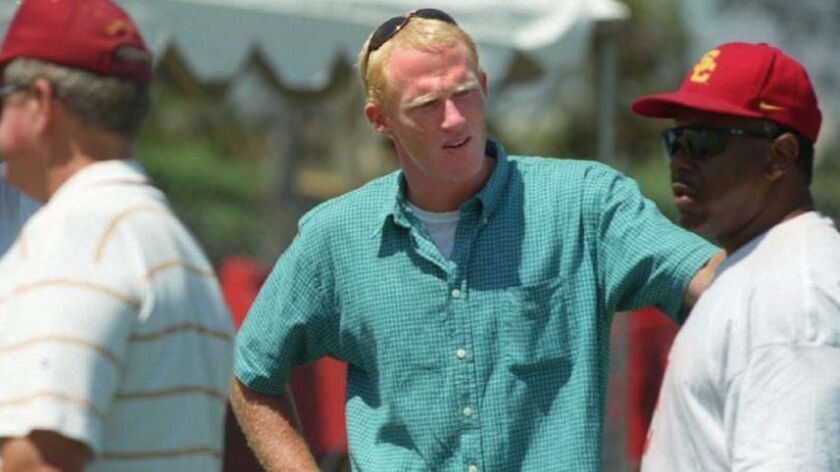 Marinovich, 48 and attempting a quarterback comeback with Indio's SoCal Coyotes in the World Developmental Football League, said this week he doesn't personally know Ball or his situation, but he can certainly imagine.
"He's in for a ride," Marinovich said. "All eyes are on him, he's a local in one of the biggest markets in the country, it makes it that much more difficult."
Ball has often said that he is used to the pressure from playing at Chino Hills High and UCLA. Marinovich said he once thought the same thing after playing at Mater Dei, Capistrano Valley and USC.
"Then I got to the Raiders and everything was magnified by 100," Marinovich said. "You have to be so firmly planted on this earth for that not to affect you. It's almost impossible for a kid in their late teens, early 20s to keep their head on right."
Marinovich said he made the mistake of straying outside of the team for support, and recommended that Ball not make the same mistake.
"I went to a team that had legendary veterans like Howie Long and Marcus Allen who wanted to take me under their wing, but I always had other plans," he said. "If I would give any advice to Lonzo, it would be, surround yourself with the quality people from the Lakers, treat them like your family, stay close to those who really care about you."
Magic Johnson has already said he wants to mentor Ball like Johnson was mentored by Jerry Buss. Coach Luke Walton already embraces Ball's style such that Walton was beaming at some of Ball's plays in Las Vegas. The Lakers will also have several young veterans to guide him, including recently signed shooting guard Kentavious Caldwell-Pope
The support system is there. The raw talent is there. But so too is a pressure the likes of which have never before been heaped upon a young athlete in this town.
The other night, when asked why he wore Kobe Bryant shoes, Lonzo Ball said, "Mamba mentality.''
He's going to need it.
Get more of Bill Plaschke's work and follow him on Twitter @BillPlaschke
---
Get our high school sports newsletter
Prep Rally is devoted to the SoCal high school sports experience, bringing you scores, stories and a behind-the-scenes look at what makes prep sports so popular.
You may occasionally receive promotional content from the Los Angeles Times.