NLCS notes: Cardinals aren't hurting after letting Albert Pujols leave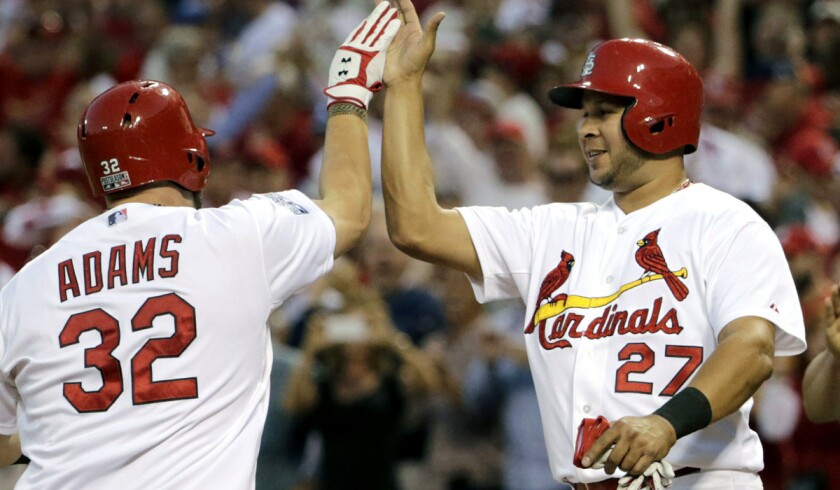 Reporting from St. Louis —
The decision could go down as one of the wisest in baseball history.
The St. Louis Cardinals had just won the World Series, for the second time in six years. Albert Pujols, their three-time most valuable player and the best hitter to grace St. Louis in half a century, had just filed for free agency.
The Cardinals decided they would go to great lengths to keep Pujols, but not to any lengths, certainly not to guarantee him 10 years. The Angels did, for $250 million.
In the three years since then, the Cardinals have appeared in the National League Championship Series three times, with 19 postseason victories. The Angels have not won a postseason game.
"Obviously, his impact is historic, with what he meant to the Cardinals during his time here," St. Louis General Manager John Mozeliak said Saturday.
"When we knew we had to look at the next chapter of this organization, it was really about understanding how we could redeploy those resources. You never know if you're going to be able to sustain that high a level, but certainly to get close to that level, or back to it, was something we were able to achieve, first with the signing of [outfielder] Carlos Beltran and then [shortstop Jhonny] Peralta."
Beltran and Peralta combined to hit 77 home runs for the Cardinals since Pujols' departure, Beltran in 2012-13 and Peralta this year. Pujols has hit 75 home runs in his first three years with the Angels, although he played through a knee injury in 2012, and a foot injury limited him to 99 games in 2013.
Pujols turns 35 in January. In his three years in Anaheim, he has posted the three lowest batting averages, on-base percentages and slugging percentages of his career. His OPS averaged 1.037 in 11 years in St. Louis, .810 so far in Anaheim.
He hit .272 this season, with 28 home runs, 105 runs batted in and a .790 OPS.
As the Cardinals considered how much to offer to retain him, what did they project his performance might be over these last three seasons?
"Obviously, he was hurt a lot in that time," Mozeliak said, "but I think what you saw out of him this year, maybe a little more at times. That's always a hard guess. Frankly, that wasn't the thing we were mostly worried about. It was more the out years — seven, eight, nine and 10.
"He's one of the greatest hitters I've ever seen. We knew he was going to contribute. The question was for how long."
Of course, without a shrewd organization, letting Pujols walk could have been a disaster. Of the players in the Cardinals' lineup Saturday for Game 1 of the NLCS, Peralta was the only one acquired as a free agent. Five came in the draft, with second baseman Kolten Wong the only first-round draft choice among them, and three came in trade.
"I do think it is about a team," Mozeliak said. "This game of baseball is maybe unlike basketball, where one player might be able to carry you. It's really hard to do in this game. For us, it is about the sum of our parts."
Mark Ellis mentors young Cardinals
In 2013, Mark Ellis was the Dodgers second baseman. He batted .270 and provided solid defense, but he was 36 at season's end. The Dodgers signed Cuban free agent Alex Guerrero, with the intention of starting him at second base.
Ellis could have remained with the Dodgers as a backup. Instead, when Guerrero flopped in spring training, Dee Gordon won the second base job and ran with it. He stole 64 bases; no Dodger had stolen more since Davey Lopes stole 77 in 1975.
Ellis signed with the Cardinals as a backup and mentor to rookie second baseman Wong. Ellis batted .180 and did not make the NLCS roster, but Manager Mike Matheny saluted Ellis for his continued work with Wong and other Cardinals youngsters.
"When we go in and have closed doors, the guys want him to speak," Matheny said. "They want to hear what he has to say. And, for a guy on his first year on a team, that speaks volumes."
Quick self-assessment
San Francisco Giants pitcher Jake Peavy was in the middle of answering a question about how Manager Bruce Bochy has changed when Bochy walked right into the news conference.
"Boch, how have you changed?" Peavy said. "You've gotten older, grayer …"
"Better looking," Bochy shot back.
---
Get our high school sports newsletter
Prep Rally is devoted to the SoCal high school sports experience, bringing you scores, stories and a behind-the-scenes look at what makes prep sports so popular.
You may occasionally receive promotional content from the Los Angeles Times.