College World Series: Oregon State rallies from 5-1 deficit to beat Cal State Fullerton 6-5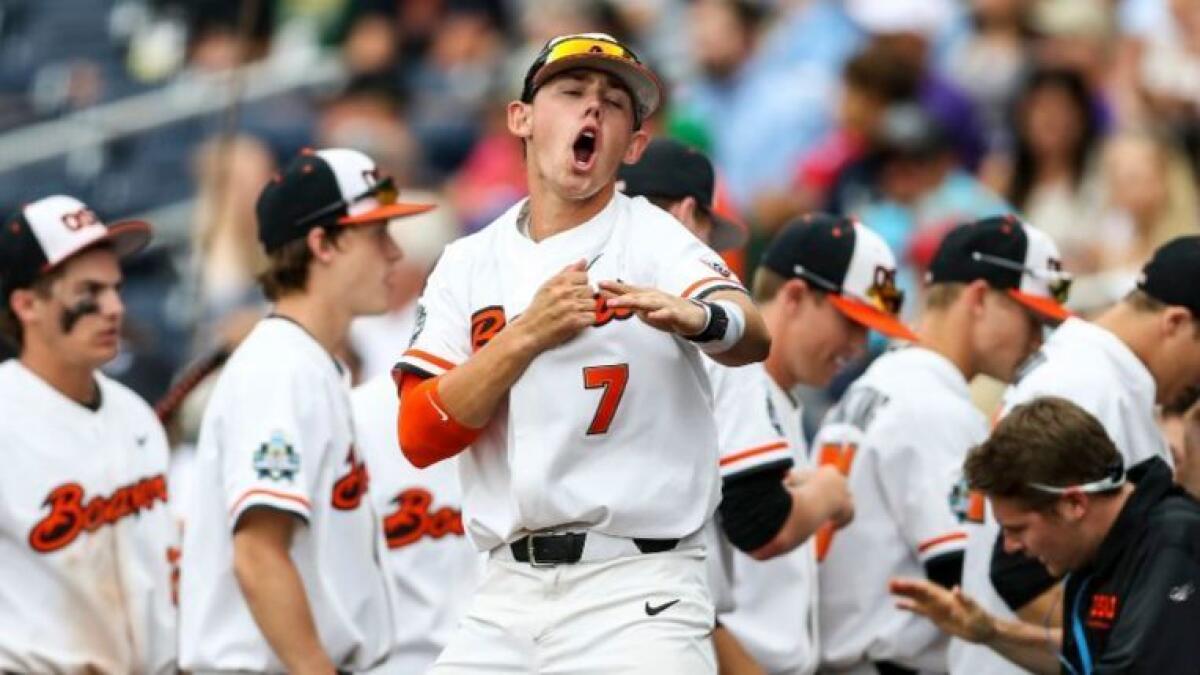 Oregon State had lost only four games this college baseball season, entering the first game of the double-elimination College World Series in Omaha with a 54-4 mark.
It is a record of historic proportions, and in that begs a simple question: How? On Saturday, Cal State Fullerton received a lesson.
The Titans for a few, giddy innings, led 5-1. They lost 6-5.
Oregon State began wresting back control in the bottom of the sixth inning. It began with No. 3 hitter KJ Harrison. He put the game in a stranglehold in one breathtaking, seven-minute at-bat when Fullerton led by three runs.
The action began with a 2-2 count.
Right-hander Colton Eastman threw a fastball. Harrison fouled it back. Off-speed, yanked foul. Breaking ball, bounced foul. Fastball, fouled back. Curveball, fouled back. Fastball, fouled back.
Harrison fought off everything Eastman had. Three minutes had elapsed. The count was unchanged. Harrison chomped on green chewing gum. Eastman squinted his eyes. A fastball went wide — a full count.
Off-speed, fouled back. Then, finally, a ball high and away. Harrison walked.
It hadn't even scored a run, merely loaded the bases, but the game had noticeably shifted.
It was Eastman's fourth walk in the inning. He exited. Oregon State singled twice off Titans right-hander Blake Workman, and the score was tied.
Two innings later, the eighth, with a two-out single, hit batsman and a run-scoring single by Adley Rutschman against Workman, the game was won.
"We never caught our breath," Fullerton coach Rick Vanderhook said.
Fullerton had tasted sunshine against Oregon State but only for a moment.
That is more than most teams are afforded. No team, ever, has dominated college baseball as Oregon State has this season. Its resume ventures into the realm of the ridiculous. The Beavers own the best winning percentage in Division I history. They have won 22 games in a row, which isn't even their best streak this season. They had one of 23 earlier in the year.
But Fullerton shocked them in the first inning. With two runners on, Timmy Richards tagged a ball toward the outfield, pausing abruptly before first base as the baseball began its final descent somewhere near the left-center-field fence.
The runner ahead of him had held back to make sure it wasn't caught. Richards wouldn't risk catching him.
This is Cal State Fullerton and fundamentals must always be minded, even on home-run balls. Richards resumed his trot only when the ball landed in the outfield seats.
"I don't think I could have taken a better swing to that ball," he said.
The Titans' brand of hard-charging, sound baseball, plus the modicum of power provided by Richards, had made Oregon State jittery early.
By the fourth inning, the ESPN broadcast reported that the Beavers were concerned that Fullerton (39-23) was reading All-American right-hander Jake Thompson's grip, intercepting his pitches. Later that inning, Chris Hudgins tagged a pitch that needed no advance warning, a hanging curveball, for a two-run single.
Thompson is the nation's winningest pitcher, at 14-0, but he surrendered five runs in 3 2/3 innings.
Fullerton right-hander Connor Seabold held Oregon State to just one run, but he nibbled around the plate and had to retire after five innings and 97 pitches.
Eastman, who had been a hero in the super-regional series against Long Beach State that sent Fullerton to the College World Series, labored. In the dugout after the sixth inning, he sat with his head down.
"They're really good. And I'm stupid," Vanderhook said. "I outthought myself. Eastman was on a normal rest. We had a healthy lead. At that point, I figured let's turn it over to the best guy, and definitely outthought myself. Probably would do it different again. And I let them get back in the game, and you don't do that to good teams."
In the dugout afterward, Vanderhook asked his team for just one out. Then, they'd catch their breath. They did.
By the eighth inning, Harrison stepped to the plate again. He caught a pitch on the barrel. Center fielder Scott Hurst plucked the ball right below the yellow line atop the fence, saving a long double.
It was the second out. But Oregon State was not done.
"That's why they've only lost four games," Vanderhook said.
Follow Zach Helfand on Twitter @zhelfand
Helfand reported from Los Angeles.
Get our high school sports newsletter
Prep Rally is devoted to the SoCal high school sports experience, bringing you scores, stories and a behind-the-scenes look at what makes prep sports so popular.
You may occasionally receive promotional content from the Los Angeles Times.