A relative novice in cross-country, UCLA's Erika Adler is quickly making up ground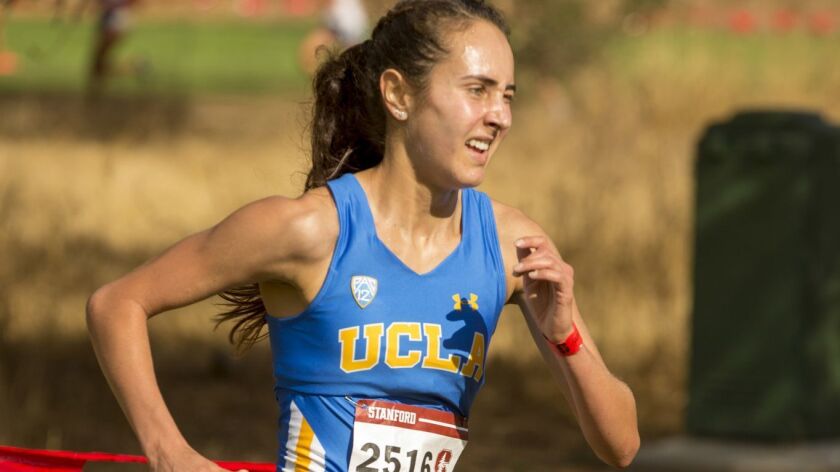 Erika Adler ended her freshman season with the UCLA cross-country team lying on a table, as a medic sewed stitches across a gash in her leg.
Adler felt a runner's spike stab her skin when the starting gun fired at the NCAA West Regionals last year, but during the race she hardly noticed the pain from that incident. A throbbing in her bone, however, gripped her attention. She later learned it was a third-degree stress reaction.
She had run with the injury since before the Pac-12 championships, and entered regionals longing to fulfill her seasonlong role as UCLA's top runner. Instead, she placed third on the team, 60th overall, and ran the 6K in a time that was nearly 1 1/2 minutes slower than the 19 minutes, 31 seconds she posted at the Pac-12 championships.
But she did not quit.
"Even though I was in pain, I just, I needed to finish," she said, later adding: "I think it's just my mental side … like, 'Erika, you can never drop out.' "
A year later Adler still has the scar from that race — a thick, inch-long brown line down her left shin. She calmly traced it with her finger a few days after the 2018 West Regionals, where she placed 14th, running a 6K in 19:56 to become the only Bruin to qualify for the national championships in Madison, Wis., on Saturday.
In each meet she raced this season, Adler has led UCLA. The sophomore placed 13th in the conference championships (20:09) and was selected to the All-Pac-12 second team and All-Region.
All this, in only Adler's third year of cross-country. In her first three years of high school, she was a cheerleader who sometimes jogged a neighborhood trail at night with her father. He encouraged her to try out for track but she brushed it aside.
"I thought I wasn't actually that good," she said.
After her junior year she grew tired of the cheerleading environment, so she began to take her father's urging seriously.
"New people, new coach, a new sport, it's kind of scary," Adler said. "But I was just kind of like, I don't want to live with regret."
Adler had not run a timed mile since a physical education class in middle school. She arrived at track practice after the season started, because cheerleading ran long, to run a mile timed by Louie Muniz, the track and cross-country coach at Northwood High in Irvine.
Adler finished the mile in 5:33, then asked Muniz, "Is that good enough?"
"The cardiovascular system immediately stood out," Muniz said. "That, hey, this girl has a little different engine than the rest of us."
The coaches began testing her in workouts with longer distances and faster paces. Adler met each demand. In races, they instructed her to stick with speedier runners. She passed them.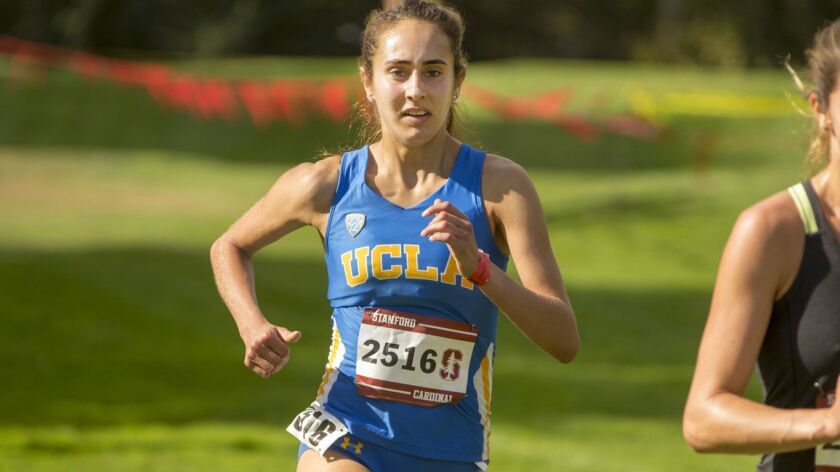 Her natural ability and competitive drive was boosted by her innocence, Muniz said. She knew so little about running that she did not question her coaches. And she had no idea how unique she was.
"She was such a novice," Muniz said, "that she just kind of, probably thought, isn't this what everybody can do?"
Adler committed to UCLA at the end of the fall in her senior year, when she finished second in the state championship meet during her first cross-country season, running a 5K in 17:26. By the time Adler graduated, she improved her 1,600-meter time to 4:56.
Accustomed to low mileage training and still unfamiliar with the tactical knowledge of running, Adler joined some UCLA teammates who had competed since middle school.
Adler naturally ran at a 6:30 mile pace and did not know to relax her speed at easy practices. Because the other top runners ran higher mileage, Adler joined them, unaware that her body needed to catch up to her fitness.
"I kind of was thrown into the whole college running," Adler said.
At first, she approached races like she did high school, eager to test her limits. After finishing second on the team in her first meet, she led the Bruins in every meet before the West Regionals.
Adler's role as the team's top runner increased her fear of letting people down. The pressure accumulated into anxiety she shouldered alone, along with an emerging pain in her left shin.
"Unfairly I think, she kind of took a lot of things on that weren't necessarily in the handbook for her to do," said Devin Elizondo, a UCLA assistant coach.
Adler learned she sustained a stress reaction in January, her left inner tibia weakened by overexertion.
By the time she recovered, Elizondo encouraged her to communicate, constantly asking, "How are you feeling?" and reminding her to slow her pace on easy days and opt for lower mileage runs.
The more time she spent away from racing, the more anxious she grew at returning. The Stanford Invitational on Sept. 29 was to be her first race since her injury. She spent the week stewing over the meet.
After a team meeting the night before the race, Adler texted Elizondo that she and a freshman teammate wanted to speak with him privately. When he came to their hotel room, she revealed her anxiety.
"Let's pare it down to three things," Elizondo told her. "Like, what three things do you feel like you can accomplish tomorrow, and what three things that, if you can do, you'll be happy with? Not the time, not the result, not the outcome. Not anything ... outside of us."
Adler wrote down her goals on a hotel notepad: run with the leaders at the start, hurt like she was racing and close hard. At the sound of the starting gun the next day, Adler realized her nerves were gone.
She placed ninth, first on the team, with a time of 21:13. Adler continues to write down her goals before every race. She waits until the night before to think about a meet.
She keeps the collection of her goals in a bag in her desk drawer, awaiting one more sheet of paper from a hotel in Wisconsin. A top-40 finish would earn Adler All-America status.
"I'm not trying to put pressure on myself," she said. "I just want to get out there, and kind of just see what I can do."
---
Get the latest on L.A.'s teams in the daily Sports Report newsletter.
You may occasionally receive promotional content from the Los Angeles Times.