Javier Fernandez repeats as men's world champion in figure skating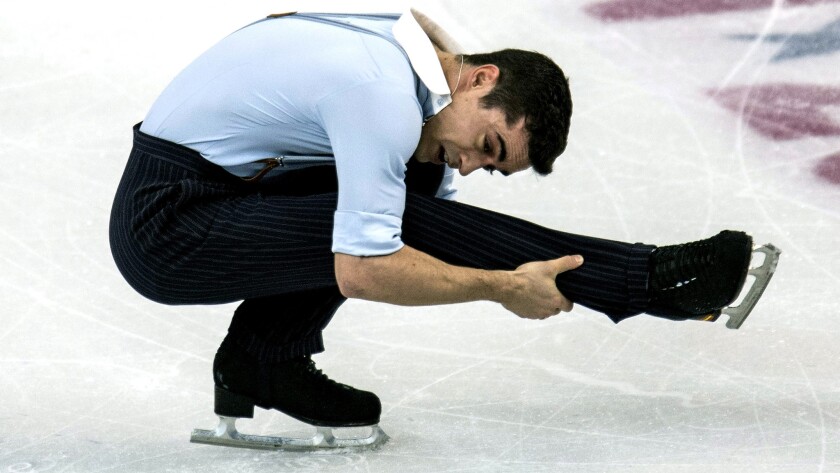 Javier Fernandez couldn't practice, couldn't squeeze his foot into his skate, and all he needed was "the best program of my life."
With some padding in his boot, ultrasound treatment for his inflamed heel and a lot of nerve, Fernandez swung a daunting deficit into a lopsided victory to defend his world title Friday. The Spanish star skated flawlessly after training partner Yuzuru Hanyu faltered throughout his long program.
Fernandez cleanly landed three quadruple jumps, successfully added a second triple axel and had the crowd on its feet before he finished his final spin to Frank Sinatra singing "Guys and Dolls." He smashed his previous personal bests with 216.41 points for 314.93 total.
"Sometimes we feel so strong it doesn't matter what happened before," Fernandez said.
Hanyu settled for his second straight silver and Jin Boyang landed four quads to win bronze, the first individual world medal for a Chinese man.
Hanyu, who led by more than 12 points coming in, fell once and touched his hand down two other times in a performance that was tentative from the start.
He overcame two falls in his free skate in Sochi to win Olympic gold when Patrick Chan failed to take advantage of the opening. Fernandez, who like Hanyu is coached by two-time Olympic silver medalist Brian Orser, had no such trouble Friday.
Channeling Sinatra, the suspenders-wearing Fernandez was at his charming best, the crowd clapping along to this fancy footwork. Fernandez buried his face in his hands when it was over.
Hanyu, the 2014 world champion, still earned 184.61 points for a total 295.17, strong scores for just about any other skater but well off his records.
A hand touched down on his opening quad salchow, and the mistakes kept coming. Hanyu fell on his second quad salchow, costing him the points of a combination. He stepped out of his landing on his second triple axel, resulting in just a double salchow instead of a triple in the combination. Then a hand touched down again on his final jump, a triple lutz.
He stayed hunched over for several moments after it was over, as dozens of flowers and stuffed animals flew onto the ice in a show of his stardom and the many Japanese fans in the crowd.
With a chagrined laugh later, he said he wished he could go back and skate it again.
"I'm really sad and I'm really happy with Javi's program," he said.
Hanyu was angry before his short program Wednesday when he felt Olympic bronze medalist Denis Ten got in his way during a run-through at practice. But then Hanyu went out and skated a nearly perfect short program.
On Friday, though, he never looked comfortable.
Jin became the first man to land four quads at worlds, but his scores are so low for choreography and interpretation that he still can't match the world's best. He scored 181.43 points for 270.99 total.
Of Fernandez and Hanyu, Jin said, "I still think that I can learn a lot more from them."
Mikhail Kolyada, a 21-year-old Russian making his world championships debut after missing last season with a broken ankle, was fourth. Chan, the three-time world champ who took last season off, dropped from third to fifth with a mistake-strewn long program.
American Adam Rippon was sixth after a stirring skate to his Beatles medley that had the home crowd roaring. Earlier, China's Sui Wenjing and Han Cong took the lead after the pairs short program as they seek their first world title. Last year's silver medalists scored 80.85 points to top defending champs Meagan Duhamel and Eric Radford of Canada, who earned 78.18. Olympic gold medalists Tatiana Volosozhar and Maxim Trankov of Russia were third with 77.13 points after taking last season off.
---
Get the latest on L.A.'s teams in the daily Sports Report newsletter.
You may occasionally receive promotional content from the Los Angeles Times.