How Kyle Kuzma found a path to the Lakers from a YMCA basketball court in Flint
Outside of a castle made of washed aggregate concrete with grayed seafoam green panels in between, rain spits on the broken asphalt.
Kids playing basketball inside start a game with two men in their 50s. Painted on the far wall is a welcome along with an explanation of where you are: Hoop City Gym.
The place has embraced generations of basketball players. The Flintstones, a trio of Flint natives who won a national championship at Michigan State, played here long before a pre-teen kid nagged his mom to take him there or begged staff members to sneak him in. A block away there is a plot of land covered in rubble, remnants of a home long destroyed like so much else in this city.
But this building has stood for decades. The Greater Flint YMCA has served the community for more than a century.
It was there before the auto industry invigorated the area, back when the horse-drawn buggy earned Flint the moniker "Vehicle City." It was there through Flint's rise as a motor town, with factories bringing well-paying union jobs. It stood through Flint's fall as the American auto industry stumbled to its knees in the early years of the 21st century, when Flint turned into a place without opportunity or much hope. And when poison ran through Flint's water system, the YMCA was one safe place where you could still drink out of the taps and take a shower without fear of rash or hair loss.
Kyle Kuzma found peace, joy and purpose in this building. It incubated his love affair with the game of basketball. In many ways, it is why he is a Laker.
---
What did you love about being at the YMCA?
"One reason was, I loved the game. Loved playing basketball more than anything, really."
Rob Pelinka called Mark Bartelstein almost daily in the months before the NBA draft last June.
"Incessantly," Bartelstein said.
Bartelstein and Zach Kurtin represent Kuzma. Pelinka, the Lakers' general manager, wanted to know everything about the kid. Who was he meeting with? Who was working him out? What chance might the Lakers have to take him, and when?
The effervescent spirit with which Kuzma played caught the Lakers' attention early, starting when 90-year-old Bill Bertka spotted him as a sophomore while scouting the Pac-12 tournament.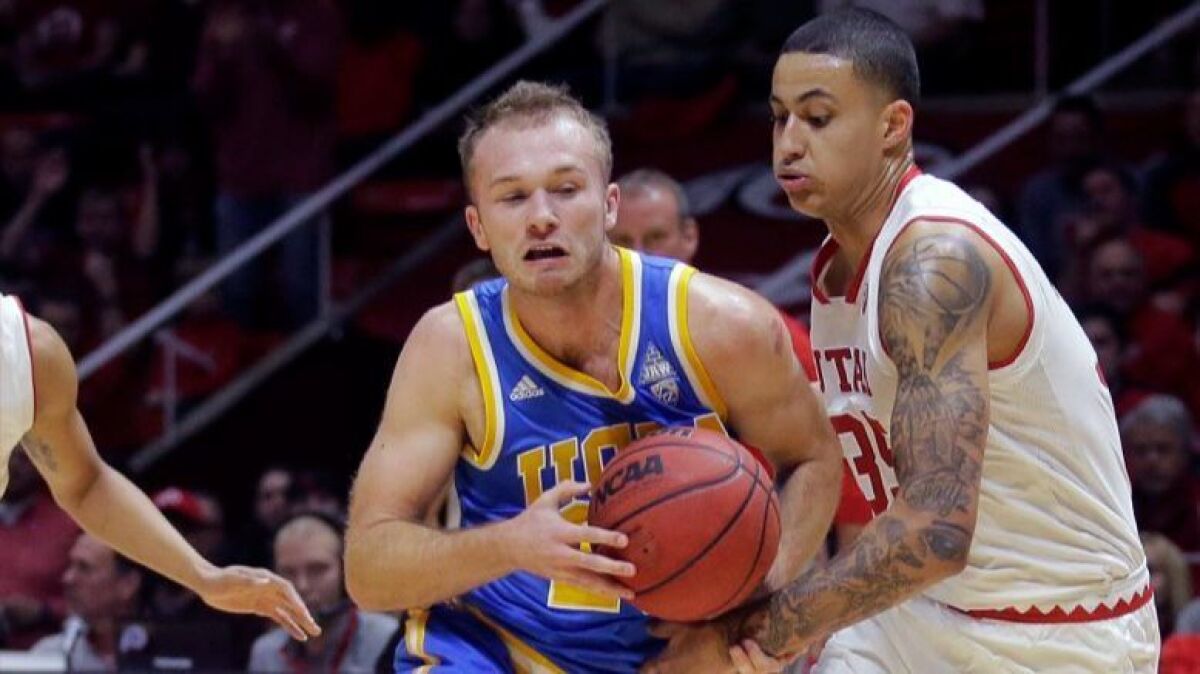 "I said, 'This guy has very good skills,'" said Bertka, who was been with the Lakers in various capacities for 43 years. "He can play in the post. He can play on the perimeter. He runs the floor. He's active. But the thing that put him apart was his effort."
That energy is why Pelinka and Magic Johnson, the Lakers' president of basketball operations, grew smitten with Kuzma even as other teams and mock drafts considered him a second-round pick at best. Interviewing him, they learned that his life wasn't easy growing up, impressing them all the more.
"We talked quite often about the exuberance that Kuz plays with," Bartelstein said. "… He's really a happy-go-lucky kid. He's got a great spirit about him. He loves life. He loves to compete."
That comes from his mother, Bartelstein said.
Love is why Karri Kuzma first signed her son up for basketball, why she bought him a toy hoop when he could barely walk. She wasn't trying to keep Kyle out of trouble. She just loved the game. She might have played it in college if not for a track and field scholarship at Division II Hillsdale College in Hillsdale, Mich.
Love is why Kyle begged his mom to take him to the YMCA every day, why he and his friends often stayed until the gym closed. Playing basketball made him happy.
"They came in and they stayed all damn day long," Shelly McArthur said fondly. She is the operations director for the Greater Flint YMCA. "That's what we'd laugh about. Especially in the summer they'd come in at probably noon because, of course, like any other young kid, they didn't get up that early and then they would be here until we were like, 'Oh my gosh, you guys, go home.'"
---
"It was a way for me to have my own time to myself. A lot of times I'd be there all day. Sometimes there would be people playing. Sometimes it was just me in the gym by myself, so I was able to really just focus on me."
The numbers in the bank account didn't seem real when Kyle got an advance on his first NBA contract. Tens of thousands of dollars in one shot, and it was only the beginning.
The Lakers will pay him $1.43 million this year, and if they pick up his third and fourth-year options, he will make more than $8 million through the life of the contract.
He bought himself a Porsche. He got his family out of Flint and into a three-bedroom condo across the street from a corn field in nearby Grand Blanc, Mich.
"At the time, they were living in an apartment that was like two bedrooms," Kuzma said. "My brother and sister had to share a room. … Always wanted to [take care of their housing] because we never had a stable house. Mom was always worrying about the rent. Now she doesn't worry about it."
Kyle met his biological father once, long before he could form memories.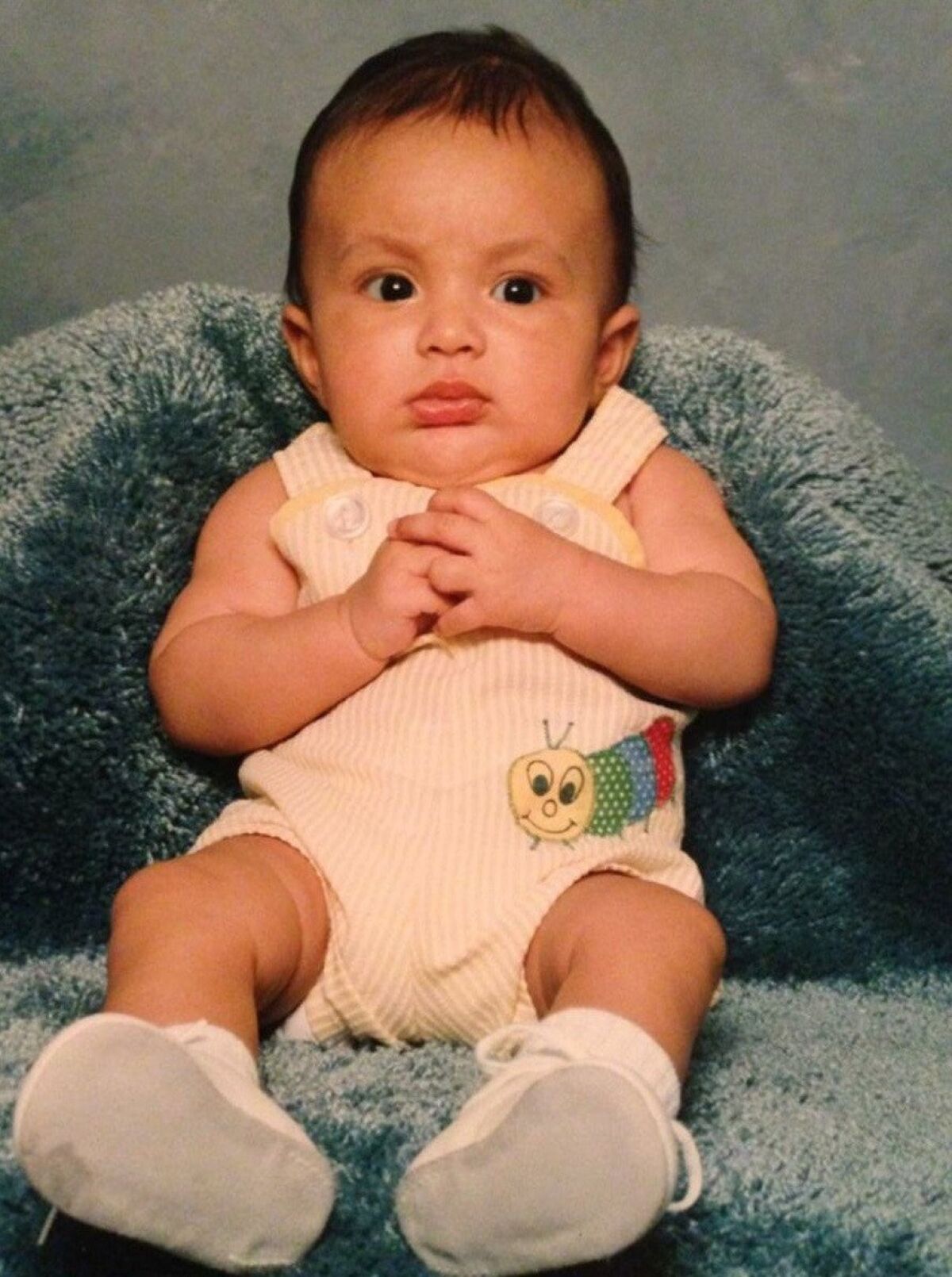 He wasn't a year old yet and his mother had returned to the college she left once she realized she'd need to find a way to rear a child on her own. A friend was graduating and Kyle's father showed up for the ceremony. Out of a car window, she showed him his baby. He kissed the tiny boy on the cheek, took Karri's phone number and disappeared from their lives.
It was just as well. Karri spent a lifetime caring for others. When she was a child, her mother struggled with depression and anxiety and sometimes wouldn't get out of bed. So Karri learned to get herself ready for school and make her way there on foot.
Getting pregnant as a college junior scared her. So did having to tell her parents that she was pregnant without a husband. But the first time she held her son, she wasn't scared anymore.
She and her family fell so deeply in love with the baby that nothing else mattered.
The daughter and granddaughter of hardworking people, Karri got a job at a convenience store that paid her $20,000 a year. She met a man at work when Kyle was 11 months old and they began dating. They moved in together and had two more children, but he treated Kyle like his own son. Karri's income supported the whole family for the first four years of their relationship — a union that ended about the time Kyle went to middle school.
She worked in food service, then retail, in management positions for most of her career. She took a second job as a massage therapist, working in spas and for chiropractors to pay the bills and buy food. Her mother and grandmother helped with childcare.
Kyle rarely had time alone, sharing a room with his brother for most of his life. They moved constantly, sometimes because they found a better situation, sometimes because they had no choice.
They moved once because Karri saw a man outside their home pulling people from a car at gunpoint. She didn't want her kids around that.
They moved once because a water leakage caused a mold infestation that made them ill.
They moved once because an ex-boyfriend was stalking Karri.
They moved once after getting evicted when Karri lost a job. She and her three children lived in the unfinished basement of her grandparents' home — in a house her grandfather had built. They lived there for the few months it took her to find a new job. It was 30 minutes outside Flint, 10 miles from the nearest coffee shop.
"Cold as [expletive]," Kyle recalled recently.
Her grandmother sometimes bought the kids pizza and drove Kyle back and forth from Detroit when he played for an AAU team 70 miles away.
Kyle went to a different school every year starting in sixth grade. After his junior year of high school, he left the state for a prep school in Philadelphia. That school turned out to be unaccredited. With the help of Vin Sparacio, who is now his manager, he got his GED and qualified for college at Utah. He thought about transferring after his freshman year because he wasn't playing and moving was all he knew. Instead he decided to break the pattern.
Karri had always wanted him to get the degree she never could. He hated school at first, but her dream became his and he walked with his graduating class last May.
No matter where he moved, he always found a way back to the Greater Flint YMCA.
---
"It was a way to keep me out of the streets and out of trouble. It's a violent place. Tough environment. But being there was like a safe haven."
Outside the YMCA, a man lifted his shirt to show a thick vertical scar in the middle of his torso from a knife wound. Next to it, there was a round one protruding in the shape of a bullet. He says his name is Tony Yearby, but goes by T-Bull. He can't play basketball anymore because the incident that left him marked also left him with a severe limp in his left leg.
When Kuzma played pickup games, his best friends — Monte Morris, who has a two-way contract with the Denver Nuggets, and Miles Bridges, who plays at Michigan State — were often with him. Yearby couldn't play, but he loved to watch.These days he keeps up with Kuzma through daily YouTube searches.
As a kid, Kuzma would beg, plead and charm his way into the gym. Sometimes an employee sneaked him in when he wasn't allowed. Most of the time, there was a family membership he exhausted.
Young and old mixed during pickup games at the YMCA. Jim Murphy, 58, was someone they always had to watch because he could really shoot. Murphy is a sergeant at the Livingston County Sherriff's Office Jail. He grew up in Flint and has seen a number of kids with scholarship-worthy athletic talent turn to drugs or gangs.
He's the kind of kid you just, God, you hope something good happens for him. And it's so cool. It did.

— Jim Murphy
"A lot of the kids, I just tell them, 'It's your way out. Get out,'" said Murphy, almost as if pleading. "I've never had to have that conversation with Kyle. He was just a good kid."
Jeff Grayer, a Flint native who spent nine seasons in the NBA, trained his son at the YMCA and met Kuzma through him. He always felt that Kyle had a smooth shooting motion but wanted to work with him on ballhandling skills.
It was the same thing that Earl Jordan, one of Kuzma's high school coaches, worked on with him. Stay low when you dribble. Ultimately, the fundamentals he learned from people such as Grayer, Jordan and AAU coach Spencer Williams were part of what Bertka noticed two years ago.
Jordan worked in the auto industry for 30 years and reaped the benefits of Flint's heyday. The factory where he spent most of his career was torn down two years ago. He has seen the city's decline.
"It's nothing here," Jordan said. "No jobs. People moving out. At one time Flint schools had 47,000 kids. They may have 15,000 if that many. Because people moving out, there's no jobs. There's nothing here for kids."
Kuzma had friends that were drug dealers. As he got older, he started to understand the sinister purpose of the men standing on street corners near liquor stores. That was not a life he wanted.
When he was 16, he got a job at a McDonald's. It taught him that earning minimum wage wasn't the path he wanted, either.
Said Murphy: "He's the kind of kid you just, God, you hope something good happens for him. And it's so cool. It did."
---
In a classroom at Neithercut Elementary School in Flint, a teacher asks a little boy what he wants to be when he grows up. He says he wants to be a professional basketball player and she knows how hard life can be for children in this town if they don't have a plan. She tells him to pick a real job.
Kuzma wasn't highly regarded as a pro prospect in college, going largely unnoticed until a standout performance at the NBA draft combine in Chicago.
But Karri always believed her son could accomplish his dream.
By the time she got to see him play a regular-season NBA game, he was the Lakers' starting power forward. She drove six hours to see him play in Milwaukee and an unexpected flood of tears descended when she spoke about it the next day. She's proud, but she misses him.
"I'm a big mush when I think about him," she said. "When I think about everything he's done, like, literally, every time I think about him, I'll tear up. I'm just overwhelmed with happiness."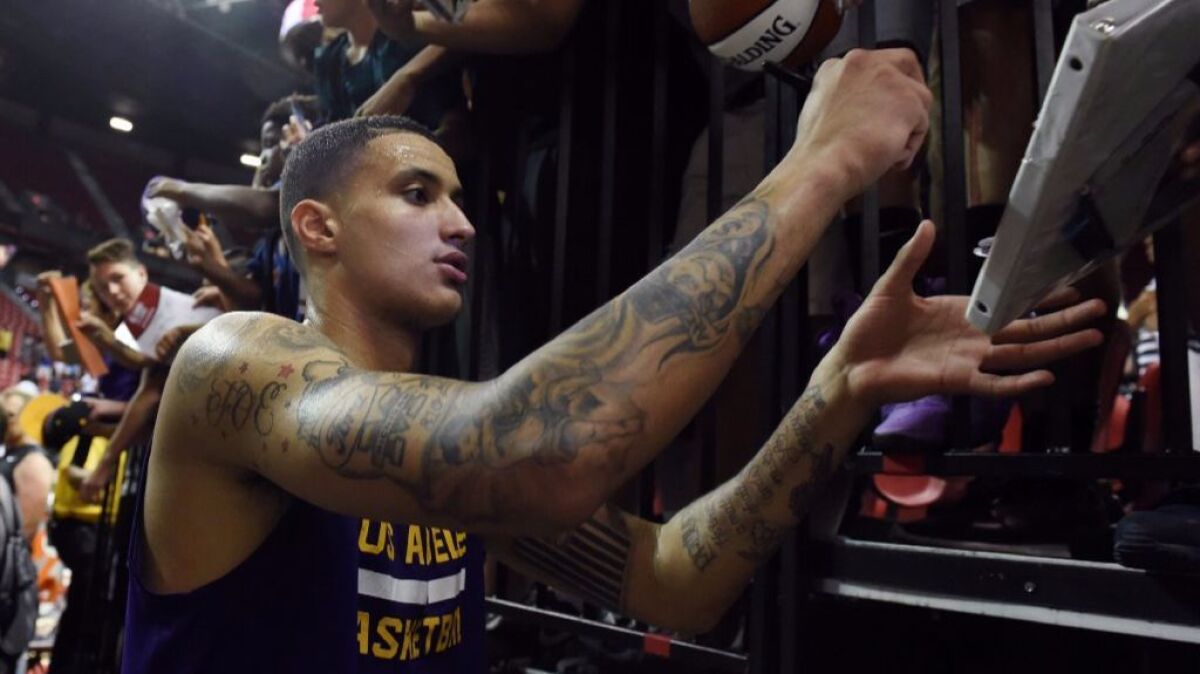 Kuzma is one of the best rookies in the NBA, playing for one of the NBA's most storied franchises. He's the only rookie who has scored 30 points in a game this season, the only one with at least six games in which he scored at least 20. He is part of Flint's great legacy.
This YMCA gym in the summertime is something to behold, when players pack the courts to the gills and spectators come just to catch a glimpse. They support each other, they honor Flint's heritage.
"It's a connection from the older guys all the way down to the younger guys," Grayer said. "Whether it's Glen Rice, Monte Morris … Charlie Bell, Andre Rison, the list goes on and on. … That level of confidence, that sense of pride rings loud."
These days in Flint, cars won't save you, but basketball still might.
Follow Tania Ganguli on Twitter @taniaganguli
ALSO
Lakers' Larry Nance Jr. finally gets to meet his Army pen pal 14 years after their first correspondence
Patrick Beverley has strong words about Clippers' effort after ninth straight loss, 107-85 at New York
Lonzo Ball hears about it after walking away from a skirmish against the Suns
---
All things Lakers, all the time.
Get all the Lakers news you need in Dan Woike's weekly newsletter.
You may occasionally receive promotional content from the Los Angeles Times.