Patrick Beverley has strong words about Clippers' effort after ninth straight loss, 107-85 at New York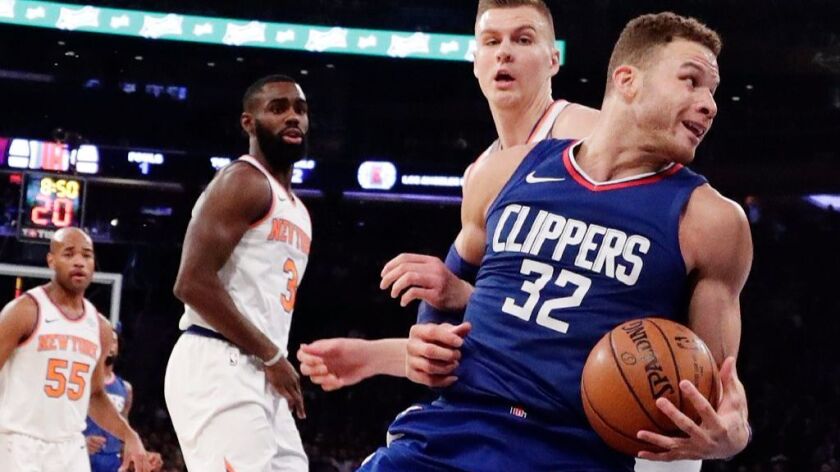 Maybe the Clippers haven't accepted losing, but it is clear that it has seeped into their collective systems following their ninth consecutive defeat.
The Clippers showed little fight Monday night, going down by as many as 26 points in the fourth quarter of a dispirited 107-85 beating they suffered to the New York Knicks before 18,848 at Madison Square Garden.
The Clippers had beaten the Knicks 10 straight times, but that went out the window on this night.
Their supposed leader, Blake Griffin, put forth a substandard effort, getting a technical foul late in the game, fouling out after a senseless hard foul on Tim Hardaway Jr., and getting a delay of game call for not giving the officials the ball.
The Clippers showed little unity, the first team putting up a dismal showing.
As he sat at his locker after returning from a five-game layoff, only to be part of an 11th loss in 12 games, Patrick Beverley expressed how "pissed off" he was.
"This ... feels like 100 losses," Beverley said. "Straight up. This ... is weak. This ain't how I roll. That ain't OK and I won't allow it to be OK as long as I'm here. That's a fact."
The Clippers already had one team meeting following their third straight loss in San Antonio on Nov. 7. Is it worth having another one?
"Hell no," Beverley said. "We just got to play harder. That's it. We just got to play harder. You get rid of the mistakes by playing hard. We're not playing hard; the first unit, not the whole team. I challenged the first unit to play harder."
Griffin had 21 points on six-for-18 shooting, but had just four rebounds and also four turnovers. DeAndre Jordan had 10 points and nine rebounds. Beverley had nine points and Lou Williams had eight on two-for-eight shooting. Austin Rivers missed eight of nine shots and finished with two points.
"So what if you have two points? As long as we win, what does it matter? What if you don't have no points?" Beverley said. "And that's the maturity hump that we got to get over. We have to be more mature and I don't think we're mature enough yet. It's there. It's real close. It's real, real close. But, we just got to play harder.
"We too cool. We too cool. We come in this game, we come on the court like people are supposed to back down because of the name on the back of our jerseys and that's not the case. The only thing people are looking at is the name on the front of our jersey, and that's nine losses in a row. They don't give a ... about what you've done in the past or your stats or anything. Teams out here are trying to beat our ... and they are beating our ... ."
The Clippers cut a 17-point deficit in the third quarter to two by going on a 15-0 run, but Griffin committed a turnover, spinning in the air and throwing the ball away. Momentum quickly shifted again in favor of the Knicks, as Doug McDermott hit a pair of three-pointers in a 12-0 run, leaving the Clippers in a bad way the rest of the game.
Kristaps Porzingis finished with a game-high 25 points for the Knicks.
"We cut the lead to two in the third, but we didn't do what we needed to do," Beverley said. "We took another 'L.' This is new territory for me, and I don't like it."
The Clippers' five-game trip makes its fourth stop Wednesday at Atlanta, a team that's lost 14 of 17 and lost eight straight early on.
Follow Broderick Turner on Twitter @BA_Turner
---
Get our high school sports newsletter
Prep Rally is devoted to the SoCal high school sports experience, bringing you scores, stories and a behind-the-scenes look at what makes prep sports so popular.
You may occasionally receive promotional content from the Los Angeles Times.