Lakers' Larry Nance Jr. finally gets to meet his Army pen pal 14 years after their first correspondence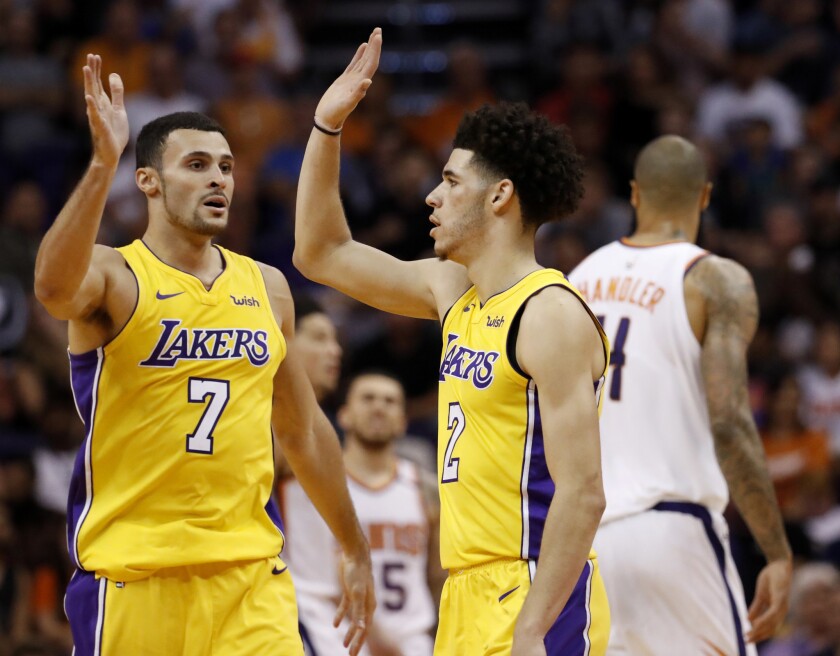 Bianca Campbell enlisted in the U.S. Army two days after the terrorist attacks of Sept. 11, 2001. The timing was a coincidence, as she'd long planned to enlist in search of opportunity she didn't have at home in Buffalo. But because of the timing, she knew there was a good chance she'd be going overseas and a good chance she'd see combat.
Two years later and thousands of miles away, she grieved on her 20th birthday. A close friend, Pfc. Spence McNeil died that day, March 8, 2003, after five days in a coma. His family flew all the way to Saudi Arabia to disconnect his life support.
Amid her sadness one day, she got a letter from a 10-year-old boy in Akron, Ohio.
Dear U.S. Soldier, My name is Larry Nance," it said. "I have 1 sister, 1 brother that annoy me all the time. My dad played in the NBA. Thank you for fighting for us in the war. You must be brave and miss your family. I hope you get home soon and see your family soon. Good luck. Sincerely, Larry Nance.
It was an assignment from his third-grade teacher, Mrs. Staats. She asked every child in her class to write a letter to a soldier. Nance wrote it on a paper decorated with the American flag and folded it into an envelope on which he wrote "U.S. Soldier" and drew stars in each corner.
Campbell replied to the letter and Nance sent one back. Then Campbell's life became a whirlwind as the American war in Afghanistan intensified and the two lost touch for 14 years.
That changed in July.
Campbell keeps letters that mean something to her. She keeps letters from her mother, who died 10 years ago, so she can keep her signature with her. She kept the letters from Nance because getting them helped her through a difficult time.
"My son's father had heard me talk about the letters, and I had mentioned in the letters that his father played in the NBA and he asked me what his name was," Campbell said. "I said, 'Larry Nance.' And he's, 'Oh, Larry Nance Jr.?' I said, 'I think so, yeah.' He said, 'He plays for the Lakers right now.' This was back in 2015."
In July of this year, she posted a photo of the letters on Twitter, included Nance's Twitter handle, and told him how much they meant to her.
"I was at a low place," Campbell said Wednesday. "And just connecting with the child in him gave me a little hope, got my head out of what was going on around me, and uncertainty about what might happen next because at the time, whispers of war were going around. I was definitely fortunate at that time."
Nance couldn't believe he was seeing his old letters on Twitter. He laughed at the ramblings of his younger self — at the fact that he'd asked her where Saddam Hussein was in his second letter. He reached out on Twitter.
On Wednesday, 14 years after their first correspondence, they met in person. Campbell came with her son, Acario Cook, flown in from near Seattle by Delta as part of a military appreciation event. Nance gave her a tour of the Lakers' new facility. She attended practice. Nance worked on turning her son into a Lakers fan.
"We didn't know who it was going to, we just hoped it could go over and help make someone's time easier," Nance said. "Help make somebody's day better. Just give them something to take their mind off the current situation. And I think it's pretty incredible [that's what happened.]"
Campbell was endlessly grateful for the day, just as she was for Nance's communication so long ago. She only had one request.
"I expect some trophies," she said. "I think it'll happen."
Said Nance: "I told her that ring case and those trophies up there, we're looking to add a couple more."
Follow Tania Ganguli on Twitter @taniaganguli
---
All things Lakers, all the time.
Get all the Lakers news you need in Dan Woike's weekly newsletter.
You may occasionally receive promotional content from the Los Angeles Times.