Lonzo Ball hears about it after walking away from a skirmish against the Suns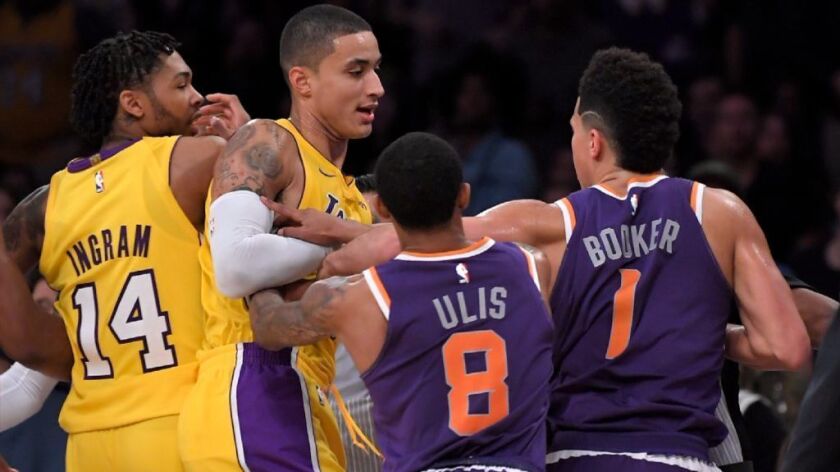 Late in the Lakers' loss Friday night to the Phoenix Suns, a shoving match began between Kentavious Caldwell-Pope and Phoenix point guard Tyler Ulis. Phoenix rookie Josh Jackson dived into the fray and earned himself a technical foul. Brook Lopez and Brandon Ingram jumped in to try to break it up.
As this happened, Lonzo Ball walked in the other direction.
"It's the NBA," Ball said later. "People ain't really gonna fight, so I ain't trying to get no tech."
Lakers coach Luke Walton has always been an advocate of his players sticking up for one another, even in the mild shoving matches that occur during NBA games. His philosophy seems to be that the technical foul is worth it to support your teammate.
He didn't react to Ball's actions quite like the internet did. But he did find them something worth discussing with Ball.
"I don't really care about how that looks because our guys love Zo," Walton said. "I think they all know what that looked like isn't what Zo is about and isn't symbolizing what his feelings are on that type of situation. I know the general public and the internet world likes to do what they do. but it didn't really affect our team at all because they know who Zo is and they know what he's about."
Walton said a teammate spoke with Ball about it.
"I want everything to come from the players," Walton said. "Whether someone is taking too many shots, someone is not playing hard on defense, I want players to hold each other accountable on that and feel comfortable enough within our environment to be able to call each other out on anything like that. It's nice when that happens."
In the past, veteran Corey Brewer has been a player comfortable with holding his young teammates accountable.
Although Ingram got involved, he said he thought it was "a false action."
"He was staying out of trouble," Lopez said of Ball. "I feel like I'm big enough where I can get in the middle of it. I'm not going to do anything crazy. I'm just trying to get everything under control. I thought he was smart just staying away from it."
Lopez block party
With four blocked shots Friday night, Lopez notched his 1,000th career block. He is only the 10th player in NBA history with at least 10,000 points, 1,000 blocks, 4,000 rebounds, and 150 three-pointers.
Dirk Nowitzki is the only other active NBA player on the list. Others who have accomplished the feat are Clifford Robinson, Rasheed Wallace, Shawn Marion, Josh Smith, Derrick Coleman, Chris Webber, Jack Sikma and Kevin Garnett.
"I didn't know that actually," Lopez said. "That's pretty cool. I've always prided myself on being a shot blocker. It's something my twin brother and I have taken to heart and looked to do since we were little. It's very cool and it's humbling for me."
Lopez said he blocked more of his twin brother Robin's shots than Robin blocked of his. He wondered if playing volleyball helped him block shots in basketball, though he wasn't a great blocker in volleyball.
Etc.
The Lakers haven't shot the ball well from three-point range, but they are still strong in the paint. The Lakers lead the league in points in the paint, averaging 55.4. If that held, it would be the second highest such number since the statistic was recorded in 1996-97. … Kyle Kuzma's 30 points and 10 rebounds Friday made him the first Lakers rookie to have at least 30 points and 10 rebounds since Magic Johnson in 1980.
LAKERS UP NEXT
VS. DENVER
When: 6:30 p.m., Sunday.
On the air: TV: Spectrum SportsNet, Spectrum Deportes; Radio: 710, 1330
Update: The Nuggets (9-6) throttled the New Orleans Pelicans on Friday night, scoring 146 points with 37 assists and made 63% of their field goals.
Follow Tania Ganguli on Twitter @taniaganguli
---
All things Lakers, all the time.
Get all the Lakers news you need in Dan Woike's weekly newsletter.
You may occasionally receive promotional content from the Los Angeles Times.