Five takeaways from the Lakers' 115-110 loss to the Brooklyn Nets
The Lakers' four-game road trip has mercifully ended and they'll be heading home shortly. The good news is that they'll soon be back to full strength. The bad news is that once the players they've been missing return, there will be a bit of an adjustment period before things get better.
Regardless, I see a brighter January than December for the Lakers.
Here are five takeaways from Tuesday night's 115-110 loss to the Brooklyn Nets.
1. The meme-able moment from the night came early. With 10:50 left in the first quarter, LeBron James rose for what would in most circumstances have been a ferocious dunk. Nets second-year player Jarrett Allen rose to meet him and blocked his dunk attempt. ESPN produced a statistic about the play, saying that of James' 1,850 career dunk attempts only nine had ever been blocked. I'm a bit skeptical of that number because of the subjective nature of determining what is a dunk attempt and what is a block. Regardless, the video was viral by the time the game ended.
"He's in his 20s, I'm in my 30s, it takes me a little longer to get warmed up," James said after the game. "But that's fine. I mean, you're a shot blocker. You should, you can get a block. It happens. It's probably all over social media, so, that's cool."
2. I wrote about James' reaction to a question about Carmelo Anthony in Tuesday night's notebook. What was interesting about his comment, though was the timing. The Lakers are in a frustrating stretch, having lost three of their last four games. James went to dinner with Anthony on Monday night. When he was asked about Anthony last month, James was much more dismissive of the idea and his change in tenor has caused a stir. But I have to wonder if that's just more about the timing than anything else.
3. In the first quarter there was a mini-showdown between the Lakers' point guards past and present. D'Angelo Russell and Lonzo Ball guarded each other and each scored 11 points in the first quarter. Each sank three three-pointers during that time, Russell out of four attempts and Ball out of three. Russell ultimately led the Nets with 22 points and Ball finished with 23.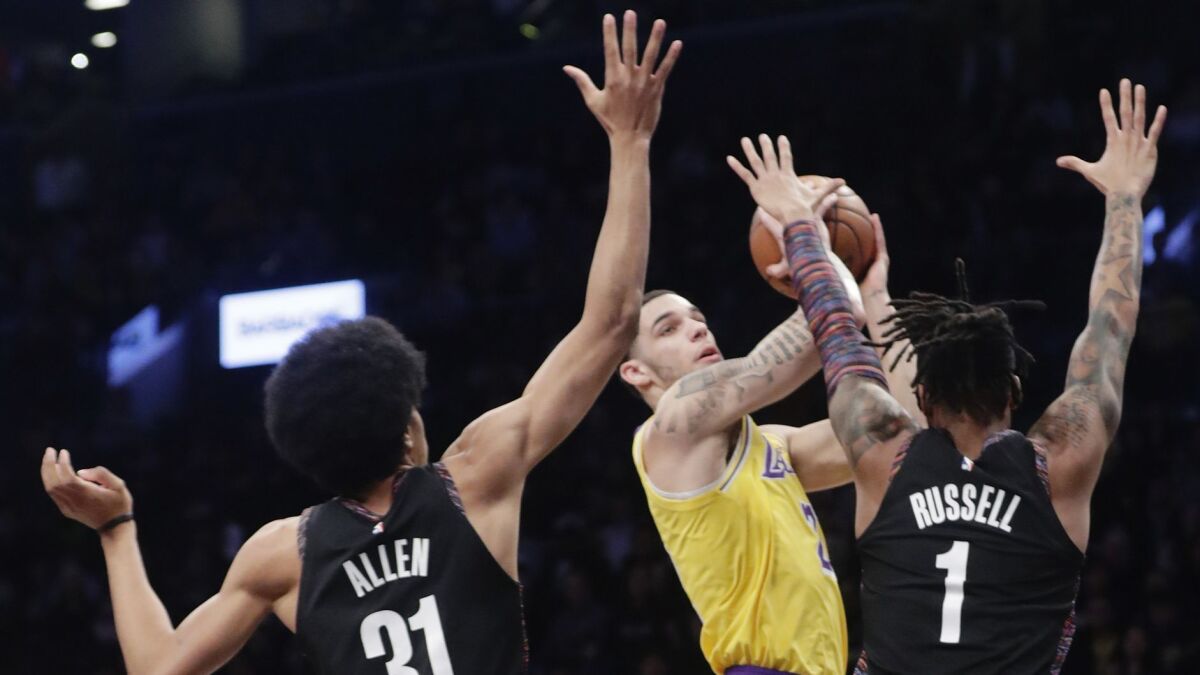 4. The Lakers played their second game without JaVale McGee and handled it a little bit differently than their first. "It all just really depends," Kyle Kuzma said. "You can't necessarily play them if they're a small ball team, but regular traditional lineups, especially having JaVale, he cleans up a lot of our mistakes, a lot of our blow-bys by altering shots, by blocking shots. So that's one thing since the Charlotte game that we really kind of missed, not having him on the floor." The Lakers went small quite a bit on Tuesday night, which meant they only used Moe Wagner for eight minutes and Ivica Zubac for 2½. That tempered the Lakers' reliance on their limited supply of big men.
5. The Lakers' pace has suffered without Rajon Rondo in the lineup. Seven of their 10 games with the slowest pace came during the past month when Rondo has been out. Tuesday's game was actually played at a quicker pace than the Lakers have averaged without Rondo, but getting him back will undoubtedly help the team return to who they are. "We'll kind of ease our way into it, feel some things out," Lakers coach Luke Walton said. "But having another brilliant play-making point guard, eventually once we get rolling again, yeah, I see the pace getting higher again."
Follow Tania Ganguli on Twitter @taniaganguli
---
All things Lakers, all the time.
Get all the Lakers news you need in Dan Woike's weekly newsletter.
You may occasionally receive promotional content from the Los Angeles Times.