Lakers shed light on Lonzo Ball's injury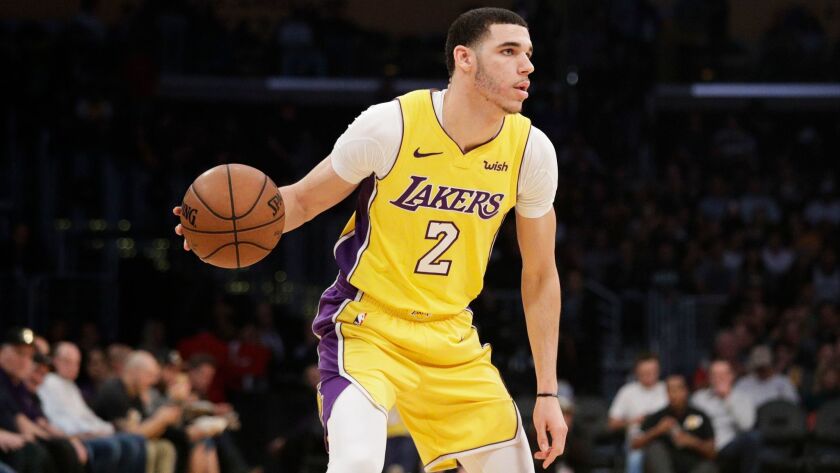 Reporting from Toronto —
Lonzo Ball caught the basketball and shot it, without his feet leaving the ground, from the free-throw line in front of one basket on a practice court at the Air Canada Centre. Then he moved to the other side of the court and shot three-pointers, elevating slightly.
Two weeks into the injury, the Lakers offered some clarity on what is hampering Ball. He suffered a sprain to the medial collateral ligament in his left knee on Jan. 13 against the Dallas Mavericks. The injury is typically one that takes one to three weeks to heal.
"I wouldn't be surprised if within a couple days, a week, whatever it is, they say he's ready to start practicing again," Lakers coach Luke Walton said. "… We're still training and approaching it as if it's long-term. We're not making any plans as if he's coming back tomorrow."
An injury to the MCL affects a player's lateral movement. The next major step in Ball's rehabilitation will be when he is able to do agility drills and move laterally. So far, Ball has done only spot shooting, stationary dribbling, jogging on a treadmill and weight lifting. None of that involves lateral movement.
Ball progressed to jogging on a treadmill on Jan. 20, and began shooting shortly thereafter. He hasn't taken part in any practices or taken any contact.
Walton said as soon as Ball can go through a full practice and not have a setback the following day, he will be able to play in a game.
"He'll be back when he's ready to play," Walton said. "When that is, I can't tell you. Whenever his knee feels good, like I said, we're not going to rush him back, at all. Once he gets cleared it will be about getting him into practice and seeing how he feels the day after that, and we'll start going from there."
Ball has missed six games because of this injury. It came on the heels of his return from a shoulder sprain that also kept him out six games. After Ball returned from that injury, he played in five games, before spraining his knee in Dallas.
In his absence, the Lakers have started Tyler Ennis, a Toronto-area native, and increased the playing time of Alex Caruso, who is on a two-way contract. Caruso's contract allows him to spend 45 days with the Lakers, with the rest of his time spent with the South Bay Lakers. He already has gone through more than half of those days.
Although the Lakers lost the first eight games they played without Ball this season, they have won the last four in a row.
"It's next man up," forward Julius Randle said. "I don't know if it is what we are doing better. Everybody is just playing hard, playing together, we need everybody, it may be a big night from somebody and a different guy the next night. Just need everybody locked in. When Zo gets back, it will be a plus."
Ball has played and started in 36 games for the Lakers this season. He has averaged 10.2 points, 7.1 rebounds and 7.1 assists in 33.9 minutes per game. Ball was shooting 35.6% from the field and 30.3% from three-point range before his injury. His shooting steadily improved during the course of the season.
"I think when he got hurt early on people realized how important he is," Lakers veteran Luol Deng said. "Because a lot of people get caught up in the numbers, but he does a lot of things out there and for a rookie his defense is amazing, especially for us."
AT TORONTO
When: 3 p.m., Sunday.
On the air: TV: Spectrum SportsNet, Spectrum Deportes; Radio: 1330, 710.
Update: The Raptors entered Saturday two games back from the East-leading Boston Celtics in the standings. They lost to the Utah Jazz on Friday night, 97-93. They are 5-5 in their last 10 games, but rank fourth in the NBA with 110.9 points per game. Compton native DeMar DeRozan is playing some of the best basketball of his career and was named a starter in next month's All-Star game.
Follow Tania Ganguli on Twitter @taniaganguli
---
All things Lakers, all the time.
Get all the Lakers news you need in Dan Woike's weekly newsletter.
You may occasionally receive promotional content from the Los Angeles Times.