Add Lakers to list of teams interested in Josh Smith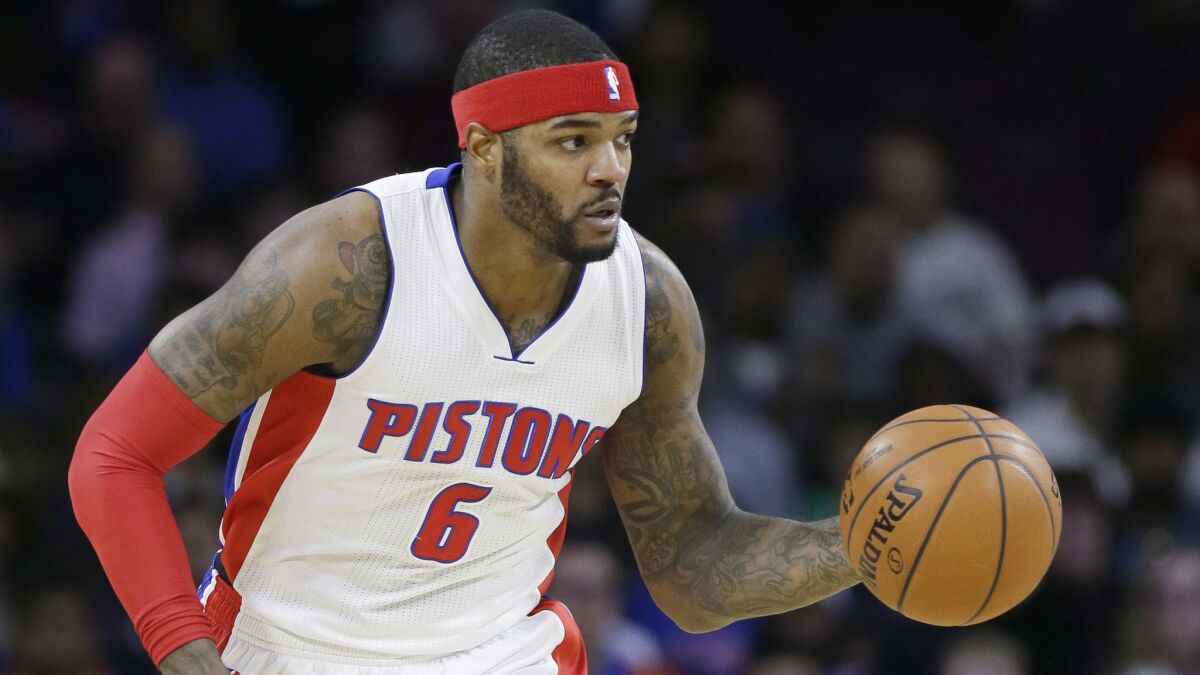 Add the Lakers to the list of teams interested in free-agent forward Josh Smith.
Smith, a 29-year-old 6-foot-9 forward, was waived Monday morning by the Detroit Pistons despite two more seasons and $40.5 million remaining on his contract.
"Our team has not performed the way we had expected throughout the first third of the season and adjustments need to be made in terms of our focus and direction," said Stan Van Gundy, Pistons head coach and president of basketball operations, in a statement. "We are shifting priorities to aggressively develop our younger players while also expanding the roles of other players in the current rotation to improve performance and build for our future. As we expand certain roles, others will be reduced. In fairness to Josh, being a highly versatile 10-year veteran in this league, we feel it's best to give him his freedom to move forward. We have full respect for Josh as a player and a person."
Smith will clear waivers after 5 p.m. EST on Wednesday, provided the Philadelphia 76ers (the only team with enough cap space) don't place a claim.
A number of teams are believed to covet Smith, including the Houston Rockets, Dallas Mavericks, Miami Heat, Sacramento Kings and Clippers.
The Lakers (8-19) are searching for players who could help improve a talent-thin roster.
One advantage the Lakers have is money, in the form of the Steve Nash disabled player exception. Nash is out for the season with a back injury. The Lakers can spend up to $4.85 million on a single player.
The Rockets have their bi-annual exception, which can be used to sign Smith for up to $2.1 million. The Heat may receive a disabled player exception for Josh McRoberts (knee) for $2.7 million. The Clippers, Kings and Mavericks can offer only a pro-rated veteran's minimum contract, just under $1 million.
If Smith is motivated strictly by money, the Lakers have a real shot to land him, but given the Pistons are paying him $13.5 million for the current season, he might choose a team with a greater chance of winning a title.
Smith also might want to join friends like Rockets center Dwight Howard and new Mavericks point guard Rajon Rondo -- both on playoff contenders.
Complicating matters is the NBA's "set-off" rule, which reduces the Pistons' obligation to Smith once he signs with another team. The Lakers would pay Smith $4.85 million but the Pistons' number would shrink to $11.5 million.
Smith would net an additional $2.8 million with the Lakers, $1.7 million with Miami, $1.4 million with the Rockets and roughly $889,651 with the Mavericks, Kings or Clippers.
If Smith did choose the Lakers, the team would have to either waive a player to make room or reapply to the league for a hardship exception (with four players out with injury) to temporarily increase the roster to 16.
Another advantage the Lakers may have is cap room next summer to re-sign Smith. The Mavericks also project to have significant spending power. The Kings and Rockets may have some ability to spend, but to a lesser degree than the Lakers and Mavericks.
The Clippers aren't likely to fall under the salary cap next summer. The Heat have a number of players with options to stay another season, which could affect their ability to give Smith a raise over the summer.
Through 28 appearances with the Pistons, Smith averaged 13.1 points, 7.2 rebounds, 4.7 assists, 1.7 blocks and 1.3 steals. He shot just 39.1% from the field.
Email Eric Pincus at eric.pincus@gmail.com and follow him on Twitter @EricPincus.
All things Lakers, all the time.
Get all the Lakers news you need in Dan Woike's weekly newsletter.
You may occasionally receive promotional content from the Los Angeles Times.