Lakers among the many spectators at Aaron Gordon, Zach LaVine workout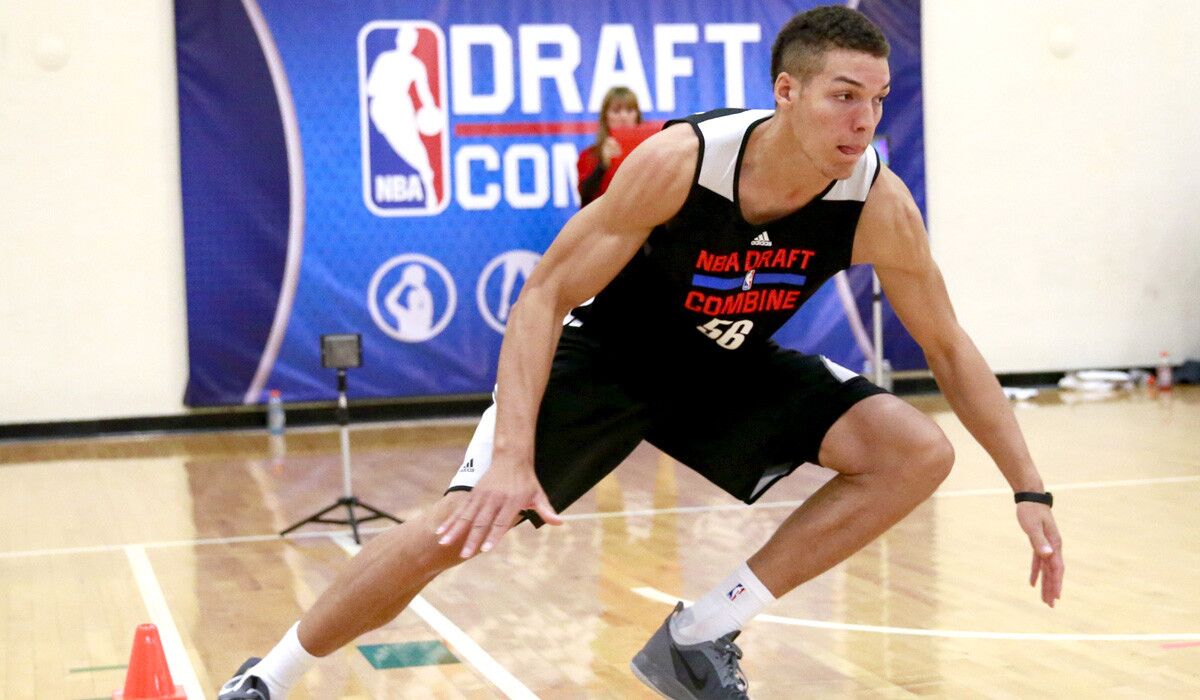 The Lakers were well-represented on Friday at a BDA Sports workout in Santa Monica.
Featuring potential lottery prospects Aaron Gordon (Arizona) and Zach LaVine (UCLA), General Manager Mitch Kupchak and owner-executive Jim Buss were on hand to scout two candidates for the team's seventh overall pick in the June 26 NBA draft.
"I love L.A.," said Gordon on the prospect of being drafted by the Lakers. "I have family in L.A."
Gordon is an athletic and defensive-minded, 6-foot-9 forward whose play might resemble that of Dallas Mavericks forward Shawn Marion.
LaVine is another of the top athletes in this year's draft class. Weeks ago, the 6-foot-6 guard was considered a borderline first-round pick but a strong showing at the NBA combine in Chicago has made LaVine a projected lottery pick (top 14).
LaVine is a combo guard, hoping to have a similar career to Oklahoma City Thunder Russell Westbrook.
"I've always been a Lakers fan growing up, so they're there at the seven spot," said LaVine. "I've been working so hard for this my whole life. Whatever team I go to, I'm going to go there full-hearted."
Gordon and LaVine worked out individually for about 45 minutes. Gordon may or may not be on the board when the Lakers select at seven. LaVine might be a slight reach but teams seem to love his raw potential.
Earlier in the afternoon, other draft prospects worked through three-on-three drills, including Deonte Burton (Nevada), Daniel Miller (Georgia Tech), Augustine Rubit (South Alabama), Nick Wiggins (Wichita State), Alec Brown (Wisconsin Green Bay) and Rod Odom (Vanderbilt).
The Lakers brought a sizable contingent of basketball staff to check out the workout, including Glen Carraro (assistant general manager), Jesse Buss (director of scouting), Ryan West (assistant director of scouting), scouts Chaz Osborne and Jordan Wilkes, and point guard Steve Nash (also represented by BDA Sports).
At least 150 spectators were present to look at Gordon and LaVine, including Gary Sacks (Clippers), Jerry West (Golden State Warriors), Danny Ainge (Boston Celtics), Pete D'Alessandro (Sacramento Kings), Neil Olshey (Portland Trail Blazers), Tommy Sheppard (Washington Wizards), Sam Hinkie (Philadelphia 76ers), Mark Warkentien and Allan Houston (New York Knicks), Tom Thibodeau (Chicago Bulls) and Dennis Lindsey (Utah Jazz).
One executive, who didn't want to be quoted to protect his team's draft strategy, said he preferred Gordon to the two other big men in the same range (Julius Randle of Kentucky and Noah Vonleh of Indiana), citing Gordon's potential impact defensively.
Another executive privately indicated his team is exploring all options, including trading up, trading down, trading out completely or just making their lottery pick.
---
All things Lakers, all the time.
Get all the Lakers news you need in Dan Woike's weekly newsletter.
You may occasionally receive promotional content from the Los Angeles Times.