Column: The bitter Clippers-Grizzlies rivalry has settled, but memories of the hatred and anger are fresh
Reporting from Memphis —
The streets in downtown Memphis were mostly empty late Wednesday afternoon, neon signs glowing above mostly empty bars and barbecue joints on Beale Street.
Across the street, the FedEx Forum was mostly empty, entire rows of blue seats without a fan in them. There really weren't any boos when the Clippers were announced later. There weren't any chants directed at the visitors.
When the Grizzlies put the finishing touches on a 96-86 win, there weren't many reasons to celebrate. It was a win — one of 14 they've had this season. There really wasn't any hatred. There really wasn't anything special about any of it.
That's not how it used to be.
During seven playoff games and a string of regular-season battles over the course of three seasons, there was no serenity in Memphis when the Clippers were in town. There was anger and hatred — lots and lots of anger and hatred — when the Clippers took the court in "The Grindhouse," the nickname given FedEx Forum.
"Those were some good ol' days," former Memphis forward Zach Randolph said. "That was a lot of fun, old-school NBA basketball."
"Basketball" is a loosely used term — wrestling match was probably more like it. A pro-wrestling city like Memphis was more than happy to take part in a genuine feud.
In the eyes of Memphians, their Grizzlies were the baby-faced heroes, the no-nonsense, blue-collar team that did things the right way. The Clippers were the Hollywood heels — complainers and showboats. In 2012, they were crushed when the Clippers knocked their team out of the playoffs in a Game 7. They felt vindicated a year later when the Grizzlies eliminated the Clippers.
"Memphis played Portland in the playoffs and it was nothing like this. And, of course, Portland broke Mike Conley's face," longtime Memphis columnist Geoff Calkins said. "Memphis got routinely smashed by San Antonio but didn't hate San Antonio the way Memphians hated the Clippers — not even close. …
"How many times did they meet in the playoffs? It was only twice? It feels like forever. Twice was enough to build up a hatred."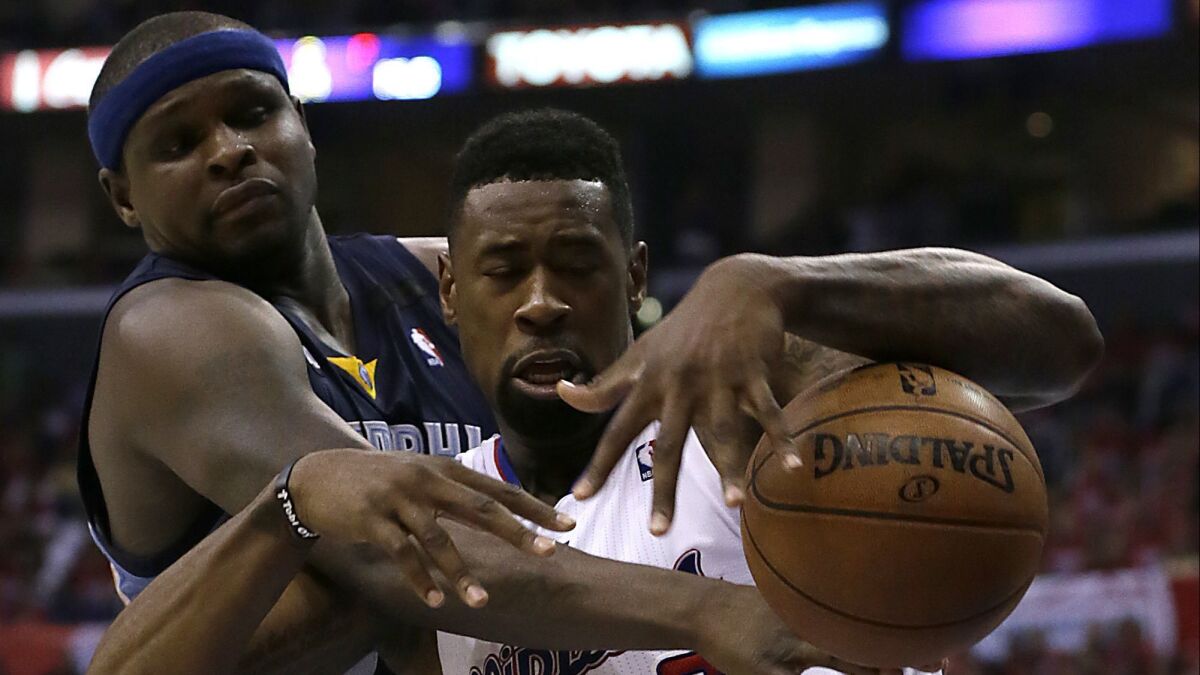 The fans would scream. Trash got thrown. Every seat was full, every voice was soon-to-be hoarse.
"That was the best atmosphere. Most definitely," Grizzlies guard Mike Conley Jr. said. "It just felt like we played the Clippers every other night for four straight years or so, whether it was in the playoffs or how it felt like we played them eight times in the season. We just kept playing them and playing them.
"And not only did you play them. Each game was close. Each game was a fistfight."
It began with the Clippers coming from 24 points down in the fourth quarter to win Game 1 in 2012, and as that series stretched to seven games, the physicality between the two teams only increased.
Randolph, whom the Clippers traded after drafting Blake Griffin, punished the younger, more heralded player. He tackled him. He fell on him. He shoved him. Eventually, he choked him.
"It was me just being a competitive player," Randolph, who left as a free agent for Sacramento in 2017, said with a laugh.
It was opposite forces clashing over their differences.
"Blake Griffin was the pretty boy who jumped over Kias and Z-Bo was the tough, in-the-mud guy who couldn't jump over a phone book and who would routinely have his way with Blake Griffin," Calkins said.
Chris Paul would continually complain while his counterpart, Conley, had never received a technical foul. DeAndre Jordan could jump out of the arena but couldn't make a free throw. Marc Gasol was skilled despite some athletic limitations.
Eventually, the Clippers added rent-a-villain Matt Barnes to the mix while the Grizzlies could counter with Tony Allen, the grittiest grinder of them all..
Team security guards warned the players, coaches and staff not to wear clothes with the Clippers' logo on it around town. If they left the hotel, they should do it in groups. Even though the hotel was merely steps away from the arena, no one was allowed to walk there.
When the Clippers beat Memphis in Game 7 in 2012, longtime Clippers public relations official Rob Raichlen called it "the greatest experience I had there." Calkins called it the most deflating loss in Memphis Grizzlies' history.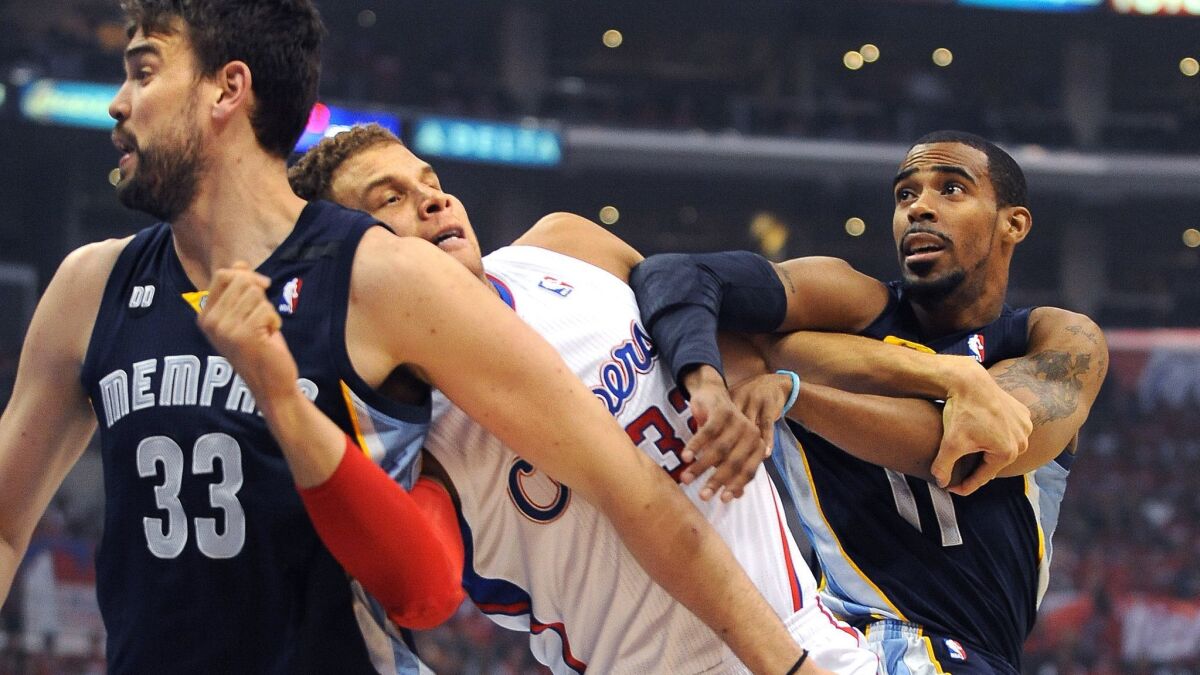 The following season in the playoffs, Memphis came back from a 2-0 deficit to eliminate the Clippers in six games.
"That's what can make the playoffs so great — the opportunity to compete at a high level and playing them in back-to-back years," then-Clippers coach Vinny Del Negro said. "We were just trying to make our mark."
The rivalry boiled over into the next few seasons before it simmered — time, player movement, injuries and new rivalries all diluting it.
Wednesday night, many of the seats were filled. The early-game murmurs turned into cheers and late-game complaints about the officiating
"My wife told me she hates the Clippers. I told her you don't know any of these Clippers," longtime Memphis season-ticket holder Dave Howe said. "There's no rivalry left."
Maybe a meeting in the playoffs this year would re-ignite things. Maybe it could be recaptured. Or maybe it's just over.
"I think it's gone," Calkins said. "I think the hate might be gone. Once you removed those characters, I don't sense that there's any longer any vitriol directed at the Clippers. But we could work on it.
"We're capable of it; this community is capable of working up some vitriol."
Twitter: @DanWoikeSports
---
Get our high school sports newsletter
Prep Rally is devoted to the SoCal high school sports experience, bringing you scores, stories and a behind-the-scenes look at what makes prep sports so popular.
You may occasionally receive promotional content from the Los Angeles Times.