Column: With the NFL back in Los Angeles, Super Bowl can't be far behind—perhaps as soon as 2020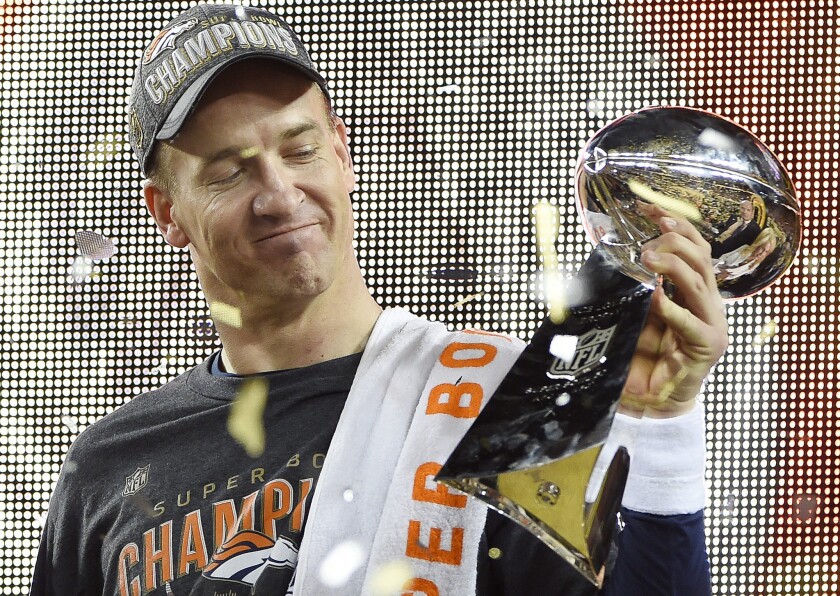 It was early 1993, and Dallas Cowboys owner Jerry Jones was in football heaven.
He walked out of a tunnel at the Rose Bowl — site of the seventh and most recent Super Bowl in the Los Angeles area — and into the Southern California sunshine.
"It was one of the greatest memories of my life and certainly of my career," Jones recalled by phone this week, reminiscing about Super Bowl XXVII, a 52-17 victory by the Cowboys over Buffalo.
See the most-read stories in Sports this hour>>
"I rode in with the team, and had one of the guys get me a football. There might have been three or four thousand people already there. I walked down to the end zone and it just felt so great. I took that ball and I kind of hopped and skipped in the end zone and just said, 'Touchdown!'
"There's a little bit of that feeling," Jones said, "when I think about having the Super Bowl back in Los Angeles."
That hasn't officially happened yet, of course, but it's likely to come to fruition Tuesday when the league takes the unusual step of naming three Super Bowl host cities in a single day.
"I'd be surprised if we came out of there without L.A. getting one of the three," Indianapolis Colts owner Jim Irsay said.
The next two Super Bowl sites are set, with Houston playing host to the game capping this season, followed by Minneapolis hosting in its soon-to-open venue. At the NFL's one-day May meetings in Charlotte, N.C., on Tuesday, owners will decide where their marquee game will be played after the 2018, 2019 and 2020 seasons.
The five cities/regions competing for those games are Los Angeles, Atlanta, South Florida, Tampa and New Orleans.
No one knows for sure until the 32 secret ballots are cast, but a likely outcome is Atlanta getting the first available slot for the Falcons' new stadium (2018 season, Super Bowl in early 2019), South Florida getting the next one for the Dolphins' renovated stadium, and L.A. claiming the third opening for the Rams' Inglewood stadium. That would mean an L.A. Super Bowl in early 2021, giving the Rams two full seasons in their glistening, $2.6-billion home. Tampa and New Orleans are closer to longshots in this process, in part because those cities don't have new or significantly renovated stadiums.
With the Chargers backing a ballot initiative for a proposed stadium in downtown San Diego, there is also a possibility that the NFL would take the unusual step of guaranteeing a Super Bowl in that city if a new stadium were to be built. Such a guarantee would not name a specific year for a San Diego Super Bowl but could offer a time window for one.
L.A. is also bidding for the game that will be played in early 2020 — it would need a special waiver to get around the NFL's rule that a new stadium must be open for two seasons before it hosts a Super Bowl — but from the perspective of the franchise building the stadium and surrounding mixed-use development, the 2021 game would be preferable.
"We believe hosting the 2021 Super Bowl, when the stadium has been open longer and the Inglewood campus is more developed, will provide a better experience for the fans and the NFL," said Kevin Demoff, Rams chief operating officer.
"In this process, though, where all the competing cities have not only put together strong bids but also have a history of hosting multiple Super Bowls, there is always a benefit to having more chances to host."
The Super Bowl proposals were due April 15, and four of the bidding cities/regions had since last summer to work on them. Because the Rams didn't get the green light to move until mid-January, however, the NFL didn't make a request for an L.A. proposal until early March. Therefore, the L.A. bid committee had less than six weeks to put together its pitch.
That bid committee is composed of chairman Casey Wasserman, also spearheading the effort to bring the 2024 Olympic Games to Southern California; Kathy Schloessman and Bob Graziano of the Los Angeles Sports & Entertainment Commission, and Michelle Kerrick of Deloitte. That group, along with the Los Angeles Tourism and Convention Board, worked closely with the cities of L.A. and Inglewood to assemble the bid.
"An NFL team coming back to L.A. was always about more than eight regular-season home games," Wasserman said. "It was always about the promise of what L.A. and a world-class facility here could deliver in terms of the breadth and variety of events. Obviously at the top of that list is the opportunity to compete for, and hopefully host, a Super Bowl. Hopefully we'll be able to attract a Super Bowl and it's the first of many."
Hosting a Super Bowl is an expensive endeavor, and a city's bid committee is required to privately raise about $35 million through sponsorships and donations. (Those "partnership packages" entail sponsoring the host committee, not the Super Bowl game, which the NFL owns.) That money pays for a wide range of expenses, including the hotels and practice sites for both participating teams, as well as Super Bowl transportation, security, promotion, accreditation centers and media events.
To make a qualifying bid, a city must ensure at least 22,000 hotel rooms will be available during the peak nights of Super Bowl week. The L.A. bid committee estimates that the week leading up to and including the game would generate at least 100,000 hotel room nights (60,000 guaranteed), which would make the Super Bowl the largest event Los Angeles has hosted since the 1984 Olympics.
Inglewood would be the centerpiece locale of an L.A. Super Bowl, but L.A. Live would be a significant focal point as well.
"We're spreading the wealth around," Schloessman said. "We're not putting all of the activities in one area. We tried to pick venues for these different events that will highlight Los Angeles as the entertainment capital of the world, and will also take advantage of our good weather."
Jed York, owner of the San Francisco 49ers, said he expects the Inglewood stadium to be "second to none" and an ideal site for the league's biggest game.
"I think there's something to be said for city pride, regional pride," said York, whose team was the host club for Super Bowl 50. "I think it would be really cool to announce that for Los Angeles, whenever they get to host one."
Follow Sam Farmer on Twitter @LATimesfarmer.
MORE ON NFL
Will the NFL bet on the Raiders in Las Vegas?
NFL's Devon Still enjoys his wedding day at long last, with cancer-free daughter Leah as flower girl
Survey reports nine out of 10 Native Americans aren't offended by Redskins name
---
Get our high school sports newsletter
Prep Rally is devoted to the SoCal high school sports experience, bringing you scores, stories and a behind-the-scenes look at what makes prep sports so popular.
You may occasionally receive promotional content from the Los Angeles Times.