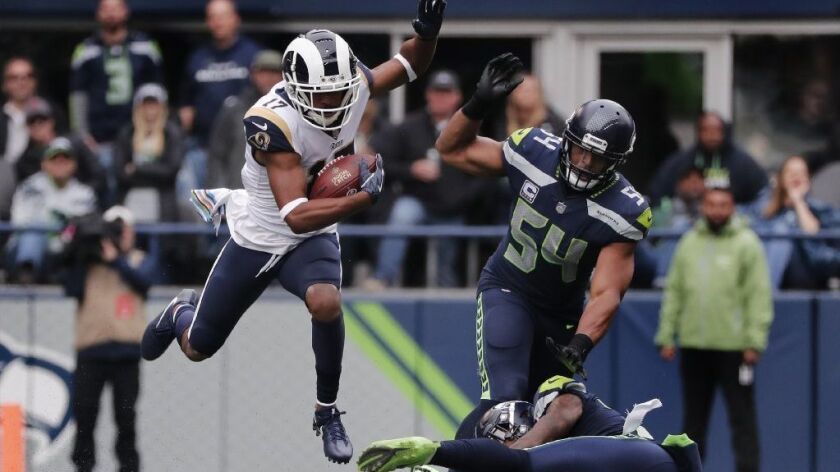 Multitasking is nothing new for Robert Woods.
The Rams' most veteran receiver has been deployed as a pass-catcher, ball-carrier and also pressed into service as a punt returner.
Woods might fill all three roles again Sunday at Denver if Brandin Cooks and Cooper Kupp remain sidelined because of concussions.
Both receivers were injured during Sunday's 33-31 victory at Seattle. Cooks and Kupp "felt good" Monday, coach Sean McVay said, and he did not rule them out for Week 6.
"They didn't have any symptoms or anything like that," McVay said at the team's practice facility in Thousand Oaks. "So we'll go through the [concussion protocol] standard operating procedure. If everything checks out with our guys and with the doctors that are part of that process, we're hopeful to get them back for this game."
Seahawks safety Tedric Thompson crashed into Cooks after the receiver caught an 18-yard pass in the second quarter. McVay said the Rams would be in contact with the NFL regarding the hit.
"I don't think there was any malicious intent on it," McVay said, "But there are things that are always geared towards the safety of players. Any of those head-to-head-contact collisions are things that we want to try and avoid."
Kupp caught six passes for 90 yards and a touchdown. McVay said the second-year pro was probably hurt when his head hit the turf after running a short crossing pattern near the end of the first half.
"He was able to communicate to us that he wasn't feeling quite normal," McVay said.
Josh Reynolds and KhaDarel Hodge stepped in for Cooks and Kupp. Reynolds caught two passes for 39 yards and had a 10-yard run to pick up three straight first downs; Hodge had one catch for 14 yards.
"I told them, 'That's what we call a unit,'" Woods said, "where guys come in and step in and still make plays; big-time plays."
Reynolds and Hodge could have large roles against the Broncos if Cooks or Kupp is not cleared, or both sit out. But quarterback Jared Goff will no doubt look for Woods in crucial situations.
Woods caught five passes for 92 yards, and gained 56 yards on a fly-sweep against the Seahawks. Kupp had been filling in for injured JoJo Natson on punt returns, so Woods assumed that role after Kupp was sidelined.
Woods did not feel added pressure after Cooks and Kupp went down.
"Just play my game, really," he said of his mind-set. "I know the ball will find me. Not do anything abnormal."
Woods joked with Reynolds after the younger receiver's third-quarter plays.
"I'm like, 'Hey, you came in and took two of my passes real quick,'" Woods said. "But big-time plays. … Just shows the ability for the guys on this team to where any number is called, the guys are going to step up, know their responsibility and execute their assignment."
Rare double for Littleton
Cory Littleton earned a game ball for defense and special teams.
Littleton deflected a punt in the first quarter, his second blocked kick of the season.
As the middle linebacker, he also broke up two passes, including one he batted down in the fourth quarter. He finished with seven tackles.
"He's done a great job just flying around," McVay said.
Etc.
Cornerback Sam Shields suffered a shoulder injury but it is not expected to keep him out of Sunday's game, McVay said. … Kicker Greg Zuerlein is making progress toward a return from a groin injury but his status for Sunday probably won't be determined until later in the week, McVay said. Natson (fractured hand) also could be back. … Linebacker Matt Longacre fielded two short kickoffs and returned them 16 and 14 yards. The returns apparently offered teachable moments. "We'll put him on the ball security 'what it looks like to do it right' reel," McVay said. "He was proud of himself." … The Rams claimed defensive back Darious Williams off waivers from Baltimore. Williams has played three games this season. … The Rams re-signed offensive lineman Aaron Neary to the practice squad.
Follow Gary Klein on Twitter @latimesklein
---